Lord Bao Park Photos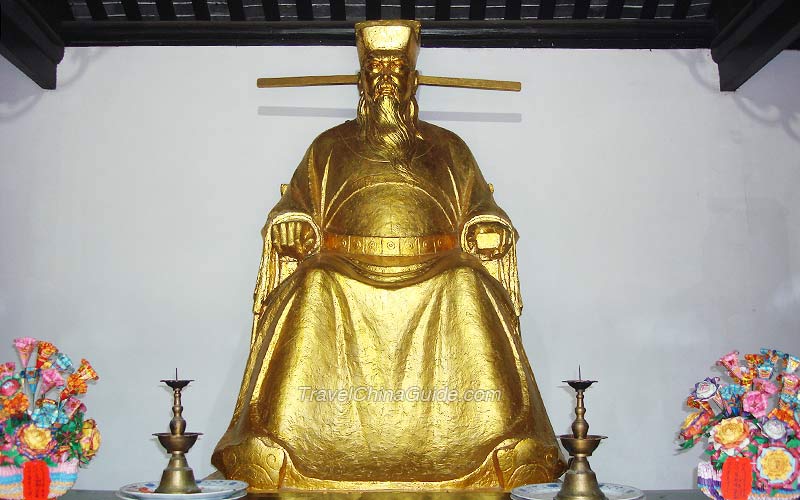 Lord Bao's Statue in the Lord Bao's Tomb, which is the burial place for him and his family
Lord Bao Park is a famous scenic area in Hefei, covering an area of 34.5 hectares. It consists of Memorial Temple of Lord Bao, Tomb of Lord Bao, Qingfeng Tower and a floating village. It is an excellent place to commemorate Bao Zheng, the famous upright and honest official of the Northern Song Dynasty. There one can see an architectural complex with an ancient style of the Song Dynasty. Attraction Intro:
Lord Bao Park
- Last modified on Jun. 22, 2017 -
Questions & Answers on Lord Bao Park Photos
Asked by Mr.Tan J J | Feb. 22, 2011 02:38

Reply
Can anyone please tell me which is the best and cheapest way to travel from Singapore to Hefei? What are the nearby tourist attractions I can go with Hefei as my base? Thank you
Answers (1)
Answered by Ms.Cindy | Feb. 22, 2011 19:29

8

0

Reply
Huangshan Mountain should be a must, I think. From Singapore, you should fly to Hangzhou first and then take bus from Hangzhou West Bus Station to Huangshan directly. After visiting, then, back to Hefei.
Asked by Mr.Steve from USA | Dec. 03, 2009 13:37

Reply
I'd like to leave Beijing in the evening and arrive at Huangshan (Anhui) as early as possible the next day. What is the best way to do that? So far we know we can take an overnight train from Beijing to Hangzhou, and take the express bus from there to Huangshan. Is there a better way? Also, do we need to worry about snow delays? (We will be there the first half of January.)

Thank you very much for your help and this excellent website!
Answers (3)
Answered by Ms.Chan from CHINA | Dec. 05, 2009 16:20

6

0

Reply
Hey, I love this website too! Maybe you should fly to Huangshan directly. The only flight usually leaves Beijing around 18:40 and arrives Huangshan around 20:30. You may stayovernight in the hotel in Huangshan city and go to the Mountain on the next morning. My friends flied when they are making the similar Huangshan trip. It takes you 3-4 hours on the bus from Hangzhou to Huangshan. In Hangzhou, there is no need to worry about snow in Winter.
Answered by Mr.Steve from USA | Dec. 10, 2009 17:26

2

0

Reply
Which airline? I didn't see any evening flight from Beijing to Tunxi... Thanks!
Answered by Ms.Thelma from CHINA | Dec. 12, 2009 05:40

0

0

Reply
hi, Steve, it is CA1551 (China Airline) from Beijing to Huangshan.
Asked by Mr.Neelesh Domah from MAURITIUS | Nov. 29, 2009 08:18

Reply
Hi everyone, well i wanna go to shanghai during the winter holidays but afterwards have to go to hefei then to yiwu and back to wenzhou from yiwu. Could anyone suggest a journey schedule, it would really help me......thanx
Answers (1)
Answered by Mr.Sandy | Nov. 30, 2009 21:15

0

0

Reply
Get to Shanghai Railway Station to take bullet trains to hefei, 3.5 hours. Hefei is 7 hours away from Yiwu by train. There are only two trains every day. Yiuw Jiangdong Bus Station have espress buses to Wenzhou, which can take you there in 3 hours or so. Hope this helps.