Lugou Bridge Pictures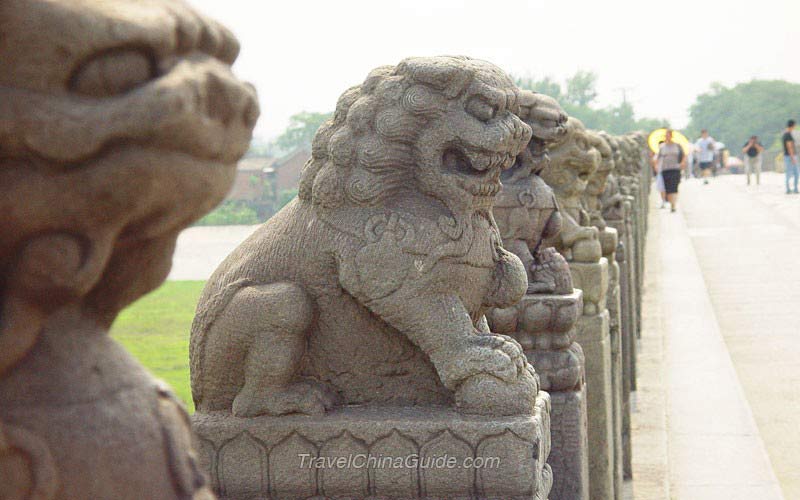 Lugou Bridge, also Marco Polo Bridge, is in the southwest of Beijing. Originally it was built in 1193 in the Jin Dynasty, and was reconstructed several times in the following dynasties. The marble bridge has eleven arches and 485 finely carved lions in distinctive style on each baluster. It was also here that Lugou Bridge Incident happened, which led to the War of Resistance against Japan. Attraction Intro:
Lugou Bridge
- Last modified on Aug. 28, 2017 -
Questions & Answers on Lugou Bridge Pictures
Asked by Ms.Jean | Dec. 20, 2010 22:13

Reply
I would like to know what is the fare for bullet train from Tijian to Beijing. Is the train running 24 Hrs. If i am in Tijian is it easy for us to go to the train railway station and after reach Beijing how to get to the town.
Answers (1)
Answered by Mr.James | Dec. 21, 2010 20:32

0

0

Reply
The earliest bullet train leaves at 6:55 from Tianjin Railway Station and the last at 23:15. You will arrive in Beijing South Railway Station. You may see the detailed info from China Train(https://www.travelchinaguide.com/china-trains/)
Beijing South railway station is located in downtown Beijing, you can go anywhere you like after arriving by subway or bus~
Asked by Ms.Tan from MALAYSIA | Sep. 22, 2009 09:14

Reply
Does forbidden city open during 18 oct till 20 oct 2009?
Answers (3)
Answered by Mr.Goodman | Sep. 22, 2009 23:12

0

0

Reply
Dear Ms.Tan. Forbidden City is closed only on special occasions. It is not open around these days due to the rehearsal of the ceremony for the 60th birthday of PRC. The dates you said, say, 18 oct till 20 oct 2009 will not be related to that rehearsal. Just go to visit. Clear?
Answered by Mr.eric | Sep. 23, 2009 00:17

0

0

Reply
It should be open without any special days like the National Day, Spring Festival, etc.
Answered by Ms.Tan from MALAYSIA | Sep. 23, 2009 18:50

0

0

Reply
Dear All,

Thanks to all of your answers...
Asked by Ms.Koenen from NETHERLANDS | May. 02, 2009 14:33

Reply
Hello,

We are going to Beijing in two weeks and we were wondering whether it is possible to book train tickets in advance. We would like to travel from:
- Beijing to Xi'an
- Xi'an to Hangzhou
- Hangzhou to Suzhou
- Suzhou to Beijing

In every city we will only have 2 or 3 days; is that enough time to buy a train ticket for our next destination?

Is it also possible to buy all these train tickets at (for example) the train station of Beijing?
Answers (1)
Answered by Mr.Qi from CHINA | May. 02, 2009 22:49

0

0

Reply
Yes, two tp three days is ok and I think the ticket is not hard to get. It is impossible to buy all these in Beijing. I know that Xi'an sell connecting train ticket and ticket for the way back. Nor very clear about the other cities.