Chongqing City Pictures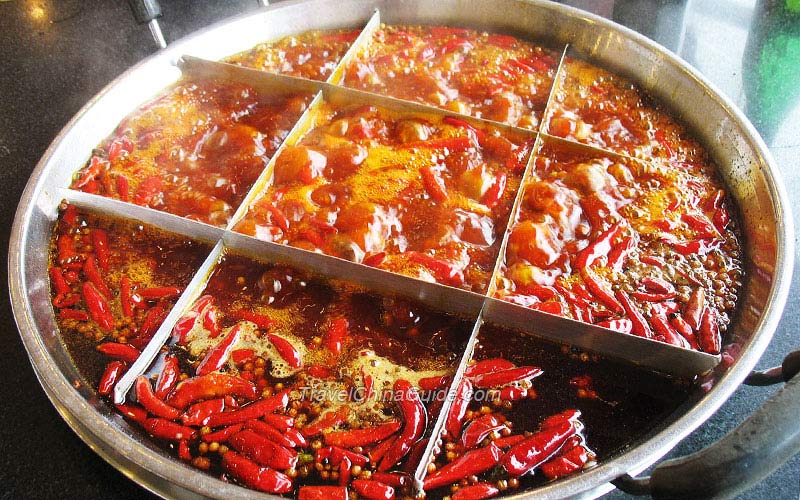 The famous local food - hotpot excellent in color, smell and taste
Chongqing is a hilly port city perching on the confluence of the Yangtze River and the Jialing River. It is a popular western embarkation point for Yangtze River cruises. The city has much to see in its urban area, including the People's Liberation Monument, People's Assembly Hall, and Food Street, Foreigners' Street and Bai's Residence. Attraction Intro:
City Overview
- Last modified on Mar. 13, 2017 -
Questions & Answers on Chongqing City Pictures
Asked by Mr.vittorio | Feb. 23, 2011 00:57

Reply
Hallo! I'll be in CQ for business reason. It's the first time and I don't need to loose the occasion to meet this country in the evening time. Please, could somebody suggest how capture the best view of CQ? Thanks.
Answers (1)
Answered by Mr.Wang | Feb. 23, 2011 20:00

10

0

Reply
To capture the best the night view of the city. I suggest you go to the Nanbin Road in Nanan District. Besides, there are a lot of fancy restaurants there and some of them are even on the boat!
Asked by Mr.Hassan from CANADA | Nov. 17, 2010 15:30

Reply
I will be coming to Chong Qing on business for a few months. Is Chong Qing and chongqing the same place. Will it be possible to rent good furnished apartments or good hotels. How are the medical facilities. Thanks
Answers (1)
Answered by Mr.Manny from CHINA | Nov. 18, 2010 01:34

8

0

Reply
Yes, the two names are the same place. Possible to rent good apartment and hotel of course. It also depends on area and cost. You can stay in CBD area or Liberation Monument. No difficult to find hospital but the city has very few international (western) hospitals. My suggestion is that you can stay in a hotel then choose and visit communities to find an apartment suitable for you.
Asked by Mr.Ho from SINGAPORE | Nov. 07, 2009 11:06

Reply
I will be going to Chongqing for the very first time from 18th November to 2nd December 2009. Could anyone be kind enough to give me any piece of sensible advice generally (eg, the weather) please? Thank you.
Answers (5)
Answered by Ms.Xie from CHINA | Nov. 09, 2009 21:40

1

0

Reply
it will be a little cool during your vacation.And I suggust you to take an umbrellor with you.Becuase weather there is changeable for surounding by many mountains and rivers.In addition,the climate is the driest in winter.If you are on business ,be careful to get up early,for the traffic is rather jam.
Answered by Mr.Ho from SINGAPORE | Nov. 11, 2009 10:34

0

0

Reply
Thank you, Ms Xie, for your kind advice. Oh dear, that is what I have feared:- the cold, wintry weather! Coming from tropical Singapore, where it is always hot and sunny, this may be a bit of a problem for me! Nevertheless, as I have already booked my airplane ticket, I will be there. You have also said that it is surrounded by many mountains. So is the city a very hilly place, please? And no, I am not going to there for business purposes; purely for leisure. May I further ask you whether it would be too cold, in late November, to go for a trip down the very famous 3 Gorges, please? Many thanks again, Ms Xie.
Answered by Ms.Xie from CHINA | Nov. 12, 2009 02:18

0

0

Reply
The city is called the mountainous city.But all the mountains around the city are not too high.It's average level is about 300m. So you will find that this is a beautiful city with mountains and rivers. And the tempreture seems to go lower from today.It may be less than 10degrees when you come, and colder in the Three Gorges.So bring more coats. In fact ,I am a native girl here,and being a tour guide here. Therefore,please let me know when you need any help here,OK? Wish you a happy tour advance.
Answered by Mr.Jerry from USA | Nov. 12, 2009 13:41

0

0

Reply
I just returned from a business trip on Nov 4th. People are friendly. Food there is spicy to very spicy. Weather was very good, a little cool, a little foggy but overall pleasant. Scenary is very enticing from the mountains to the Yangze River. Ms. Xie mentioned traffic jams, she is absolutely correct. Also, be extremely careful and 'alert' when walking or crossing streets as traffic is rather hectic and pedestrians seem not to have a right of way.
Answered by Mr.Ho from SINGAPORE | Nov. 12, 2009 22:44

0

0

Reply
Thank you very much, Mr Jerry and Ms Xie, for both of your inputs. I am quite fascinated by what both of you have said, and look forward to experiencing it very soon. The chaotic traffic condition is in fact present everywhere in China, Mr Jerry. It is actually the weather that worries me more; for example, I heard that Beijing and some other parts of China are already getting snow now! Must be something to do with global warming. Anyway, I will be leaving Singapore for Sichuan in just a few days' time (first to Chengdu and then to Chongqing). If both of you have got any more inputs for me, then please email to me at
yahoo.com.sg|hmh9288
Please email to the correct address, and thanks again!