Jichang Village Pictures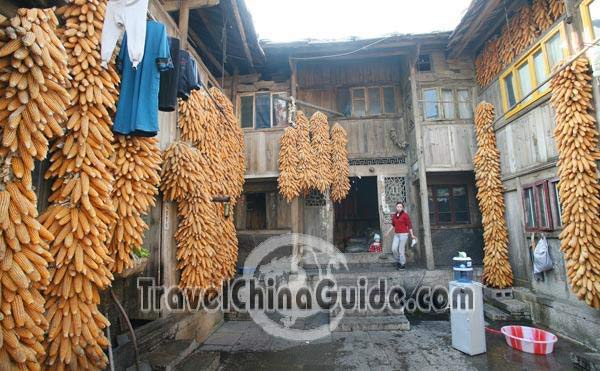 A local residence with hanging corns shows the typical Tunpu Culture of Jichang Village.
The Tunbao people (Tunbaoren in Chinese, meaning the descendants of stationing troops) in Anshun, Guizhou is a special group in the Han Nationality. According to historical data, they are the descendants of the stationing troops in the Ming Dynasty (1368-1644), who were ordered by the Ming emperors to station in Southwest China. They settled down there and took up farming work. So far, they have been living there. As one of the stationing troop village, Jichang Village is seldom disturbed by the outside.
- Last modified on Jul. 05, 2017 -
Questions & Answers on Jichang Village Pictures
Asked by Mrs.Wright from USA | Sep. 27, 2009 18:59

Reply
I will be travelling to Guiyang in business from October 8th,2009 to October 26th, 2009. What kind of weather should I expect? Shoudl I be wearing suits of business casual? I will have the weekends off, so what attraction do you suggest?
Answers (1)
Answered by Mr.Frankie | Sep. 28, 2009 03:17

6

0

Reply
The weather will be comfortable during that period, so you don't have to do any special preparation. Please take your clothes of fall is ok~ At the weekend, I think you could plan a visit to Kaili for the Miao Culture. Well, please refer to the introduction at https://www.travelchinaguide.com/package/guiyangtour3s.htm
Asked by Mr.McIntyre from U.K. | Jun. 19, 2009 09:35

Reply
Dear Friends,

I need to know the postcodes for: Yangpo, Shanxi Province; Chenglong, Jiangxi Province; Dapingying, Guizhou Province and Chenguanji, Henan Province.

I would be very grateful if someone could help me.

With Best Wishes
Answers (1)
Answered by Mr.Xu from CHINA | Jun. 20, 2009 03:39

1

0

Reply
Yangpo (in Lishi, Shanxi) 033000
Chenglong Town (in Longnan County, Jiangxi) 341715
I don't know the third one. Are you sure the spelling is right?
Also I don't know the fourt place.
Asked by Mr.James Debitetto from USA | Jun. 10, 2009 11:31

Reply
Well this will be my first trip to China, I am traveling there to meet an internet friend with hopes of marriage, while I am in Guiyang are there any special places I should ask to see.
Answers (2)
Answered by Ms.Shirley | Jun. 12, 2009 09:55

10

0

Reply
Hi, you may go the beautiful Hong feng Lake, Huxi Park or Qianlingshan Park. Very charming natural sceneries could be viewed~
Answered by Ms.jojo from CHINA | Oct. 22, 2009 03:08

10

0

Reply
go to Xijiang the Miao Village!