Hai Rui Tomb Pictures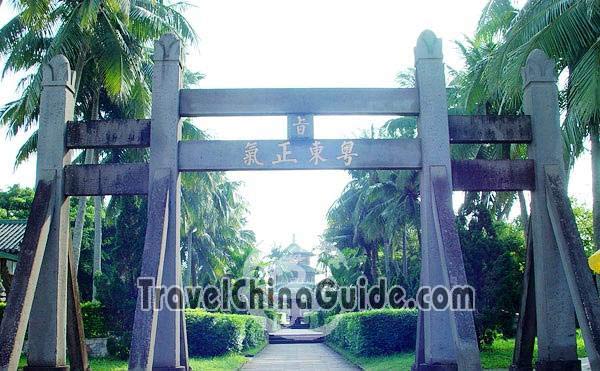 Coming close and looking around the Tomb of Hai Rui, maybe one will feel a vivid image of Hai Rui, upright and fearless to give advice to the emperor and remained uncorrupted.
Hairui (1514 - 1587) was a compassionate and popular official who lived in the Ming Dynasty. He was entombed in the west of the Haikou town. The tomb is a brick structure of semi globe shape perched on a hexagonal marble pedestal. It covers an area of 7.4 acre. Hairui's title is inscribed on the tomb's stone tablet. Attraction Intro:
Hai Rui Tomb
- Last modified on Mar. 31, 2017 -
Questions & Answers on Hai Rui Tomb Pictures
Asked by Ms.manning | Mar. 17, 2011 20:50

Reply
Can someone please tell me what the weather in Sanya is like at Christmas time?
Answers (1)
Answered by Mr.Hank | Mar. 18, 2011 02:13

0

0

Reply
The weather will be warm and comfortable so please take it easy. Tips: the sea water may be a little cool for swimming in early morning and late afternoon during this time.
Asked by Mr.Tim from USA | Dec. 23, 2009 17:43

Reply
Is there a bus from the Haikou airport besides the one to the West Station? I'm going to a hotel on Guomao San Heng Rd (the hotel is New Biao Bang). Can I get closer than the West Station directly from the airport? Thanks!
Answers (1)
Answered by Mr.Leo | Dec. 23, 2009 20:13

0

0

Reply
Currently, there is only shuttle bus from the airport to Minhang Hotel. And, the New Biao Bang Hotel is located about 3.5kms away from the bus stop. So, after arriving there by bus, please hire a cab driving to the hotel.
Asked by Ms.Toh from SINGAPORE | Dec. 01, 2009 06:26

Reply
I'm visiting Hainan Island for 5 to 6 days. Can you let me know where can I find a good travel agent that conduct 4 days & 3 nights tour on sightseeing only for 10 persons. I don't want to join tour group that usually bring people to buy things.
Answers (2)
Answered by Mr.FFrankie | Dec. 01, 2009 20:08

0

0

Reply
I think you could ask for help from this website. It seems that supplies private tour, so you could do things as yo wish or not.
Answered by kerei from SINGAPORE | Jun. 25, 2011 01:25

0

0

Reply
how was your trip to hainan island. which tour did you settle with. was it good. Pls recommend as we are exploring your experience as well.
thanks
my email: nanzie31

yahoo .com