Fenghuang Ancient Town Pictures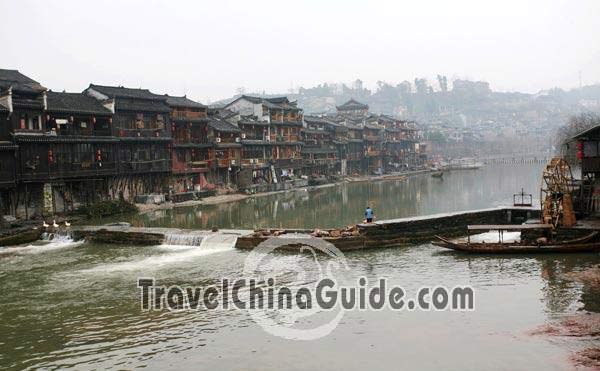 The green water and mountains, the time-honored wooden houses on stilts and the leisure life of Tujia and Miao people compose the beautiful Phoenix Ancient Town.
Fenghuang Ancient Town is the subject of a Chinese ink painting with elegant pavilions, peaceful water, splendid hanging houses and verdant mountains. The town has kept its original appearance and flavor from its inception 300 years ago. It is no wonder that a New Zealand writer claimed the town as one of the most beautiful cities in China.
Attraction Intro:
Fenghuang Ancient Town
- Last modified on Jul. 23, 2019 -
Questions & Answers on Fenghuang Ancient Town Pictures
Asked by Mr.SHARPTING from MARS | Mar. 22, 2011 13:52

Reply
Hi

I am hoping to travel to Fenghuang next month. Reading the comments here it seems my journey will be as follows:

Changsha - Zhangjiajie - Fenghuang (all by bus). I then want to continue onto Kunming in Yunnan.

It seems I need to get from Fenghuang to Guiyang to jump on a train heading for Kunming, is this possible?
Answers (1)
Answered by Mr.Jack | Mar. 23, 2011 20:48

23

0

Reply
No, you may just take a bus to Zhangjiajie, and then take a train from Zhangjiajie railway station to Kunming.
Asked by Mr.jt pua from MALAYSIA | Feb. 17, 2011 01:18

Reply
Hi, we will be visiting Zhangjiajie this march for several days. On our way back to changsha, we would like to visit feng huang historical town, can somebody advise us how far is this place from Zhangjiajie and what is the best mode of transportation to take? thanks
Answers (4)
Answered by Ms.Jennifer | Feb. 17, 2011 19:15

32

0

Reply
It takes about 4 hours from Zhangjiajie City to Fenghuangcheng by long-distance bus. There are 2 buses from Zhangjiajie bus station to Fenghuangcheng at 08:00 and 14:30 daily. There are also trains from Zhangjiajie to Fenghuangcheng, but it takes more time and you have to take a taxi to fenghuangcheng scenic spots from the railway station. Thus, I think bus is better.
Answered by Mr.jt pua from MALAYSIA | Feb. 18, 2011 01:47

13

0

Reply
Thanks Ms jennifer for your reply. I need to know how long is the distance by bus from feng huang town to changsha and also the bus service frequency/schedule between the two places? Thanks
Answered by Mr.Jennifer | Feb. 18, 2011 19:17

9

0

Reply
It takes about 6 hours from Changsha to Fenghuang town. There is no direct bus/train, you have to transfer at Zhangjiajie City.
Answered by Thomas | Jul. 02, 2011 17:48

4

0

Reply
have to take the bus but make sure it is a good bus line . I went from Chansha to Feng Huang and I did not check the bus line it broke down one time going and two times coming back . but well worth it very wonderful and friendly people beautiful town and the street food was the best
Asked by Ms.Yuinn from MALAYSIA | Nov. 17, 2010 08:34

Reply
Thinking to go Feng Huang Cheng during CNY Feb 2011. Any suggestions or good travel agency in Malaysia to recommend?? appreciate reply as planned to travel like a group of 12 pax. kids between 10 years to 18 years and adult.. TQQ
Answers (1)
Answered by Ms.Jennifer from CHINA | Nov. 18, 2010 01:08

4

0

Reply
I have no idea about local tours but I would like to say this one I used in China.You can contact them by
travelchinaguide.com|tours
and ask them to arrange a group tour only for you 12 people. Feng Huang is a nice place and can be arranged together with Zhangjiajie. I participated a memorable tours to Zhangjiajie. The price is good for me. You can think about other cheap China tours(https://www.travelchinaguide.com/tour/memorable/) they provide. Well, you can change the travel plan. For something emergency, I gave up Feng Huang Cheng to shorten my stay (pay less of course).