Zhouzhuang Water Town Pictures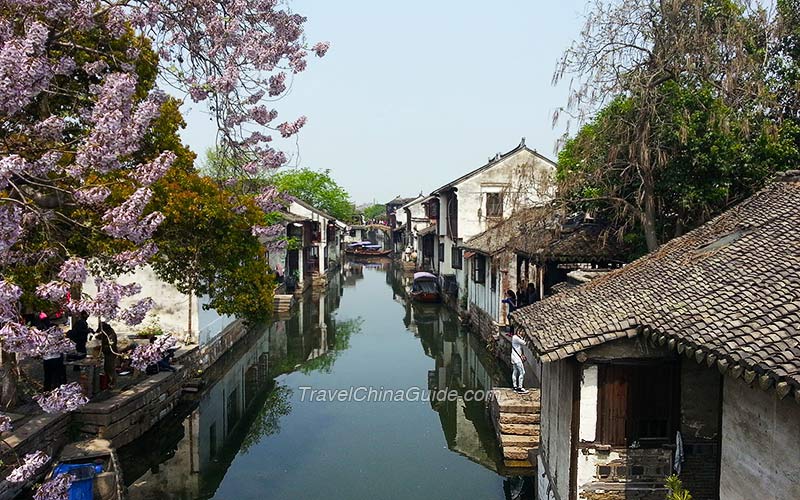 As one of the most famous water towns in China, Zhouzhuang has a profound cultural background, well-preserved ancient residential houses and stunning water views. It's situated 30 kilometers southeast of Suzhou, Jiangsu Province. With an area of 124 acres, 60% of the structures there were finished in the Ming (13680-1644) and Qing (1644-1911) dynasties. Taking the most convenient form of transport in Zhouzhuang, a gondola, you can appreciate the breathtaking sights one by one. Attraction Intro:
Zhouzhuang Water Town
- Last modified on May. 17, 2018 -
Questions & Answers on Zhouzhuang Water Town Pictures
Asked by Husien K from INDONESIA | May. 17, 2018 06:33

Reply
How to go to zhouzhuang from shanghai and how long
Answers (1)
Answered by Pine from FINLAND | May. 17, 2018 21:01

0

0

Reply
You can take the shuttle bus from the Shanghai Tourist Bus Center which is located at No. 666 Tian Yaoqiao Road. The departure time is 7:00, 8:30, 9:05, 12:10 and 14:00. It takes about 1.5 hours.
Asked by Happy | Apr. 18, 2016 23:10

Reply
I want to visit Zhouzhang and shantang from Shanghai for one day.
1. Where can I get bus for both?
2. From ZZ, do they have bus to shantang?
Answers (1)
Answered by Wallace from CHINA | Apr. 19, 2016 20:43

4

0

Reply
1. There are buses at Shanghai South Passenger Station. The bus schedules are 08:11 and 13:21. Upon arrival, take bus Kun 260 or Kun 261 outside the bus station to get to the ancient town.
2. The Shantang Street is 30 minutes' walk away from Suzhou Railway Station. It would be convenient to take a high speed train at Shanghai Railway Station or Hongqiao Railway Station to get there. When you arrive, you can also take subway line 2 for 1 stop to the Shantang Street.
3. From ZZ, you may take a bus at Main Bus Station to Suzhou Railway Station. Either walk or take the subway to get to Shantang upon arrival.
Asked by Nick Lauer from USA | Oct. 18, 2012 11:24

Reply
where is good place to stay in Zhouzhuang, B&B , small Inn Or hotel
Answers (1)
Answered by Alice | Oct. 18, 2012 20:35

4

0

Reply
You may think about the small inns there which are beautiful and full of traditional cultural atmosphere.
Asked by Ms.Koh G L from SINGAPORE | Apr. 13, 2011 01:34

Reply
Hi, I can't decide between Tongli and Zhouzhuang. Can someone advise which is a better choice. Thanks
Answers (2)
Answered by Ms.Cindy | Apr. 13, 2011 01:53

5

0

Reply
Zhouzhuang is a better choice.
Answered by Ms.Koh G L from SINGAPORE | Apr. 13, 2011 09:09

4

0

Reply
Thanks Cindy for yr prompt reply.
Asked by Mr.Hua | Mar. 29, 2011 22:49

Reply
Hi there, I am planning to make a day trip to Suzhou on my last day in China and need to get back to Pudong airport by 10pm in order to catch a flight back home. What is the last train and bus departing Suzhou for Shanghai?
Answers (1)
Answered by Mr.king | Mar. 30, 2011 04:31

4

0

Reply
The last train from Suzhou to Shanghai is at 23:29. Here is a bus available, it will take you directly to Pudong International Airport, the last one is at 15:50, the address is 115, West Ganjiang Road.