Jingdezhen Pictures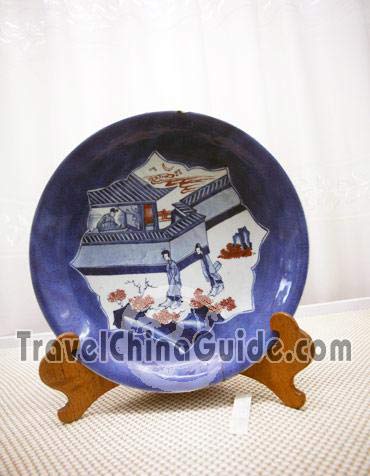 Jingdezhen Ceramics Museum: Blue and white dish with overglazed pattern of hurnan design, during the rule of Emperor Kangxi (1661-1722), in the Qing Dynasty (1644-1911)
Jingdezhen is the most famous center for porcelain production in China. It began to produce porcelain from the Five Dynasties (907 - 960) and continue to do so to this day. Many sites of ancient kilns and priceless porcelain are still here. These include the Site of Imperial Kiln, Jingdezhen Ceramics Museum and Chinese Museum of Royal Kiln Craft, which reflects the development of porcelain in the Song, Yuan, Ming and Qing Dynasties. Attraction Intro:
Jingdezhen
- Last modified on Oct. 26, 2017 -
Questions & Answers on Jingdezhen Pictures
Asked by Ms.Klara | Apr. 11, 2011 22:58

Reply
How cold does it get in the winter of nanchang? Is it as cold as Nanjing? (I found it cold since there is no heating as I believe is the case in Nanchang).
Answers (2)
Answered by Mr.DAVIDWU1103 from CHINA | Apr. 11, 2011 23:42

6

0

Reply
I don't think there is much difference between.
Answered by Mrs.Zong | Apr. 12, 2011 02:08

6

0

Reply
yes,you are right,Nanchang is very cold in winter,as cold as Nanjing.Most parts of southern China have not Heating.
Asked by Mr.Fernando Faustino from PORTUGAL | Jul. 06, 2009 06:11

Reply
Hello everybody

Can anyone pls tell me what is the nearest sea port from nanchang?

Thks for yr reply

Best Regards

Fernando
Answers (1)
Answered by Mr.Jerry | Jul. 07, 2009 22:31

3

0

Reply
That should be Fuzhou in Fujian, possiblly. Nanchan is in Jiangxi, which is not a coastal province.
Asked by Mr.lovechina from AUSTRALIA | Feb. 15, 2009 04:03

Reply
Hello everyone! I plan to go in Nanchang next may, so i would like to know, if i arrive in Hong Kong, is easy go to Nanchang by train, bus or only by plane?
What do you suggest? the cheapeast or fastest way?
Thankyou all!
Answers (2)
Answered by Ms.elaineli from CHINA | Mar. 07, 2009 23:52

0

0

Reply
You'd better not take bus there.Bus travel may be tired and take too much time.The fastest way of course is the plane.And if you take train,it's about ten hours more or less.I suggest traveling by plane.
Nanchang is my hometown,a beautiful and historical city.Enjoy yourself in nanchang!!!
Answered by Mr.lovechina from AUS | Apr. 05, 2009 05:31

0

0

Reply
Hello ms. Elaine
Thank you for replied! Yes I think Nanchang is very beautiful i saw many pics in the internet and i really want go there!!!! do you have any suggestion for hostel? could you pls send me email (
gmail.com|thalesjpn
) xie xie!