Small Wild Goose Pagoda Photos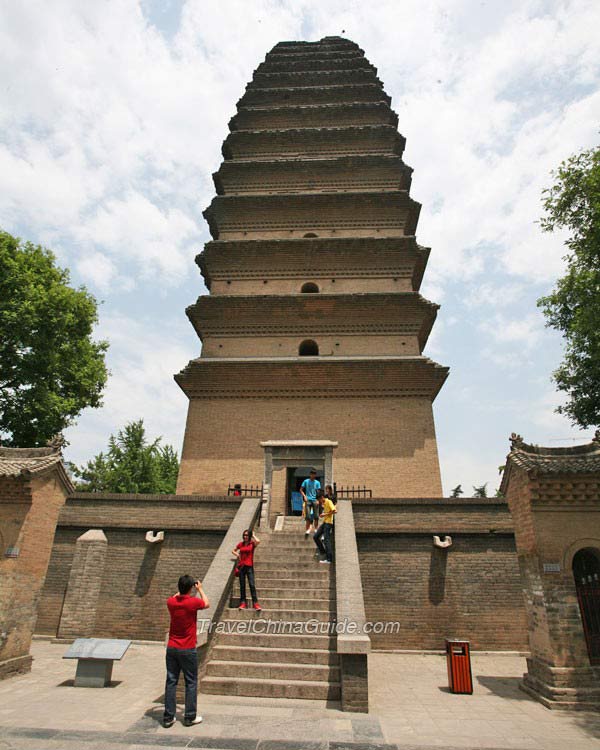 Situated in the southern suburb of Xi'an City, the Small Wild Goose Pagoda is a key national cultural protection unit. Also built in the Tang Dynasty (618-907), the pagoda is lesser to the Big Wild Goose Pagoda in scale, but its surrounding is more tranquil. In the west of the pagoda, the Xi'an Museum was newly built, exhibiting over valuable 2,000 historic relics. Attraction Intro:
Small Wild Goose Pagoda
- Last modified on Aug. 01, 2017 -
Questions & Answers on Small Wild Goose Pagoda Photos
Asked by Mr.GAWR0008 from AFGHANISTAN | Jan. 04, 2010 04:07

Reply
I want to book a flight from XIY airport,at 8:30 AM. At what time do the shuttle bus start running at from the Bell Tower to the airport? Can I get there in time for my flight, with some time to spare? is my real question.
Answers (2)
Answered by Mr.ANDY2008 from CHINA | Jan. 04, 2010 19:52

0

0

Reply
the shutules buses run every hour. Just manage your time. remember that it can not be too early to catch a airplane
Answered by Ms.Meng | Jan. 04, 2010 22:05

0

0

Reply
The first bus will leave the Bell Tower at 06:00, so you could catch it to arrive at Xi'an Airport around 06:45~07:00. Then, you will have enough time to check in.
Asked by Mr.Tharuka from SRI LANKA | Aug. 10, 2009 04:02

Reply
Dear Sir,

I am coming from Colombo to Xi'an. My first flight will be came to Hong Knong airport at about 17.10 pm. Next flight (MU204 China estern Airways) will depature at 18.40 pm from Hong Kong to Xi'an. I have noticed that most of time MU 204 flight delays arround 20 -45 minutes.I have 1.5 hrs as connecting time

Please kindly know whether my arrival time is sufficient to get 2nd flight (MU 204) at Hong Kong airport. I am Awaiting quick reply.


Tharuka

Answers (1)
Answered by Ms.Liv | Aug. 12, 2009 23:00

0

0

Reply
In the same terminal (Terminal A), I think. It will not need so much time, for transfer between international flights. About one hour is enough. To be frank, delays is not rare to China Eastern airlines. Any way, nice trip.:-)
Asked by Ms.jenny from AUS | Mar. 22, 2009 01:27

Reply
how many workers built Emperor Shi Huang Di's tomb and terracotta warriors.
Answers (1)
Answered by Ms.btch from YOURWAY | Mar. 26, 2009 11:33

0

1

Reply
700,000 workers