Pavilions of African Countries Pictures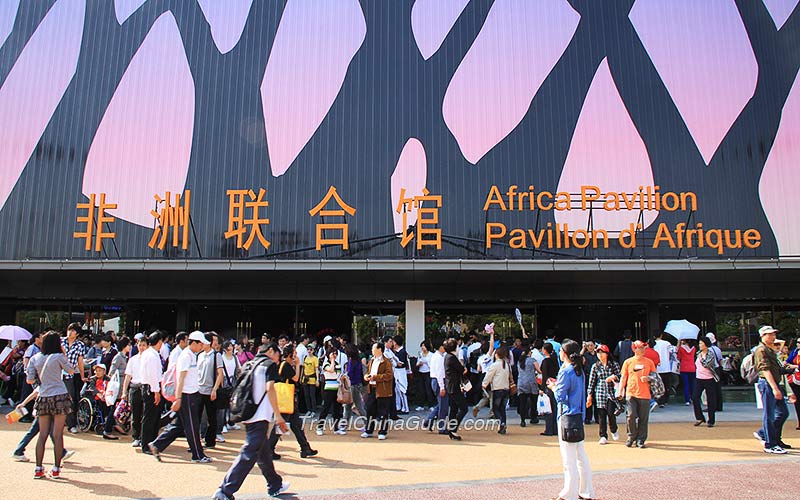 50 African countries participate in the Shanghai Expo 2010, amongst of which are South Africa, Cameroon, Zimbabwe, Uganda, Morocco, Nigeria, Angola, Algeria, Gabon, Gambia, and Burundi. The Africa Pavilion is very popular there, where visitors can enjoy the exotic shows and mysterious exhibits of Africa.

- Last modified on Sep. 24, 2017 -
Questions & Answers on Pavilions of African Countries Pictures
Asked by Ms.Jenna from FINLAND | May. 02, 2010 15:01

Reply
Hi,

I'm planning a trip to Shanghai in september (2.9.-16.9.) and I want to visit the expo2010.
Where can I buy tickets? I could not find ticketagent that locates in Finland.
Should I just buy a ticket when I get to the city?
Answers (1)
Answered by Mr.James | May. 03, 2010 01:37

0

0

Reply
You can try to book through the hotline at 86-21-962010.
It is allowed to buy the ticket when you get there. However, as I know, there is limitation on amount of visitors everyday. Speical day entry tickets can not be bought at the spot, so you should buy standard day entry ticket.
Asked by Ms.NGFC from MALAYSIA | Apr. 10, 2010 08:25

Reply
I'm very very new in Shanghai,
plan to go in late Aug to the EXpo
do you think Chenlong Business Hotel a good location to stay ?
how is the public transport to go, I might choose this hotel due the
economical hotel rate

Answers (3)
Answered by Mr.Jamie | Apr. 10, 2010 20:37

0

0

Reply
The hotel location is fine, close to Nanjing East Road, but far away from where you want to go. You can walk to East Nanjing Road to subway line 2 to reach People's Square and then change to line 8 to reach South Xizang Road, where you can find the nearest entrance into the park.

Answered by Ms.NGFC from MALAYSIA | Apr. 11, 2010 03:49

0

0

Reply
Thank you Jamie for the info...

Chenglong---> East Nanjing Road(Line 2)---> People Square ---> Line 8 ---> South Xizang Road---> Expo .....Correct ??

I'm going from Hangzhou to Shanghai on 27 to 31 Aug
we shall spend 3 days to visit this place, 28-30 Aug (Friday to Sunday)
I'm afraid of weekend, that will be very crowded in public transport, do you think Chenlong Business Hotel is a good location hotel to stay... or I should look for hetel nearby the park?

Actually, I look for Chenlong is becouse as we arrived at Shanghai, I find that it is near to town city, later we can go to walk around....but my concern is it's quite far from expo site...time consuming in taking public transport...

what's your advise??
Answered by Ms.ELLYSE from SINGAPORE | Apr. 11, 2010 13:25

0

0

Reply
It's fine to take metro to the park, it won't take too long.
Asked by Mr.Lacaze from FRANCE | Feb. 06, 2010 14:38

Reply
I am sorry but on the Telecom/Banking sites I don't see anywhere or link to online ticketing...
On the expo2010 site there's a good information webpage, but the links do not open any page allowing to buy online ticket. Because it's not possible from foreign countries ? Did someone succeed, how, is there a buig with InternetExplorer ?
Thanks for help...
Answers (1)
Answered by Mr.Jamie | Feb. 10, 2010 01:27

0

0

Reply
Neither of the Telecom and Bank supply online ticket booking for oversea travelers. I think you could contact Agence Chine Tourisme, which is the designated ticket sale agent in France.