Shanghai Transportation Pictures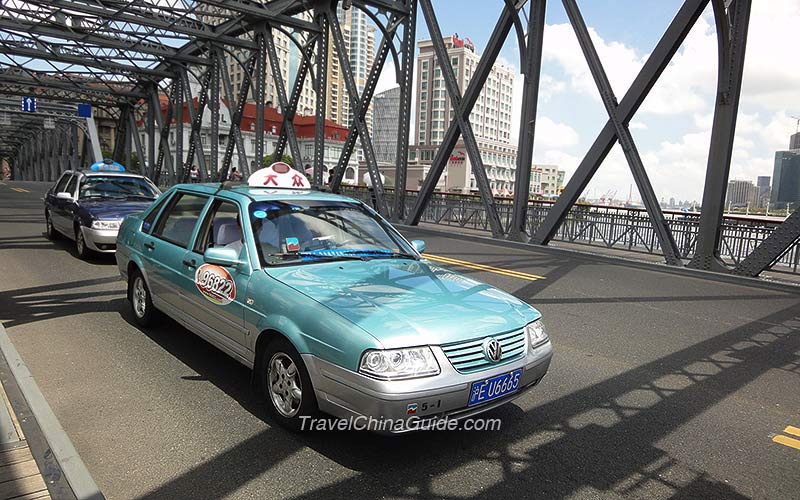 Running taxis on the Waibaidu Bridge
Transportation is vital for a city's development. To be a modern metropolis of China, Shanghai is backed up with strong traffic system: two international airports, convenient metro lines, busy city and inter-city buses, two big railway hubs, the maglev trains and other transport facilities for tourists. Related Intro: Shanghai City Transportation
- Last modified on Mar. 16, 2017 -
Questions & Answers on Shanghai Transportation Pictures
Asked by Mr.DON from PHILIPPINES | Sep. 06, 2009 10:28

Reply
HI, IM COMING FROM DINGHAI CITY, ZHOUSHAN...HOW COULD I GET TO SHANGHAI BY FERRY?
Answers (1)
Answered by Mr.Jon | Sep. 06, 2009 20:24

0

0

Reply
You can take a ferry at Sanjiang Pier in Zhoushan to reach with a port at near Nanpu Bridge.
Asked by Ms.Elysia from MALAYSIA | Aug. 20, 2009 22:49

Reply
Hi, we are going to Shanghai for 4 days. This is our first visit to this place. Can you recommend where to visit? and if possible would like to visit the water village for 1 day trip as well. Thank you.

Answers (4)
Answered by Mr.seeker from USA | Aug. 21, 2009 01:37

0

0

Reply
Hi,Elysia. You can seek travel information on this website. Really informative and helpful. Just try.
Answered by Mr.Lee from CN | Aug. 21, 2009 02:58

0

0

Reply
Hi, here is just my personal view: you can visit water village (e.g Zhou Zhuang). with a good tourist guide, you can learn certain interesting chinese history stories. but be aware that it's usually crowded at weekend. some loactions worth seening:
Lu Jia Zui, it's place where many skyscrapers stand with a nice park. visit it at daytime
Bund, resently it's closed for being under reconstruction. Actually you can have an overview of Bund from Bing Jiang Da Dao (a road by Huang Pu river) at Lu Jia Zui. The road is close to Oriental Peral TV Tower. Night piece is recommended.
Xin Tian Di. it's close to Huang Pi south road station of subway line 1.
Yu Yuan. A place for shopping/ traditional chinese food.
Su Zhou and Hang Zhou: two very traditional city.Su Zhou is famous for its traditional gardenging. Hang Zhou has a beautiful lake. You can pick one if you don't have too much time.

Answered by Ms.Jolin from CHINA | Aug. 21, 2009 22:18

0

0

Reply
Hello there,
If you want to visit a water village and on a press timetable, Zhujiajiao is a good choice. It is wonderful for you to feel a typical water town in south China. More important, it is nearer than Zhou Zhuang.
Answered by Ms.snackaroo from SINGAPORE | Aug. 26, 2009 21:41

0

0

Reply
i have heard lots of reviews on zhou zhuang (water village). you got to go alight at a train station and buy tickets from there. i just cannot remember which station is that. i think is the sports stadium or something like that.

anyway my friends who went said that it was nothing much. do not have to stay over there cos it is quite commercialised.

for shopping, go qi pu lu and ke ji guan if you can bargain (see reply to mr deepak). if you are after the topshop kind of stuff, you can go over to ren ming guang chang, nanjing lu, lu jia zui (see rely to mr david)

you should really visit nanjing lu and the bund at night. it's really beautiful.

if you like karaoke, go over hao le di. the overnight singing session was pretty cheap! i remember i paid 100 rmb for 12am till 6am. but no drinks and food. you got to buy your own food/drinks and bring it in.

the pudong side is pretty nice too. but i didnt went over often so i can't remember the name of the train stations i alighted at.

if you have time, you can buy train tickets at railway station and travel over to hangzhou or suzhou. it takes only 1 hour. but nothing much to see over there. i think shanghai is more exciting!

hope you have fun there!