Pictures of Temple of City God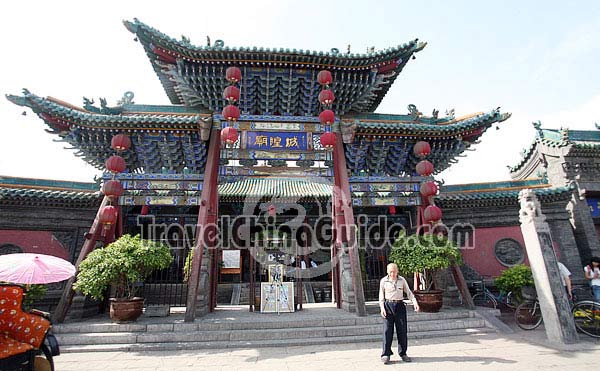 A double-eave wooden arch in front of the Temple of the City God, Pingyao City, Shanxi.
The Temple of the City God is situated in the southeast of the ancient city, covering an area of 7,302 square meters (around 8,733 square yards). It has a long history but has been well preserved. The structures of it embody the combined culture of Buddhism, Daoism and folk culture. The wonderful woodcarvings and mural paintings inside the temple reflect the excellent craftsmanship. Attraction Intro:
Temple of City God
- Last modified on Jun. 14, 2017 -
Questions & Answers on Pictures of Temple of City God
Asked by Mr.Herman Loke from MALAYSIA | May. 26, 2010 02:24

Reply
Is there a train service between Xi'an and Pingyao where I would like to stop over for a day or two before proceeding to Beijing.
Answers (1)
Answered by Ms.Lana | May. 27, 2010 19:51

7

0

Reply
Yes, there are trains available between the two places, such as K690, 2670 and etc. For the train schedule, you can search on the site or make an online inquiry directly.
Asked by Ms.Sushan from TAIWAN | Jul. 26, 2009 01:17

Reply
Hello, I am travelling by train from Beijing to Luoyang & Shaolin temple & to Xi'an. After reading so many articles about pingyao, want to include it. could any of you let me know, if there is any connecting train between luoyang & pingyao & to Xi'an?
Thanks a lot in advance.
Sushan
Answers (1)
Answered by Mr.Andrew from CHINA | Jul. 27, 2009 19:59

7

0

Reply
There is no direct train between Luoyang and Pingyao. The feasible routes are as following for your reference:

Beijing to Pingyao: by train K603 17:05/05:32 or 1163
19:03/07:31
Then to Taiyuan: by bus
Taiyuan to Zhengzhou: D166/D167 17:24/21:50
Zhengzhou to Luoyang: by bus
Luoyang to Xi'an: K869 15:28/20:45

Or

Beijing to Luoyang: by train T151 13:41/22:39
Luoyang to Zhengzhou: by bus
Zhengzhou to Taiyuan: D165/D168 08:51/13:21
Taiyuan to Pingyao: by bus
Then to Xi'an: by train 1095 20:42/07:20 or 2669
23:14/07:46