Ancient Ming and Qing Street Pictures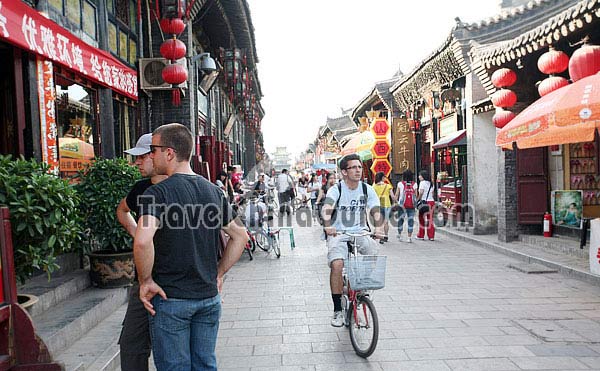 The antique buildings of Ming and Qing Dynasties stand on the both sides of the narrow street, selling all kinds of goods.
As a highlight attraction of Pingyao, the Ancient Ming-Qing Street is actually the North Street of this ancient town. It is a narrow pedestrian street with 750 meters (820 yards) long, along which hundreds of ancient-style stores standing along, including the old bank, pawnshop, medicine store, meat store, tobacco store, grocery and silk store. Attraction Intro:
Ancient Ming and Qing Street
- Last modified on Jun. 23, 2017 -
Questions & Answers on Ancient Ming and Qing Street Pictures
Asked by Mr.DUCASSE from FRANCE | Apr. 02, 2010 07:25

Reply
Could you tell me if there are two soft sleepers available on monday april 5th on train 2462/2463 between Datong and Pingyao starting 23h04 frm Datong.
Thank you for answering
Sincerely yours
Daniel Ducasse
Answers (1)
Answered by Mr.MARKKU from CHINA | Apr. 03, 2010 01:18

21

0

Reply
Most probably the train tickets have been sold out since the Tomb-sweeping Day falls on April 5. While these two cities are famous tourist cities and most Chinese prefer traveling during the holiday.
Asked by Mr.Hakkaart from NL | Nov. 08, 2009 05:59

Reply
I would like to know if the following itinerary is practically possible by train and how I'd get the train tickets (in time):

dec.28 Beijing -> Pingyao (overnight)
dec.30 Pingyao -> Xi'an (departure in early morning or even midnight)
jan.1 Xi'an -> Chengdu (departure in early morning/afternoon)

Thanks a lot!

Thomas
Answers (1)
Answered by Mr.Christopher Sawyer from USA | Nov. 16, 2009 02:16

19

0

Reply
hi,except the trains between Xi'an and Pingyao, other two train tickets are easily get comparatively. I suggest you take car to Taiyuan before you reach Xi'an, which are the departure city of the trains.

For the train tickets, you may try to reserve them from the hotels in you live during your traveling.
Asked by Mr.Crowell from CHINA | Apr. 29, 2009 23:57

Reply
Does train 1163, Beijing West to Pingyao, have hard-sleeper beds? Does this train depart on Fridays?
Answers (1)
Answered by Ms.Kina from CN | May. 05, 2009 04:19

2

0

Reply
Hi! Crowell, the hard-sleeper beds in train 1163 are available. This train departs from Beijing daily and arrive its destination the next morning.