Pictures of She Huo (Traditional Festivity Show)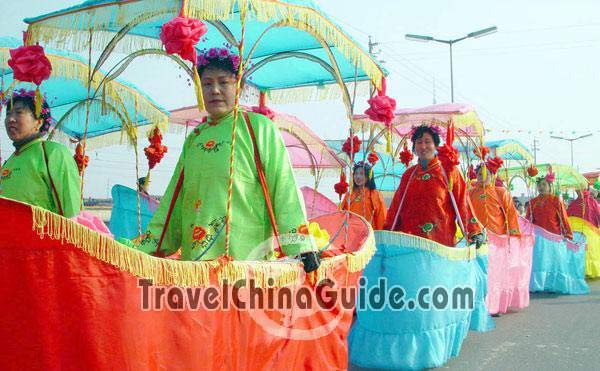 The performance of Picking Lotus Boat Dance
At the
Spring Festival
, the Shehuo (Traditional Festivity Show) performances are put on in Pingyao, Shanxi Province. Red lanterns ornament streets and lanes. The atmosphere of festival is very strong. You can see the Picking Lotus Boat Dance, Waist Drum Dance, Lion Dance, Dragon Dance and many other traditional folk dances. Where there are the Shehuo performances, there are a large number of spectators.
- Last modified on Nov. 07, 2017 -
Questions & Answers on Pictures of She Huo (Traditional Festivity Show)
Asked by Mr.Ot | May. 21, 2010 05:17

Reply
Hi,

Is it possible to book a long-lastig ticket from Beijing to Xi'an and make a stop at Datong and Pingyao (for a few days)? Or do I need to buy seperate tickets for every route?
Thank you for the information.

Answers (1)
Answered by Mr.Majid from CHINA | May. 24, 2010 02:34

0

0

Reply
The trains from Beijing to Xi'an do not pass through either of the two cities. So you can reschedule your trip as this: Beijing-Datong-Pingyao-Xi'an and buy the train tickets for each route separately.
Asked by Mr.Bronchales from SPAIN | Jul. 24, 2009 12:17

Reply
Dear Sirs,
We are 4 people who will leave Beijing by train on the 4th August, we would like to book a private cabin with 4 soft sleeper, destination to Pingyao.
How can we make the booking? What is the price of the private cabin? Where do we have to pick up the tickets, or do you send them by mail (electronic tiket)?
Please send me the information to this email adress:
yahoo.com|sergiobronchi
Answers (1)
Answered by Ms.Kina from CHINA | Jul. 25, 2009 02:31

0

0

Reply
Hi, you can go to the Beijing Railway Station and buy the tickets in the Ticket Office. There are also many satellite ticket offices scattered around the city. You can easily find one near your hotel. However, there is a CNY5 service charge for each ticket at these offices. If you would like to have a soft sleeper compartment, the train tickets are CNY996. You'd better to purchase the train tickets as early as possible, as now is during the Summer Holiday. You can buy tickets and reserve seats up to 10 days before the departure.