Barkhor Street Pictures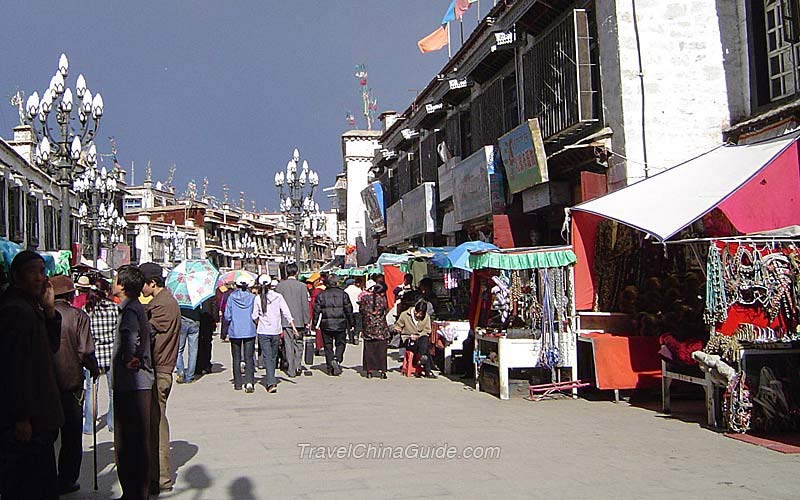 The most prosperous commercial center of Lhasa should be the time-honored Barkhor Street around the Jokhanf Temple. Every day, there are so many travelers and locals assembling in these Tibet houses with white walls and red roofs.
Barkhor Street is located in the center of Lhasa's old block where the original flavor of these Tibetan buildings and the local life style are well-preserved. The history of this place can be traced back to the 6th century, when the Tibetan King Songtsen Gampo built the Jokhang Temple, then a subsidiary street appeare around it, namely the current Barkhor Street. Attraction Intro:
Barkhor Street
- Last modified on Oct. 12, 2017 -
Questions & Answers on Barkhor Street Pictures
Asked by Mr.Do from USA | Feb. 04, 2010 23:35

Reply
We plan to visit Tibet in May by ourself, can we apply the Travel Permit in USA before we are leaving the country. We will visit Yunnan for few days, if we can't apply for TTP in my country, we can apply TTP in Kunming through any travel angency, is it right? What is the length of time to stay that the TTP permit?
Your reply is greatly appreciated.
Do


Answers (1)
Answered by Mr.Jamie | Feb. 05, 2010 21:45

27

0

Reply
You could only apply for this permit in China unless you participate in a tour group in USA. Yes, you could get this permit from an international travel agency in Kunming;however, you should participate in a tour group. It will take you about 3 days to get the permit. As for the details, please refer to: https://www.travelchinaguide.com/essential/tibet/
Asked by Mr.Ray Wiseman from USA | Nov. 28, 2009 21:00

Reply
Hello, I am an American teaching English in Shandong and want to travel to Tibet. I have a one year visa and am told I can go anywhere in China... I would like to travel to and tour Lhasa during the Spring Holiday (February 2010). IS anyone else going at that time? I'd enjoy the English conversations along the way and it would be great to have someone speaking Mandarin... even with other languages spoken in Tibet... Let me know... Ray
Answers (1)
Answered by Mrs.Dora | Nov. 30, 2009 01:15

24

0

Reply
Have a nice time there and just remind you that you must have Tibet Travel permit in addition to Chinese Visa. :-)
Asked by Mr.vivek from INDIA | Jan. 11, 2009 04:03

Reply
hello sir,
I am an Indian medical student studying in Dalian, pr China,
Iwant to travel lhasa-kathmandu-india by road
I will stay 25days in india ,then back to china through the same route.
Sir i just want a transport from lhasa to the nepal border.
Iam a student so please give a discount ,and let me know about the permits.
My cell number 0086-15524845512
email address:
yahoo.co.in|bhupathi_vivek
thank you
Answers (1)
Answered by Ms.Cindy | Jan. 11, 2009 21:47

4

0

Reply
You can find vehicles in Nepal's Consolate in Lhasa, they will get to Zhangmu, through which you can get to Kathmandu. There are direct buses from Lhasa to kathmandu. The expense is about 600rmb. You just need to show your passport.