Buddha Unfolding Pictures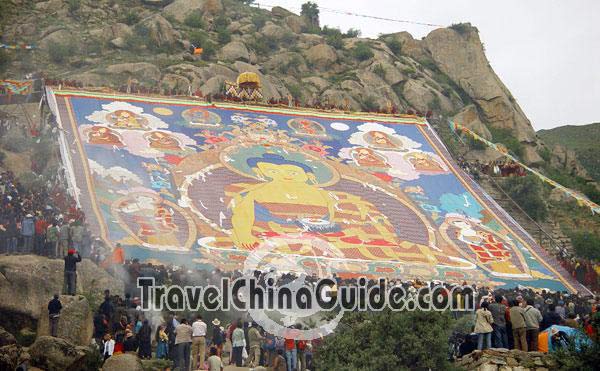 As one of the representative treasures of the temple, the Buddha painting which is a huge Tibetan Thangka always looks magnificent and sumptuous.
Buddha Unfolding is a very important and magnificent ceremony in Tibet. It is held to commemorate Sakyamuni, the founder of Buddhism. Usually, this is one of the rituals during the traditional annual Tibetan Shoton Festival. On that day, a great many locals and travelers will come from far and near to enjoy the spectacular ceremony.
- Last modified on Aug. 09, 2017 -
Questions & Answers on Buddha Unfolding Pictures
Asked by Mrs.ify from NIG | Apr. 28, 2009 10:15

Reply
please i will like to know if it is conducive to visit tibet in June/july
Answers (2)
Answered by Mr.William Zhao | Apr. 28, 2009 22:57

4

0

Reply
Yes, it is the beginning of the touristy season for the holy place.
Answered by Ms.Hollander from USA | May. 11, 2009 18:10

4

0

Reply
Yes it would be nice to visit that place, as Mr. William Zhao said that is the beginning of the tourist season, :)
Asked by Mr.Tom from USA | Nov. 28, 2008 03:27

Reply
anyone knows if the restrictions are still in effect for foreingers going to Tibet now? Is it safe to Lhasa this winter?
Answers (4)
Answered by Ms.Elizabeth Simpson | Nov. 29, 2008 00:56

7

0

Reply
HI! Following the news that the restrictions was removed early in May! So it is safe, especially in Lhasa, or youc can participate a tour. Winter is not the best season there. It may chilly anyway!
Answered by Ms.Mary from USA | Nov. 30, 2008 11:09

6

0

Reply
Is it true that there are 1,500 lakes in Tibet? How come some of them are not on the map?
Answered by Mr.Jef from AUSTRALIA | Dec. 10, 2008 09:41

6

0

Reply
I am leaving for Beijing and on to the train to Lhasa in two weeks. I've been told that that place is open and that I have a Tibet permit. So staying there in Jan will be cold and so thrilling
Answered by Mr.Collins from USA | Jun. 09, 2009 23:17

0

0

Reply
Yes the Chinese authorities have succeeded in quahing any semblance of freedom for the Tibetan people. If you like visiting a mountainous gulag, you'll LUV that place!

Any chance of a free election here or any place else in China?