Pictures of Ruins of Guge Kingdom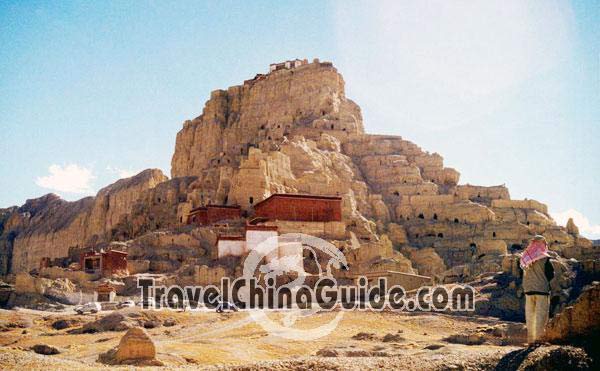 On the summit sit the palace. In the middle are monasteries and residential area is at the foot of the mountain. The location reflects the authority of the Guge Kingdom.
The Guge Kingdom recorded a 600-year history in the west region of Tibet after the Tubo Kingdom's decline. However, the powerful kingdom has disappeared suddenly 300 years ago. But in 1985, it was rediscovered while the ruins of this old kingdom were being excavated. All of the archeological findings show that the Kingdom played a key role in studying the ancient Tibetan history and culture. Attraction Intro:
Ruins of Guge Kingdom
- Last modified on Aug. 07, 2017 -
Questions & Answers on Pictures of Ruins of Guge Kingdom
Asked by Mr.Gurusimha from INDIA | Oct. 28, 2009 13:06

Reply

Hi,

planning to visit lhasa via khatmandu.

also want to see mt.kailash - manasarovar - mt.everest base camp.

is it possible to do it one itenary of 12 days.

like kathmandu - manasarovar - mt.kailash - mt.everest - lhasa.

what would be the budget for 6 members.
Answers (2)
Answered by Mr.tibetime from CHINA | Dec. 20, 2009 07:41

19

0

Reply
at least 2000 us dollars I think.
safe journey!
Answered by Mr.gurusimha from INDIA | Dec. 23, 2009 11:27

12

0

Reply
hi Mr.tibettime,

first of all thanks for the reply.

does it include everything, boarding, lodging & food.

2000 US Dollors per head or a team of 6 members.


Asked by Ms.Ling from BRUNEI | Jun. 06, 2009 03:14

Reply
what are the best souvenirs to get from Tibet?
Answers (1)
Answered by Mr.Qi from CHINA | Jun. 06, 2009 22:05

2

0

Reply
You can bring silver ornaments, and decorations made of yak bone, Tongkha (abuddist painting), masks, hanging carpet, Tibetan herbs or incense, Prayer's wheel or other religious items. For things to eat, you can buy some dried beef, chang, butter tea.