Norbulingka Pictures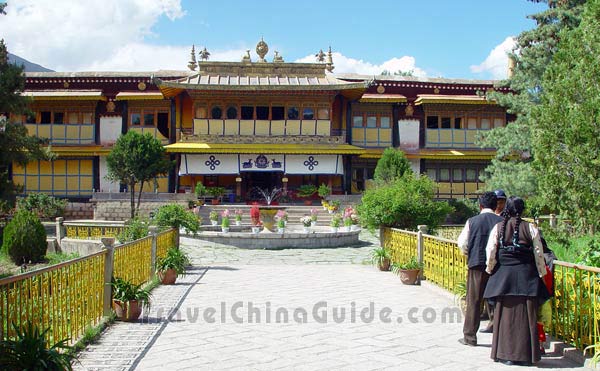 The beautiful buildings in Norbulingka are the great examples of the Gelug Sect's architectural masterpieces. With its charming natural scenery, this place has been an enjoyable garden for visiting and holding festivals.
Located in the west suburb of Lhasa City, Norbulingka was the summer resort for the Dalai Lamas to conduct business and meet visitors since the 7th Dalai Lama. In this sense, it is also called the Summer Palace in Tibet and it enjoys the same prestige as the Potala Palace. Originally built in the 1740's, the garden has been expanded to be the most attractive artificial garden in Tibet. Attraction Intro:
Norbulingka
- Last modified on Sep. 29, 2017 -
Questions & Answers on Norbulingka Pictures
Asked by Mr.ELCIO from BRAZIL | Aug. 23, 2009 19:30

Reply
Hi !!!I and my two friends would like to visit Lhasa ,Tibet in October2009.We prefer to go by plane from Guangzhou(GZ)and after 2 days , we will plan go througt Dubai by Emirates returning to Sao Paulo,BR. Is it possible this trip without come back to GZ ??
Someone know what kind of disease can appear in high hills?? Tks.
Answers (1)
Answered by Mr.paul from CN | Aug. 23, 2009 20:08

0

0

Reply
Hi, do you mean you want to go to lhasa from guangzhou and then fly from lhasa to dubai? I am sorry that there is no flight from lhasa to dubai, you may need to come back to guangzhou and fly from guangzhou to dubai. If you go to lhasa, most probably you will suffer mountain sickness. I strongly advise you to read this page for more information about the sickness:
https://www.travelchinaguide.com/essential/tibet/mountain-sickness.htm
Asked by Ms.Zhang | Jun. 20, 2009 04:53

Reply
Anyone interested to go to Tibet in the week of July 20? Just told by local agencies that foreigners cannot go alone. Have to be accompanied by local tour guide and cannot join the local tour. This means we have to hire a driver, a tour guide, and a vehicle at least. Otherwise cannot get the permit. The cost is high. So far we have 2 people: 1 male 1 female, looking for someone who would like to travel together. Plan to start from Chengdu. Pls contact me if you want to know the details:
hotmail.com|ninazhang1
.
Answers (6)
Answered by Mr.Frank from USA | Jun. 22, 2009 01:08

0

0

Reply
Not very sure about what you meant of local tour. As I know, you could participate in a tour supplied by any international travel agancy in China. You may look for a reliable one.
BTW, I have read an artilce introducing the Tibet travel permit on this website: https://www.travelchinaguide.com/essential/tibet/
Answered by Mr.Geoff from US | Jul. 07, 2009 01:22

0

0

Reply
i am arriving July 22nd, 2009 in Llasa and ending in Kathmandu on the 28th and am going solo. If you are interested in joining please let me know asap.
my email is
osu.edu|carlston.3
Answered by Ms.clarrice from MALAYSIA | Aug. 03, 2009 03:37

0

0

Reply
hi,my name is clarrice from malaysia who also interested to do lhasa in early of sept..ya i do agreed with u that join a tour guide there will cost more expensive.may i know where u from?
Answered by Ms.Jean from MALAYSIA | Aug. 04, 2009 00:36

0

0

Reply
Hi everyone :) Am Jean from M'sia. My trip to Tibet starts from 17Sept and so far there are only 3 of us. Yes, a local tour guide is compulsory.

Clarrice, would you like to join us since you're planned for Sept? Am hoping that you change change your leave schedule to mid Sept. Btw, we are flying via China Eastern to Lhasa via Shanghai and XinYang. Just booked the tickets today. Do let me know soonest.
Answered by Ms.Vivien from MALAYSIA | Aug. 06, 2009 08:10

0

0

Reply
Hi Jean, Clarrice and all,

I am also a malaysian planning to visit tibet in sept this year ,but will be end sept (in conjunction with oct holiday). i knew it would be super crowded and everything will be more expensive, yet, that is the only chance for my holiday . i was planning to go by backpacked , and not joining any tour. seems like quite impossible now, do you both mind sharing your itinery plan ? my original plan is from chengdu by car into lhasa( takes 8 days) , then 5 days in lhasa around places nearby , then heading to kathmandu. is it possible ? thanks in advance !
Answered by Mr.camel from MALAYSIA | Aug. 10, 2009 04:18

0

0

Reply
Hi Vivien.
i'll be heading there begining of oct too. went there twice, this is my 3rd trip. actually you can backpack still. :) as long as you know the way.. contact me if anyone interested.
hotmail.com|coantz
. am from malaysia.