Tibetan Fresco and Tangka Picutres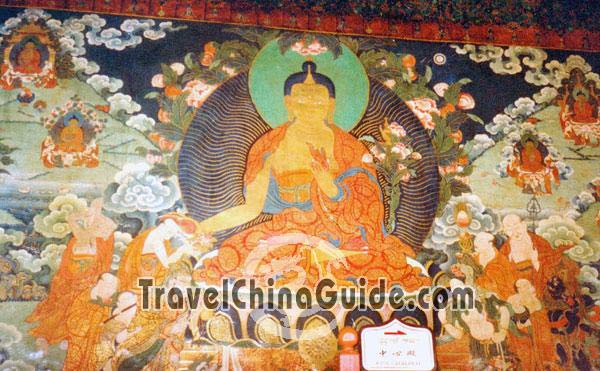 Paint for murals is opaque mineral paint with ox bile to keep it fresh and enduring.
Fresco and thangka are two main popular art forms of Tibetan painting, especially principal art forms in monasteries. Prosperity was brought into the art of fresco and thangka as the Buddhism entered Tibet area. As recorded, fresco first appeared in a palace of Tibet built over two thousand years and Tibetan tangka has taken over one and a half centuries to reach its current perfection. Attraction Intro:
Fresco and Tangka
- Last modified on Oct. 04, 2017 -
Questions & Answers on Tibetan Fresco and Tangka Picutres
Asked by Ms.joey from MALAYSIA | Aug. 03, 2009 03:52

Reply
hi,
my name is joey from malaysia who would like to seek for some advise from you.
im planning to go guilin,chengdu and lhasa in early of sept.
wat is the best way to get into chengdu from guilin?how does it cost for both train and bus?and how can i get into lhasa from chengdu?is it better to take train or flight?what is the cost?how and where can i get the Tibet permit as i plan to go lhasa as my last station of tour.
Many thanks!!

Answers (2)
Answered by Ms.Bonnie from CHINA | Aug. 11, 2009 04:20

11

0

Reply
Hello, Ms. Joey

To my own experience, you'd better travel by air from one city to another. The train tickets are hardly to be puchased, especially in the travel high season like September. For your information, the soft sleeper tain charge is about ¥336.00 per ticket on the train K651/K654 13:11/14:01 ( the next day) from Guilin to Chengdu. The soft sleeper train charge is ¥921.00 per ticket on the train T22/T23 20:59/15:54( the next day) from Chengdu to Lhasa.

Regarding the Tibet Travel Permit, you can only get it if you book an organized tour from an travel agent.
Answered by Ms.Joey from MALAYSIA | Aug. 15, 2009 07:10

10

0

Reply
hello,thanks in advance for ur kind advices. Im confirm to reach guilin on 12 sept 2009 at afternoon,i would like to ask after i reach in guilin airport,where can i get a shuttle bus into the city from the airport?i have planned to go for several places.it is from guilin-kunming-chengdu-lhasa.can i get all those train ticket in the railway station?For example, in guilin train station,is it easier to buy train ticket to kunming which is my next station to visit?and the same way to buy ticket in kunming to chengdu?
Many thanks!!