Xinjiang International Grand Bazaar Pictures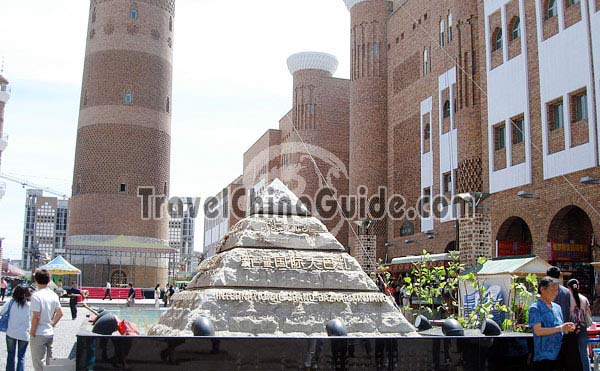 International Grand Bazaar was built with a rich Islamic Style
- Last modified on Apr. 12, 2018 -
Questions & Answers on Xinjiang International Grand Bazaar Pictures
Asked by Kambalah from PHILIPPINES | Apr. 11, 2018 23:38

Reply
I'm going to visit Urumqi first week of march, how's the weather?
Answers (1)
Answered by Caden from UNITED KINGDOM | Apr. 12, 2018 22:16

0

0

Reply
According to the previous weather statistics, the temperature may range from -5C to 5C in the early March. It will be a little bit cold. And the temperature differences between day and night would be large. Thus you are advised to prepare some warm clothes, such as down jackets, sweaters, long-sleeved shirts, jeans and pants.
Asked by Mr.Richard from CHINA | May. 20, 2009 20:33

Reply
Great site. Great service. Thank you! I am visiting Xinjiang at the end of June with a small group of fellow teachers.Starting in Urumqi, going north first then to Kashgar (and others). I am English and have a Chinese driving licence (from Beijing). Can I hire a car in Xinjiang (Urumqi and Kashgar)? I read that we may need an official guide if we are travelling (driving) around independently. Is this true? Thanks for your help.
Answers (3)
Answered by Mrs.Lee from CHINA | May. 24, 2009 23:13

12

0

Reply
An official guide will help you a lot if you are travelling around independently, otherwise, you may be in trouble.
Answered by Mr.Richard from CHINA | Jun. 09, 2009 09:58

10

0

Reply
Thanks for your reply Mrs Lee. I have just seen it, sorry for the delay. Do you mean I'd have official trouble e.g police, local officials etc? Or do you mean we will have problems getting good prices for hotels, camel rides etc? Do you know if I can hire a car while I'm there?
Answered by Mr.Jamie from CHINA | Jun. 10, 2009 01:26

4

0

Reply
Hi, Richard, suggest you hire a car with local driver or do not do that at all. It is complicated and troublesome for an expats in Xijina to hire a car. There are contract, testing the car and a Xinjiang local as warrantor. I have no idea about the official guide. I guess Lee means a guide will kept you safe and convenient to travel there. If you want to travel alone, be cautious.
Asked by Ms.Alice from CHINA | May. 11, 2009 04:07

Reply
If you want to travel to Xinjiang.You had better come here in July to October.It is the golden season to travel here.You should take a warm coat.Because the weather here is dry and a litter cold.
Answers (1)
Answered by Ms.adeline from SPORE | May. 11, 2009 06:03

9

0

Reply
Thanks Alice, jerry and vladimir appreciate yr advice.