Fengjie Pictures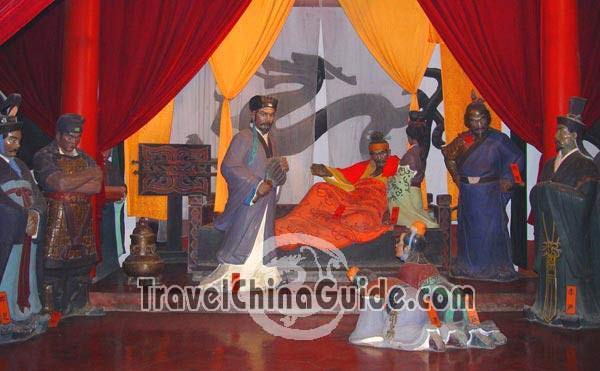 This pictures shows the story that Emperor Liu Bei, on his deathbed, entrusted state affairs and his son to Prime Minister Zhuge in White Emperor city.
Fengjie, also called White Emperor City, lies at the entrance of the Qutang Gorge and is close to the grand Kui Gate in the east. It became well-known during the period of the Three Kingdoms. Liubei, the king of Shu, was defeated in this city in the war against the Wu Kingdom, and then he died in distress. At his last gasp, he entrust his son and state affairs to the Prime Minister Zhuge Liang. Attraction Intro:
Fengjie
- Last modified on May. 06, 2017 -
Questions & Answers on Fengjie Pictures
Asked by Ms.Taylor | Feb. 24, 2011 01:55

Reply
I have a question about custom clearance: I'm arriving in Guangzhou and have a connecting flight to ChongQing on the same day. Do I have to retrieve my luggage and clear customs in Guangzhou?
Answers (1)
Answered by Ms.Johan | Feb. 24, 2011 20:14

0

0

Reply
Generally, retrieving luggage by yourself is necessary where the customs clearance is needed. However, sometimes the rules vary form different airports. For sure, you would better consult the airlines directly...
Asked by Mrs.Ross | Nov. 26, 2010 20:55

Reply
how easy to arrange Yangtze River Cruise
Hi,

This might be a little earlier, but I was too excited. My husband & I are plan to visit China in next May. Our plan is start from Hong Kong, ferry to Shenzhen Airport, then flight from Shenzhen to Guilin, after visit Yangshuo, we like to visit Yangtze River Cruise, Xi'an, Beijing and finish our trip at Shanghai, back to Hong Kong, it sounds complicated for us:( Could anyone please can advise us how easy to arrange the River Cruise, train or flights once we arrive China?

Many Thanks.

Answers (1)
Answered by Ms.Monica | Nov. 27, 2010 00:40

0

0

Reply
Yes, that's a long journey. 6 cities and 1 cruise. You have a huge amount of preparation work to make your trip memorable.
Here is Yangtze River Cruises(https://www.travelchinaguide.com/cruise/) for your reference.
Flights and train tickets can be booked from China Flights(https://www.travelchinaguide.com/china-flights/) and China Trains(https://www.travelchinaguide.com/china-trains/) . Good luck~
Asked by Mr.otis from USA | Feb. 14, 2010 20:18

Reply
is there a cruise ship running from Hangzhou to Suzhou in week of April 25th in 2010?
Answers (1)
Answered by Mr.moon | Feb. 19, 2010 20:34

0

0

Reply
Yes, there is. It is available every day.