Lijiang Ancient Town Pictures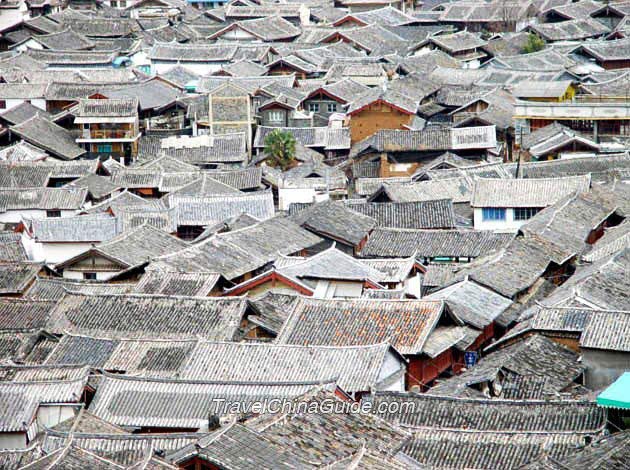 A bird's eye view of Lijiang Old Town
The Ancient City is located in the middle of Lijiang Bazi (Bazi here means small-area plain.) Covering an area of around 3.8 square kilometers (912 acres), it was initially built in the late Southern Song Dynasty (1127-1279). The Square Street (Sifang Jie) is the heart of the old town, which once served as the most important transportation hub on the Ancient Tea Caravan. Attraction Intro:
Lijiang Ancient Town
- Last modified on Nov. 22, 2017 -
Questions & Answers on Lijiang Ancient Town Pictures
Asked by ana from SPAIN | Nov. 16, 2017 23:54

Reply
I´m in Dali and I will have a couple of days to visit somewhere else.
I was thinking Lijiang but maybe you can recomend someplace better?
Also, i would like to know the best way to get there, how much it will be a taxi from Lijiang (or other place recomended) to Dali airport
Thank you!
Answers (2)
Answered by Oliver from USA | Nov. 20, 2017 21:17

1

0

Reply
Besides the old town, you can also tour around Lugu Lake, Jade Dragon Snow Mountain, Shuhe Ancient Town and Tiger Leaping Gorge.
About the transportation, you can take a coach from LJ Coach Station to Daluoshui Village. Then walk to the lake.
To the Snow Mountain, there is no public transportation. You need to charter a taxi / car/ mini-van or carpool together from the downtown area.
To Shuhe Ancient Town, take public bus no.6 from Guchengkou to the destination.
To Tiger Leaping Gorge, take a coach from LJ Transport Service Center Bus Station directly.

Generally speaking, it costs CNY 1,100 to 1,500 by taxi to Dali airport because of the long distance.

Hope helpful!
Answered by ana from SPAIN | Nov. 22, 2017 07:51

0

0

Reply
thank you sooo much!
Asked by Mr.Pexstret from MALAYSIA | Dec. 28, 2009 08:26

Reply
Hai
I am student in Korea
and i will going to visit Lijiang in Febuary
just like to know how to goto Li Jiang from Beijing

thanks
you informaton will help me alot.

Answers (1)
Answered by Mr.Jamie | Dec. 30, 2009 20:29

1

0

Reply
You can fly there from Beijing directly.
You can also go to Kunming first by train or air and then take buses to reach your destination.
The bus journey will take you about 8 hours to reach.
Asked by Ms.SBasu from UNITED KINGDOM | Aug. 25, 2009 07:27

Reply
Hi there,

I was just wondering what was the cheapest way of getting to Lijiang from Beijing? I have a bit of time to travel. Thanks
Answers (1)
Answered by Mr.Sandy | Aug. 26, 2009 22:54

0

0

Reply
You can only go by air. There is no train to reach directly and it will take you too much time by train. It is over 38 hours to Kunming and then 6-8 hours by bus. The bus ticket is about 160RMB. If it is expensive to fly, flight to Kunming seems to be a bit cheaper. The you can take a bus to reach.