Nanjing Road is always the synonym of flourish. There's a saying that goes 'you have not ever been to Shanghai unless you go to the Nanjing Road'. Nanjing Road - China's premier shopping street - extends westwards from the Bund to the junction of Jing'an Temple and the West Yan'an Road. The 3.4-mile-long road has two sections of East Nanjing Road and West Nanjing Road being separated by the Middle Xizang Road. The west part of East Nanjing Road, from Middle Henan Road to Middle Xizang Road, has been set up as a pedestrian street in 1999.
Today East Nanjing Road becomes the first choice for many fashion-seeking shoppers. A great many large shopping malls, time-honored stores, famous stores and specialty shops cluster along both sides of the road. You can find whatever you want - commodities, home appliances, communication equipment, photographic equipment, fitness equipment, clothing, shoes, fabrics, cosmetics, jewelries, watches, glasses, books, food, medicine and children's needs.
If you are interested in Chinese culture and art, the specialty shops in East Nanjing Road will gratify your taste. You can choose from various special local products such as silk, calligraphy, paintings, traditional Chinese medicine, handicrafts and other souvenirs.
When night comes, the stores are decorated with colorful sparkling lights. Even if you don't have any shopping plan you will find the street itself a great attraction. Wandering on the road and hungry? There are a lot of excellent restaurants here offering delicious food and good service. Tired? There are plenty of quality hotels along the road such as Peace Hotel, Sofitel Hyland Shanghai, East Asia Hotel and Ramada Plaza.
If you are going to take a great shopping expedition here, remember to bring enough cash. Credit card is also welcomed. Credit cards issued by China UnionPay are acceptable in most department stores. In some large shopping malls, foreign credit cards can be used for payment, including Visa, MasterCard, American Express, Diners Club, JCB, Federal and Million.
Can't wait go shopping? Please note that most of the stores here open 12 hours from about 10:00 to 22:00. Many bus routes and subway lines can take you to the East Nanjing Road, including the bus nos. 14, 18, 20, 33, 37, 55, 65, 66, 123, 220, 305, 306, 307, 318, 330, 576, 868, 910, 921, 928, 929 and Subway Line 1 and 2.


Map of East Nanjing Road

Introduction to Shops & Department Stores along East Nanjing Road
We list them from the east to the west. If you go shopping westward directly after touring
Huangpu River
and
the Bund
area, you can take the listed order. If you want to go shopping eastward after touring
Shanghai Museum
, Shanghai Art Museum and other attractions around the People's Square near the west end, please read the introduction from the end.

Shanghai Sports Goods General Shop
Chinese name: 上海体育用品总店 (shàng hǎi tǐ yù yòng pǐn zǒng diàn)
Introduction: It was originally known as Lian Chang Ji when it set up in 1910. The present shop name has been in use since 1988. Now the shop has developed into the largest professional sports goods shop in Shanghai. You can find various sportswear, sports shoes, sports equipment, facilities and protective outfits.
Address: No. 160, East Nanjing Road, Huangpu District

Shanghai Laojiefu Department Store
Chinese name: 上海老介福商厦 (shàng hǎi lǎo jiè fú shāng shà)
Introduction: It is located at the southeast comer of the intersection at the east end of Nanjing Road Pedestrian Street. This time-honored department store has been in operation since 1860. It mainly sells various top-quality textile fabrics. You can find calicoes, woolen cloths and delicate traditional Chinese silk goods such as the crepe de Chine, georgette, voile, satin and brocade. Ready-made clothes are also available.
Address: No. 257, East Nanjing Road, Huangpu District

Hualian Commercial Building (Zhonglian Branch)
Chinese name: 上海华联商厦中联店 (shàng hǎi huá lián shāng shà zhōng lián diàn)
Introduction: Hualian Commercial Building mainly offers women's and men's clothing. Shoes, handbags, suitcases, cosmetics, jewelry, watches, clocks, spectacles, photographic equipment and electric appliances are also available.
Address: No. 340, East Nanjing Road, Huangpu District

Heng Da Li Clocks and Watches Co.
Chinese name: 亨达利钟表公司 (hēng dá lì zhōng biǎo gōng sī)
Introduction: Heng Da Li was set up in 1864 during the Qing Dynasty (1644-1911). Now it is the largest clocks and watches retailer in China. It sells timepieces and watches of world famous top brands, including Audemars Piguet, Jaeger-LeCoultre, Bucherer, Rolex, Tudor, Omega, Rado, Longines, Tissot, Cyma, Enicar, Olma, Seiko and Citizen. In addition, Heng Da Li has a distinctive business of repairing high-grade clocks and watches.
Addresses:
General Store: 1F, Hualian Commercial Building, No. 340, East Nanjing Road, Huangpu District
Nandong Branch: No. 772, East Nanjing Road, Huangpu District
Shimao Branch: 2F, Bailian Shimao International Plaza, No. 819, East Nanjing Road, Huangpu District

Guanlong Photographic Equipment Co.
Chinese name: 冠龙照相器材公司 (guàn lóng zhào xiàng qì cái gōng sī)
Introduction: Guanlong Photographic Equipment Company offers various cameras, digital cameras, video cameras, tripods, film and other photographic needs. It also provides professional photographic equipment from world top brands such as Linhof, elinchrom, Hasselblad and Voigtlander. As the appointed developing center for news agencies, Guanlong offers excellent developing, processing and printing as well as friendly service.
Address (General Store): 1F, Hualian Commercial Building, No. 340, East Nanjing Road, Huangpu District

Shanghai's City of Books Nandong Bookstore
Chinese name: 上海书城南东店 (shàng hǎi shū chéng nán dōng diàn)
Introduction: Before 1997 this bookstore was named Xinhua Bookstore which opened in 1949. It was always referred as the 'largest bookstore in the Far East'. In 1997 it became a branch of Shanghai's City of Books. Now the bookstore is the largest cultural establishment in Nanjing Road.
Shopping Guide:
1F: books, tapes, videos and other audio-visual products;
2F: Computer City;
3F: books on social science, culture and education, science and technology and books for kids.
Address: No. 345, East Nanjing Road, Huangpu District

Cai Tong De Pharmacy
Chinese name: 蔡同德堂 (cài tóng dé táng)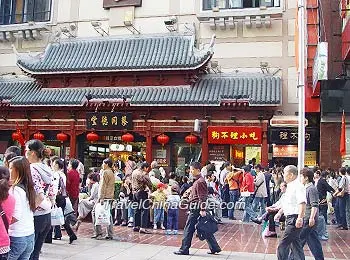 Cai Tong De Pharmacy

Introduction: Opened in 1882, Cai Tong De is a time-honored pharmacy famous for its traditional Chinese medicine. Now Cai Tong De has a four-story building selling quality Chinese medicinal herbs, herbal pieces, medicinal liquor, healing ointment, health care products and some costly tonics such as ginseng, pilose antler and white fungus. There is a herbalist clinic in Ca Tong De Pharmacy. Chinese and western patent medicines and medical devices are also available. Besides retailing, Ca Tong De offers medicine preparation and processing, medical consultation and mail order services.
Address: No. 450, East Nanjing Road, Huangpu District



Wangkai Photograph
Chinese name: 王开照相 (wáng kāi zhào xiàng)
Introduction: Wangkai Photograph was established in Nanjing Road in 1923 by Wang Chikai, a Cantonese photographer. Due to the outstanding photographic and developing techniques, Wangkai has always been popular. It has made many excellent photographic works of various important political conferences and activities. Also it has taken portraits and wedding photos for many celebrities. Now Wangkai is a professional photograph enterprise famous for its fashionable wedding photo. The advertisement photos, artistic photos and family photos made in Wangkai are also of superior quality. In addition, photographic equipment is available.
Address: No. 378, East Nanjing Road, Huangpu District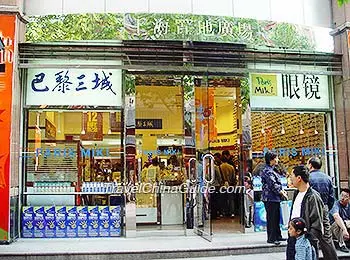 Shanghai Landmark Department Store

Landmark Department Store
Chinese name: 上海置地广场 (shàng hǎi zhì dì guǎng chǎng)
Introduction: It has a ten-floor building including eight floors overground and two underground.
Shopping Guide:
-2F: products from world famous brands on sale for members;
-1F: children's clothing, toys, bedding, bread, chocolate, cigarette;
1F: cosmetics, women's shoes, handbags, spectacles;
2F: girls' clothing, ornaments, watches;
3F: ladies' clothing and scarves;
4F: ladies' clothing, underwear, maternity dress, woolen products, socks and stockings;
5F: men's clothing, underwear, leather products;
6F: small electric appliances, photographic equipment, mobile phones, bedding, stationery, tapes, videos, bags, suitcases;
7F: sports wear, casual wear;
8F: foreign trade commodities including clothing, bedding, carpets, calico, shoes, toys and craftwork.
Address: No. 409-459, East Nanjing Road, Huangpu District

Shao Wan Sheng
Chinese name: 邵万生 (shào wàn shēng)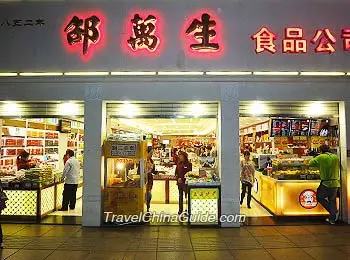 Shao Wan Sheng

Introduction: Shao Wan Sheng established in 1852 in the Qing Dynasty (1644- 1911) has been appointed one of the first Chinese time-honored brand enterprises. It mainly sells special local food of southern China especially Ningbo. The food pickled in wine lees, preserved food and cured food are all popular with the locals and tourists from all over the world. Shao Wan Sheng has some recommendable seasonal offers, including the blood clam in spring, the snail in summer, the pickled crab in autumn and the pickled chicken in winter.
Address: No. 414, East Nanjing Road, Huangpu District

Duo Yun Xuan
Chinese name: 朵云轩 (duǒ yún xuān)
Introduction: Opened in 1900, Duo Yun Xuan is the most famous Chinese calligraphy and painting store in the city. It offers replicas of famous traditional Chinese paintings and calligraphy, ancient books and rubbings from stone inscriptions. Chinese four treasures of the study - writing brush, ink stick, ink stone and paper - are available. Duo Yun Xuan also sells porcelain, jade articles and other curios.
Address: No. 422, East Nanjing Road, Huangpu District

Manhattan Plaza
Chinese name: 曼克顿广场 (màn kè dùn guǎng chǎng)
Introduction: Manhattan Plaza offers quality men's clothing.
Address: No. 463-477, East Nanjing Road, Huangpu District

Lao Feng Xiang Jewellers
Chinese name: 老凤祥银楼 (lǎo fèng xiáng yín lóu)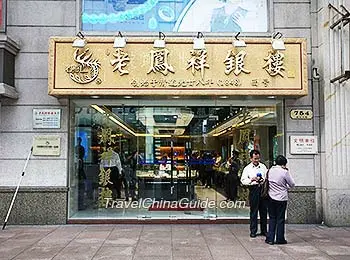 Lao Feng Xiang Jewellers

Introduction: Shanghai is the birthplace of China's modern jewelry industry. Lao Feng Xiang Jewellers established in 1848 is the only jewelry store in the city which has been operated over 150 years without interruption. Lao Feng Xiang wins a good reputation due to its time-honored brand, updated design and exquisite technics. It also sells various delicate gifts and tourist souvenirs. Now Lao Feng Xiang has over 40 branches all over the city and over 300 branches in China.
Addresses:
General Store: No. 432, East Nanjing Road, Huangpu District
Jialong Branch: No. 522, East Nanjing Road, Huangpu District
West Branch: No. 754, East Nanjing Road, Huangpu District
Website: http://www.laofengxiang.com/page/company/introduction/english/Introduction_e_1.htm

Heng De Li Clocks and Watches Co.
Chinese name: 亨得利钟表公司 (hēng dé lì zhōng biǎo gōng sī)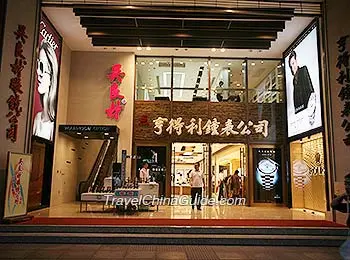 Heng De Li Clocks and Watches Co.

Introduction: Heng De Li was established in 1874 during the Qing Dynasty (1644-1911). It has been called the 'National Clocks and Watches King' for over 100 years. The present general store of Heng De Li opened in 2003. You can find an amazing collection of luxurious timepieces and watches from world famous brands such as Audemars Piguet, Jaeger-LeCoultre, Bucherer, Rolex, Tudor, Omega, Rado, Longines, Tissot, Cyma and Citizen.
Addresses:
General Store: No. 456, East Nanjing Road, Huangpu District
Yibai Branch: 1F, No. 1 Department Store, No. 830, East Nanjing Road, Huangpu District

Transportation: Take bus no. 14, 33, 37, 65, 66, 108, 123, 135, 220, 251, 305, 306, 307, 314, 317, 330, 868, 910, 928, 929, 940, Tourism Bus Route 8 or Subway Line 2 and get off at East Nanjing Rd. Station.

Shanghai Shopping:


East Nanjing Road

West Nanjing Road

Shanghai Commercial Zones & Shopping Centers