Angkor Temples Discovery
TKH101: 5 Days Private Siem Reap Angkor Tours
Tour Type:
Private tailor-made tour, experienced guide and driver
Accommodation:
Selected 5-star luxury & 4-star comfortable hotels
Highlights:
Discover Angkor Wat temples, the Cambodian National Treasure!
Worship the smiling faces of Khmer in the Bayon Temple.
Watch the fascinating sunrise and sunset over Angkor Wat.
Experience local life on the lake as you cruise to the floating village.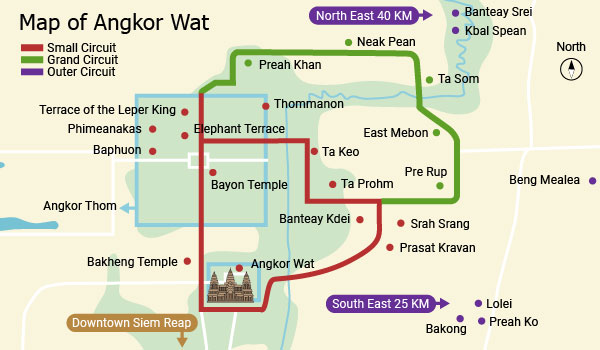 Day 1
Arrival in Siem Reap
Welcome to Siem Reap! This exciting trip will start as soon as your flight arrives at Siem Reap, the gateway city to the complex of Angkor Ruins in Cambodia. Your guide will greet you in the Arrival Hall of the airport, holding a welcome sign with your name on it. A comfortable private drive will then take you to our well-selected hotel for check-in.

After a short break, you guide will accompany you to visit the Angkor National Museum, where you can have a general understanding of the history and culture of Cambodia and Angkor, get a glimpse of the past golden age of the Khmer Empire, and see many authentic artifacts. When finishing the visit, you will be escorted back to the hotel. Have a good rest tonight!

Day 2
Angkor Wat Small Circuit Tour
The sunrise over Angkor Wat is definitely a must-see when you take a Siem Reap tour. We will start the day in the early morning to view the haunting spectacle of Angkor Wat lit by the golden light of sunrise. You will also see the beautiful scene of the temple reflected in water surrounded. After admiring the sunrise, you will be transferred back to the hotel to enjoy a very nice breakfast.
Angkor Wat was listed as a UNESCO World Heritage site in 1992 and was built during the reign of the King Suryavarman II (1113 - 1150 AD) for the worship of the Hindu God Vishnu. This 81-hectare temple complex is known as the Cambodia's national treasure, and its representative towers are stamped on the country's flag.
After breakfast in the hotel, we will head to Angkor Thom, which houses palaces, temples and altars built by the Angkor Kings. There, you will visit the Bayon Temple, the Elephant Terrace, and the Terrace of the Leper King. The Bayon Temple is the most famous among Angkor Thom's many buildings and it has 49 impressive pagodas as its highlights. Each of the pagodas is decorated with a giant four-faced Buddha, all with a smile, known as the "Khmer Smile". The Elephant Terrace is a high wall stretching over 300 meters and covered with delicately carved elephants and garudas. It was used by the King Jayavarman VII as a platform to welcome back victorious armies.
Lunch is on your own arrangement and your guide is glad to offer recommendations. In the afternoon, you will first visit the Ta Prohm Temple, also known as the Jungle Temple. This ruined temple dates back to 1186 and was built for the mother of the King Jayavarman VII. After the fall of the Khmer Empire, the temple was gradually engulfed by the jungle, forming a famous spot, Tomb Radar Tree. Finally, you will go to the Bakheng Temple. Located on a hill about 70 meters high to the northwest of Angkor Wat, it offers panoramic views of Angkor and is ideal for watching the sunset.
Meals: Asian and Western buffet breakfast
Bayon Temple
Ta Prohm Temple
Day 3
Angkor Wat Grand Circuit Tour
Today you will visit the Preah Khan, also known as the "Sacred Sword". This temple was built in the 12th century by the King Jayavarman VII to honor his father. Different from other temples, it has a two-story stone building near the east gate, which features unique Mediterranean style that is rarely seen in Angkor. To its east is Neak Pean, which means "the entwined snakes". The temple has a square pool surrounded by four small pools. In the ancient Khmer Empire, this was the Khmer people's herb bath hospital, where people chose to soak in pools of herbs to cure their ailments.
In the lunchtime, your guide will recommend you places of dining. After that, you will continue to visit the Khmer temple of Ta Som. It is a small Buddhist temple in Angkor where you will see the wonderful scene of the trees wrapping the temple gate for thousands of years. This is also the filming location of the Tomb Raider. Although the central area of the temple has been dilapidated, lifelike reliefs can still be seen on the stone towers, walls and corridors. Afterwards, you will visit the temples of East Mebon and Pre Rup. The ancient royalty held cremation ceremonies in Pre Rup, which is also a good place to climb to the top to gaze out over the forest and the stunning sunset.
In the evening, you will enjoy an Apsara dance show with buffet dinner. Apsara Dance is one of the most important cultural elements of the Khmer.
Meals: Asian and Western buffet breakfast, buffet dinner
Preah Khan Temple
Day 4
Angkor Wat in Outer Circuit
After breakfast in the hotel, we will drive northeast for around 40 kilometers (25 miles) to Banteay Srei, which is one of the most elaborate and decorative temples at Angkor. Banteay Srei was built of red sandstone with brilliant colors, and the superb sculptures on the walls earned it the reputation of "the Jewel of Angkor Art". Enough time will be left for you to admire the delicate carvings of the temple and take good pictures. Then, we will head to Beng Mealea, meaning "lotus pond", a Hindu Temple. Visiting this temple is a bit of challenging because it is littered with lots of rocks and you need to walk through the rubble filled corridors and explore this mysterious temple in the ruins.
In the afternoon, we will drive to the Roluos Group of Temples, which is located near a small town named Roluos and is composed of the three major heritage sites: Bakong, Preah Ko and Lolei. This temple complex was built during the Angkor period in the 9th century and is considered to be the beginning of the Angkor's architecture art.
After today's sightseeing, you will be taken back to explore the Old Market in Siem Reap, to hunt for souvenirs and traditional Khmer goods. Next to the market is the famous Pub Street, also known as Street 8, where is full of bars, nightclubs, restaurants, street foods and massage shops. If interested, you can go there to experience the nightlife and then return to the hotel by yourself.
Meals: Asian and Western buffet breakfast
Banteay Srei Temple
Tonle Sap Lake
Day 5
Departure from Siem Reap
Here comes to the final day of your vacation. Let's shift gears to see something different this morning. We will first proceed to the Khmer Village to enjoy the rice field scenery and rustic airs, and then we embark on a boat to travel around the Tonle Sap Lake and visit the floating villages. The lake is the largest freshwater lake in Southeast Asia and hailed as the "Mother Lake" by the Cambodians. It is dotted with floating villages where people have lived for centuries.

After that, your guide and driver will transfer you to the airport and see you off there. Thank you for travelling with us!

Meals: Asian and Western buffet breakfast
B-- Breakfast
L-- Lunch
D-- Dinner
This trip can be customized to meet your individual needs!
Tour Prices
Jan-Apr, Oct-Dec
May-Sep
Tour Prices with Luxury Hotels
Month
2-3 travelers
4-5 travelers
Jan-Apr, Oct-Dec

USD1149

USD999

May-Sep

USD1029

USD879
Tour Prices with Standard Hotels
Month
2-3 travelers
4-5 travelers
Jan-Apr, Oct-Dec

USD749

USD589

May-Sep

USD699

USD529
Prices are per person on twin sharing basis.
Any part of the itinerary e.g. tour length, activities & hotels can be tailored to your individual interests.
Price Includes
Accommodation with daily breakfast at selected hotels (or similar)
Service of English speaking guide as mentioned in the itinerary
Service of private driver and air-conditioned vehicle as mentioned
Entrance fees to all mentioned sights visited
Meals as mentioned in the itinerary
Price Excludes
International flights of arrival and departure
Peak season surcharges (Christmas, New Year, Chinese New Year, Khmer New Year)
Personal expenses (such as laundry, telephone, drinks, etc.)
Gratuities to guide and driver
Personal travel insurance
Cambodia Visa fees
Comparison with Other Sellers
Tailor-make Your Itinerary for Free
All our tours are private family tours, which means you will not join tours with other people and no strangers will join yours. Our guests enjoy the freedom to choose a different travel style and 99% of our guests enjoy tailor-making their travel itineraries. We will make a quick reply within 24 hours.
Surprisingly Low Price
If you spare a few minutes to compare our prices with those of our competitors, you will find our prices are at least 50% lower. Why? No secret! Our company works with low profit margins, as low as 6% rather than 50% like other operators. In most cases, our competitors' prices for group tours are higher than those for our private tours. So, you can imagine what they might charge for a private trip. We strongly recommend that you make a comparison with our competitors online or in your local community. Pay attention to our well-selected chain hotels and fully packed daily activities.
No Annoying Shopping Stops
Shopping tours will not only take your time from sightseeing, but also waste your money on overpriced items. Our no shopping promise will enable you to thoroughly enjoy the trip without facing aggressive selling. All our guides are well-paid so they will concentrate on delivering the holiday experience you expect.
Some companies claim they have "No Obligatory Shopping", please be cautious as they just give their shopping tours a happy gloss. Some do not mention any shopping in itineraries, which doesn't mean they are shopping-free tours. You are advised to ask the operators directly before booking.
People to People Connected
Getting out into the rural areas of Siem Reap, you will see the scenes of net casting fishing, rice planting, harvesting, even people climbing a palm tree to get palm juice and children riding buffaloes in the ponds, all which are real Khmer farmers' daily life. Stop anywhere you want to take photos or interact with locals.
The Khmer village you will visit is very special. Many ladies in this village are basket weavers and their families are mainly living on this. Seeing their weaving proficiency is a great experience and they are always happy to show you how the baskets are made with palm leaves. You will also get to know the real living conditions of locals through a visit to a villager's home.
Take a boat trip on Tonle Sap Lake to see how people live in floating houses, how they cook, how they make a living from fishing, and how their children receive an education. You guide will take you to find answers.
Optional Tours Are Tourist Traps
Optional tours mean you will spend much more than you originally booked. Some agencies advertise low-cost tours, but you then find you have to pay high prices for optional tours of the must-see sites. Our tours are all-inclusive with transparent itineraries.
Your visit to outlying temples of Banteay Srei and Beng Mealea is neither an optional tour, nor an add-on trip, since we have included them for you. We will always show you the very best and will not leave you with any regrets in your trip!
No Change Fee
Should any changes made prior to the start of the tour or even during the trip, there will be no extra charge for our services. You only need to be responsible for the cost of variations incurred with airlines and hotels.
Itineraries you may also like: