Essence of Mongolia
TMN101: 10 Days Private Tour of Ulaanbaatar - Hustai National Park - Karakorum - Ongi - Bayanzag - Khongor Sand Dunes - Eagle Valley - Terelj National Park - Ulaanbaatar
Tour Type:
Private tailor-made tour, experienced guide and driver
Accommodation:
Selected 4-star comfortable hotel & Ger camp
Highlights:
Observe the world's only living wild horses at Hustai National Park
Travel deep to Karakorum - ancient capital of Mongol Empire.
Listen to the sand "singing" at Khongor Sand Dunes.
Learn nomadic culture at local herders' family.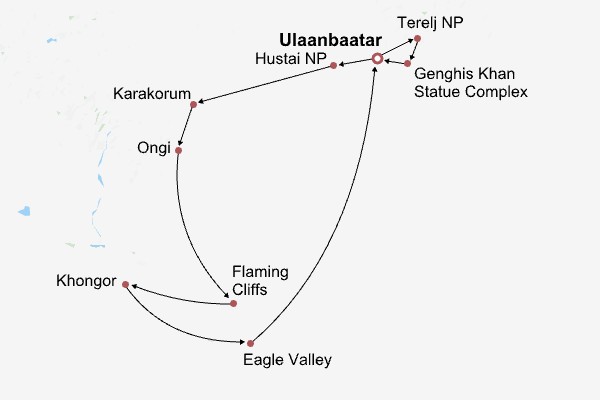 Day 1
Arrival in Ulaanbaatar, Airport Pick-up
This is a classic Mongolia tour package covering the most popular attractions in the country. In consideration of its international flights from and to other countries, we will start from and end in Ulaanbaatar. Today, after you landing in the Chinggis Khaan International Airport and clearing the customs, you will see our guide greeting you with a warm smile. We can also pick you up from Ulaanbaatar Railway Station. Just inform us in advance. After, the driver will transfer you to the hotel by a comfortable private car. After settling down, you will be free to do whatever you like. If it's still early in the day and you are energetic, it will be a good choice to take a stroll around, so as to get the first impression of the country.
Free Time Suggestion
For those who are interested in antiques, there are two places in Ulaanbaatar. One is in the street behind the downtown department store, with a dozen antique shops. The other is the well-known Naratuul Open Air Market, which is known as the largest free trading venue in Asia without borders. It is better to have a guided exploration in this market. Here, people can buy anything imaginable in life from Mongolian robes, slippers and socks, pots and pans, toothpaste and toothbrushes, furniture and household appliances, and so on. The antiques area is located in a relatively remote corner, we suggest you watch more and buy less, and treat it as a place to learn about the lives of the locals.
Meals: No meals, advice freely available
Accommodation: Ramada Ulaanbaatar City Center




Day 2
Hustai National Park
In the early morning, our guide will come to meet you at the hotel lobby and give you a short briefing about this tour. After, set out for Gandan Monastery, the largest and the most prosperous temple in Mongolia, famous for a 26-meter-high (85 feet) majestic gilded statue of Megjid Janraisig.
Then, drive to Hustai National Park. It is a must-visit in the country, as the habitat of the native wild horses named Takhi. It is recognized as word's only surviving wild horse species. The guide will accompany you to walk and relax in nature and to observe the wild horses, during which you may encounter many other wild lives, too.
Tonight, stay in a local ger camp, so as the following several days. The condition may not be as good as the hotel in Ulaanbaatar downtown. Please get prepared. But it's a good opportunity to experience the life of local herders.
Meals: Breakfast, Lunch, Dinner
Accommodation: Hustai Ger Camp
Gandan Monastery
After breakfast, we will move on to visit the first UNESCO world cultural heritage of Mongolia, including Karakorum and ErdeneZuu Monastery. Also called Kharkhorin, Karakorum was the ancient capital of the Great Mongolian Empire. At its peak time in middle 13th century, it's the center of the world. However, it fell in the continuous wars, only left some ruins of walls, palaces, streets and folk houses. To better know its prosperous past, we will also visit the Museum of Karakorum. ErdeneZuu Monastery is presumably the oldest Buddhist monastery in Mongolia. It is surrounded by a white wall, with 108 white stupas standing on.
Kharkhorin, the Holy Land of the Mongos
In the mid-13th century, Kharkhorin was the world center, with the most of the Eurasian continent shrouded in the power and prestige of this city. The missionaries of the Pope, the envoys of the Southern Song court, the camel caravans of Persian merchants, and the tribute givers of the Goryeo Kingdom brought tens of rare treasures from various countries in Central and Eastern Europe, West Asia, Central Asia, East Asia, and South Asia. In 1260, after the Mongolian Civil War, the city gradually declined and was completely destroyed in 1387. Kharkhorin and its surrounding landscapes became a world cultural heritage site in 2004. The name on the List is Orkhon Valley Cultural Landscape.
Meals: Breakfast, Lunch, Dinner
Accommodation: Tourist Ger Camp
ErdeneZuu Monastery
Herdsmen in Mongolia
Day 4
Karakorum - Ongi Temple
Today, we will drive 290 kilometers (180 miles), passing through the rolling hills and vast steppes to visit the Ongi Temple in middle Gobi. On the way, we will park by a tourist camp to take a break. The driver will also be glad to make stops at scenic spots for you to take amazing photos. Ongi Temple once consisted of two temple groups on the two banks of the Ongi River. Today, most of them have turned into ruins. But we can still tell its past glory from the ruins and a small museum nearby.

What to Do Before Dinner
The Ongi Monastery, surrounded by the winding river, is another good place to stay. It includes the Ongi Monastery complex, which was built in 1660 but has been destroyed, leaving only ruins and broken walls. The surrounding rolling hills are a great hiking path, allowing you to completely encounter nature. Lonely Planet once said that Mongolia is the dream land of naturalists. After check in at the ger camp, explore the surrounding natures and fell the wind of freedom.

Meals: Breakfast, Lunch, Dinner
Accommodation: Tourist Ger Camp
Day 5
Ongi Steppe - Bayanzag (Flaming cliffs)
Today's sightseeing spot will be Bayanzag, also called Flaming Hills, because the rocks here appear to be red like burning fire. It is actually better known to the world for the unearthed remains of dinosaurs that lived here 60 million years ago. On arrival, the guide will escort you to trace the footprints of dinosaurs and wander on the red hillocks.

Meals: Breakfast, Lunch, Dinner
Accommodation: Mongol Gobi Ger Camp
In the morning, we will drive west and have a full day exploration of the extraordinary Khongor sand dunes, Mongolia's largest and most famous sand dunes, reaching approximately 800 meters (2,625 feet) at the highest point and stretching for over 100 kilometers (60 miles). It is locally known as the "Singing" or "Sounding" Dunes, because the sand makes sound when the wind blows. Arriving there, the guide will accompany you to climb to the top of one sand dune to appreciate the amazing and grand view. Later, visit a local herder's family to get to know their daily routines, their nomadic life and how their children get education.
★
What Makes Us Different?
To make this tour more interesting and memorable, we will arrange a camel ride to get to the top of the sand dune after the family visit. The host will lead their camels and escort you. Mongolia is a home to large number of two-humped Bactrian camels, they are gentle and mild, very safe to ride on, especially with the help of their owners.
Meals: Breakfast, Lunch, Dinner
Accommodation: Gobi Discovery Ger Camp
Camel riding beside sand dunes
Day 7
Yol Valley (Eagle Valley)
This Mongolia tour package will be extended to Yolyn Am (Eagle Valley) in the morning, which is a deep and narrow gorge situated deep in the arid Gobi. We will trek for around 3-4 hours through the valley, to appreciate the stunning scenery and find rare wild animals. Also, discover the ice glacier in the deep valley. Remember to wear a pair of comfortable shoes suitable for trekking.

Meals: Breakfast, Lunch, Dinner
Accommodation: Juulchin Khan Bogd Ger camp
Day 8
Fly to Ulaanbaatar - Terelj National Park
After breakfast, fly back to Ulaanbaatar. After landing, our local guide will pick you up and directly go to Terelj National Park to explore the unique landscapes and breathe the fresh air. Also we will see Turtle Rock, an interesting rock formation and visit the Ariyabal Meditation Temple - surrounded by scenic mountains with massive rock formations and sits at the top of a mountain.
Meals: Breakfast, Lunch, Dinner
Accommodation: Terelj Lodge Ger camp
Terelj National Park
Day 9
Genghis Khan's Statue Complex - Ulaanbaatar
Today, we will drive back to Ulaanbaatar. En route, visit the 40 meters (130 feet) high Genghis Khan's Statue Complex, which is the biggest equestrian statue of Genghis Khan in the world. From the ground, we can take an elevator or walk to the platform over the head of the horse, to have a panoramic view of the surroundings.
Arrival in Ulaanbaatar, check into the hotel for a short break. There is no visit plan this afternoon, but our guide will be glad to accompany you to go shopping for some local souvenirs and specialties. At night, we will serve you a farewell dinner at a local fancy restaurant to conclude this tour.
Tips for Buying Souvenirs
If you plan to buy some souvenirs for your family or friends, the State Department Store is popular among locals and tourists. But some special items are available at the 3rd floor of Flower Market, which is very close to State Department Store. Remember to bargain for better prices.
Meals: Breakfast, Lunch, Dinner
Accommodation: Ramada Ulaanbaatar City Center




Genghis Khan's Statue Complex
Day 10
Departure from Ulaanbaatar
All the visits in Mongolia will end here. Please inform us your flight information beforehand, so our guide can transfer you to Chinggis Khaan International Airport on time. If your flight is late in the afternoon, you may seize the last chance to explore the city on your own. It's our pleasure to have you here. Bon voyage!

Meals: Breakfast
B-- Breakfast
L-- Lunch
D-- Dinner
Special Deal
10% off
- book 60 days before,
5% off
- book 30 days before
Travelers
2-3 travelers
4-5 travelers
June 01 -Sep 15

$2959

$2663

$2099

$1889
Prices are per person in US Dollars based on double occupancy.
The prices in red reflect 10% discount.
Any part of the itinerary e.g. tour length, activities & hotels can be tailored to your individual interests.
The prices above are not applicable during the Naadam Festival in July.
Price Includes
Accommodation with daily breakfast at selected hotels/ Ger camps
Service of English speaking guides as mentioned in the itinerary
Meals as mentioned in the itinerary
Services of a private driver and air-conditioned vehicles
Entrance fees for all mentioned sights visited
All Internal flight (one way): all tax included, free luggage allowance is 15-20kg
All service Charge & Local Taxes
Two bottled mineral waters during the tour per day
Price Excludes
International Flights
Personal travel insurance
Personal expenses (such as laundry, telephone, drinks, etc.)
Early check-in and late check-out at hotels
Meals other than those mentioned in the itinerary
Tips for guides and drivers
Mongolia Visa fees
Comparison with Our Competitors
Tailor-make Your Itinerary for Free
All our tours are private family tours, which means you will not join tours with other people and no strangers will join yours. Our guests enjoy the freedom to choose a different travel style and 99% of our guests enjoy tailor-making their travel itineraries. We will make a quick reply within 24 hours.
Surprisingly Low Price
If you spare a few minutes to compare our prices with those of our competitors, you will find our prices are at least 50% lower. Why? No secret! Our company works with low profit margins, as low as 6% rather than 50% like other operators. In most cases, our competitors' prices for group tours are higher than those for our private tours. So, you can imagine what they might charge for a private trip. We strongly recommend that you make a comparison with our competitors online or in your local community. Pay attention to our well-selected chain hotels and fully packed daily activities.
No Annoying Shopping Stops
Shopping tours will not only take your time from sightseeing, but also waste your money on overpriced items. Our no shopping promise will enable you to thoroughly enjoy the trip without facing aggressive selling. All our guides are well-paid so they will concentrate on delivering the holiday experience you expect.
Some companies claim they have "No Obligatory Shopping", please be cautious as they just give their shopping tours a happy gloss. Some do not mention any shopping in itineraries, which doesn't mean they are shopping-free tours. You are advised to ask the operators directly before booking.
People to People Connected
We arrange visits to the local herdsmen's tents to give you a rare opportunity to talk with the locals and ride their horses or camels to the depths of the grasslands or deserts. If you like, we can arrange a "One Day Herdsman Experience", which allows you to become a herdsman and herd sheep, milk, cook or do other routines with the help of the host.
Optional Tours Are Tourist Traps
Optional tours mean you will spend much more than you originally booked. Some agencies advertise low-cost tours, but you then find you have to pay high prices for optional tours of the must-see sites. Our tours are all-inclusive with transparent itineraries.
No Change Fee
Should any changes made prior to the start of the tour or even during the trip, there will be no extra charge for our services. You only need to be responsible for the cost of variations incurred with airlines and hotels.