Thai Heritage & Best Islands
TTH102: 15 Days Private Tour of Bangkok - Kanchanaburi - Ayutthaya - Lopburi - Sukhothai - Chiang Mai - Chiang Rai - Ko Samui - Krabi - Bangkok
Tour Type:
Private tailor-made tour, experienced guide and driver
Accommodation:
4-star handpicked hotels, also be open to your own choice
Highlights:
Extra-long free beach vacation in Koh Samui and Krabi.
Make a pilgrimage to the Thai heritage of Ayutthaya and Sukhothai.
A glimpse of World War II history through Kanchanaburi's 'Death Railway'.
Have fun in the niche destination of Lopburi - a city of monkeys!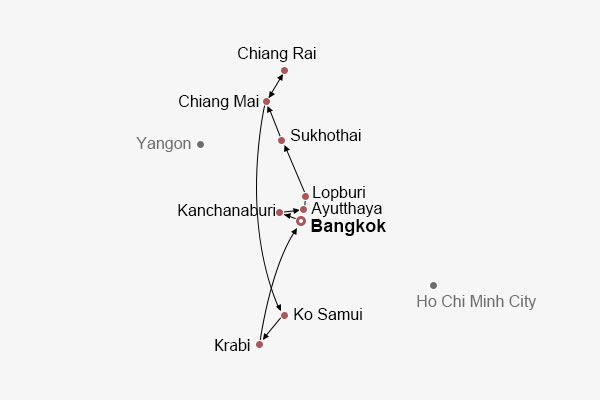 Day 1
Welcome to Bangkok, Thailand
Welcome to choose our Thailand best tour, which can be tailored to your needs! Whenever your flight lands at Bangkok, our guide will greet you outside the customs, and then escort you to our well-selected hotel in a comfortable drive by a private car with chauffeur.
Accommodation: Movenpick Bangkok Sukhumvit 15




* Activities & Dinner Suggestion:
We have no tour scheduled for the rest of the day, leaving you some time to get over the jet lag. The hotel, carefully selected by our travel experts, boasts first-class facilities and service, with several restaurants serving local Thai food and western food. If you're not tired, you can take a taxi or tuk-tuk to the Khaosan Road Night Market, where you can try the most authentic Thai snacks, such as Pad Thai, Rice Noodle Soup, Mango Rice, and Tom Yum Soup.
Today we'll take an extensive tour of Bangkok's Buddhist temples and classical architecture, and explore the iconic landmarks on both sides of the Chao Phraya River in the city center. The guide will first lead you to visit the Wat Traimit and Wat Pho which features a giant reclining Buddha. The next will be the highlight of today – the Grand Palace. As the residence of the Thai royal family, it gathers the most magnificent royal palaces and temples complex. You will be amazed by the golden halls, shrines, Buddha statues, and shiny artworks, especially the precious emerald Buddha statue in the Wat Phra Kaew. In the afternoon, we will take a boat to cruise down the Chao Phraya River and disembark at the Wat Arun for a visit. Climb to the top of its beautifully carved stupa, and you'll catch a panoramic view of Bangkok in the twilight.
★
Travel Different:
The riverside Wat Arun is all white in appearance, and the spectacular 79-meter (260-foot) tall stupa makes a great backdrop for photographing. Our guide is not only knowledgeable, but also good at photography. You can ask him or her to take a perfect picture for you and your family dressed in traditional Thai costumes which are available for rent at the temple gate.
Meals Included: Breakfast, Lunch
Accommodation: Movenpick Bangkok Sukhumvit 15




Wat Phra Kaew
Cruise on Chao Phraya River
Day 3
Damnoen Saduak & Kanchanaburi (140 km; 2.5 hours by car)
This morning, we will check out of the hotel and set off for a private transfer to the Damnoen Saduak Floating Market in the west of Bangkok. It's a fun place to immerse yourself in some of Thailand's most vibrant and simple life of common people. There you will see the locals sitting on the prow, hawking boatloads of fresh tropical fruits and vegetables in the narrow canals. You can buy some fruit if you like.
Afterwards, we will travel further west to our next destination, Kanchanaburi. Upon arrival, we will first visit the JEATH War Museum, whose exhibits have mainly been collected from the survivors who were once interned here to build the Thai-Burma Railway during the World War II. Next, follow our guide to take a stroll around the nearby River Kwai Bridge, a railroad bridge at the checkpoint of the Thai-Burma Railway. Finally, the guide will take you to a local hotel to check in.
Meals Included: Breakfast, Lunch
Accommodation: U Inchantree




Day 4
Kanchanaburi – Ayutthaya (170 km; 3 hours by car)
After a hearty breakfast, we will continue this Thailand best tour by 3 hours' private transfer from Kanchanaburi to Ayutthaya, a historic city and World Heritage site. We will first visit the Bang Pa-in Palace, which used to be the summer resort for the royal family, on the outskirts of Ayutthaya. Proceeding to the city proper, the guide will show you around several splendid Buddhist temples, including the Wat Chai Wattanaram, Wat Phra Si Sanphet, Vihara Phra Mongkhon Bophit, and the most renowned Wat Mahathat, where you can see a stone Buddha head tightly intertwined in ancient tree roots. After visiting these temples and ruins, you will be escorted to a local hotel.
Meals Included: Breakfast, Lunch
Accommodation: Kantary Hotel Ayutthaya




Our Clients at Ayutthaya
Ayutthaya Relics
Day 5
Ayutthaya – Lopburi – Sukhothai (400 km; 5.5 hours by car)
Today, our guide will pick you up from the hotel and we'll leave Ayutthaya for Lopburi, which is about an hour's drive away. Being a vital town of the Khmer Empire, Lopburi retains many Angkorian relics. The guide will lead you to visit the Wat San Phra Kan, a Brahman shrine featuring distinctive Khmer arts, and the nearby Phra Prang Sam Yot, aka the famous Monkey Temple. The biggest highlight of Lopburi is the monkeys, and it is very common to see clusters of monkeys swaggering through the streets, especially at the Monkey Temple, where the monkeys dominate the ancient pagodas and green spaces.
►
Safety Tip:
While it's fun to interact with these adorable monkeys, you also need to pay great attention to safety, as there have been cases of monkeys scratching or biting visitors.
Afterwards, we will travel by comfortable private car to Sukhothai, once the capital of the prosperous Sukhothai Kingdom (1238-1438 AD). It's a long drive, about 4 hours, and you can take a nap on the way. Upon arrival, we would settle into a local hotel before heading to the Sukhothai Historical Park to explore its past prosperity.
Meals Included: Breakfast, Lunch
Accommodation: Sukhothai Heritage




Day 6
Travel from Sukhothai to Chiang Mai (280 km; 4 hours by car)
After breakfast, we will set off for Chiang Mai, a long drive of about 4 hours along the beautiful mountain road. Upon arrival, our guide will lead you to a local hotel and help you check in. Chiang Mai is another historic city in Thailand, with many antique temples and palaces. We'll head first to the Mount Suthep on the outskirts. Follow the guide to climb up the mountain and visit the Wat Phra That Doi Suthep with profound Buddhist culture, and explore a primitive ethnic village – Meo Hilltribe Village. Finally, we will return to the ancient city of Chiang Mai to visit the most famous Wat Phra Singh, worshipping the majestic Buddha statues, and admiring the exquisite wooden carvings and ancient murals.
Meals Included: Breakfast, Lunch
Accommodation: The Rim




Wat Phra Singh, Chiang Mai
Day 7
Chiang Mai Elephant Nature Park (Join-in)
★
Travel Different:
Today, we will arrange an elephant care program for you, which will be a special challenge and pleasant memory of your trip.
After breakfast, our guide will be accompany you to take an excursion to the Elephant Nature Park, a semi-wild reservation taking in mistreated elephants. Upon arrival, a volunteers from the park will greet you at the entrance and show you around. You will see elephants of different ages roaming the park chain-free. Through the volunteer's explanation, you could learn more about the warm stories of rescuing the elephant, as well as the current situation and living habits of the elephants. Together with other travelers interested in animal protection, you can prepare food for the elephants, feed them and bathe them, which would be the most fun part. In the end, the guide will escort you back to the hotel.
Meals Included: Breakfast, Lunch
Accommodation: The Rim




Day 8
Chiang Mai – Chiang Rai (250 km; 4.5 hours by car)
Today, we will continue our trip to Chiang Rai, still by comfortable private car. En route, our guide will lead you to visit the Wat Rong Khun, aka the White Temple. You will marvel at this pure white Buddhist building complex with intricate carvings and sculptures. We will also stop at a hot spring resort for a short rest. There you can try a foot bath or buy hot spring boiled eggs at your own expense if you like.
After settling in at a hotel in Chiang Rai, the guide will accompany you on a visit to the Mae Sai Border, where you can enjoy the unique boundary scenery. A variety of products and snacks from China, Laos, Myanmar and of course Thailand can be found there. In the evening, we'll return to the hotel.
Meals Included: Breakfast, Lunch
Accommodation: The Legend Chiang Rai




Wat Rong Khun, Chiang Rai
Day 9
Chiang Rai – Chiang Mai – Koh Samui
Today will kick off the second half of your trip, nearly a week of relaxing seaside vacation. We have chosen Koh Samui as your first seaside destination. Our guide and the driver will escort you from Chiang Rai to Chiang Mai Airport, from where you will fly 1 hour and 45 minutes to Koh Samui. Upon landing, you will be warmly greeted by our local driver who will drive you to the hotel in a comfortable private car, which will take only 5 minutes. You will be free to plan your island vacation.
►
About Koh Samui:
Being one of the most popular tourist islands in Thailand, Koh Samui boasts some of the most beautiful seascapes and beaches on Earth, and it offers fun island-hopping tours and plenty of water sports and entertainment. Given that you would surely prefer an undisturbed and unconstrained seaside vacation, we will leave the following two days for you to do whatever you like and make the most of Koh Samui.
►
Tip:
After many field trips and comparisons, we have selected a hotel with the best location for you, just a few minutes' walk from the beach, and near the night market with many great seafood restaurants. You will stay here for three nights.
Meals Included: Breakfast
Accommodation: Nora Beach Resort & Spa




Day 10
Free Day in Koh Samui
On Days 10 and 11, you will have two full days free to spend on Koh Samui.
Meals Included: Breakfast
Accommodation: Nora Beach Resort & Spa




* Here are some interesting places and things to do for your reference. If you want a guided tour or other travel advice, our travel consultants are always at your service.

1. Chaweng Beach: Here you can enjoy the seascape in silence, swim, or rent windsurfing equipment or jet ski to experience the charm of the sea. Various water activities such as the banana boat and parasailing are also available. The hotel offers a free shuttle to the Chaweng Beach.
2. Day trip to Ko Tao and Nang Yuan Island by speedboat: Great place for snorkeling and deep diving; observe the underwater life up close.
3. Day trip to Ang Thong National Marine Park: Spectacular views of 42 small islands; snorkel and explore natural limestone caves by kayak.
4. Samui Zipline: A half-day activity popular with young people that allows the participators to experience the thrill of flying through the jungle.
5. Na Mueang Waterfall: Great hiking route that requires considerable physical strength.
6. Rent a motorcycle for a trip around the island.
Day 11
Free Day in Koh Samui
This is another free day for you to explore Koh Samui. You can refer to the list above and choose your favorite activities, or just relax at your favorite beach. It's up to you!
Meals Included: Breakfast
Accommodation: Nora Beach Resort & Spa




Koh Samui of Thailand
Day 12
Fly from Koh Samui to Krabi
Depending on the flight time, our driver will serve you with a comfortable ride to the Koh Samui Airport for your flight to Krabi. After an hour's flight, you will arrive at the Krabi Airport, where our local driver will greet you with a private transfer to the hotel. You're free to start your wonderful holiday in Krabi.
►
About Krabi:
Another popular seaside resort in southern Thailand, Krabi is a paradise for divers and rock climbers, in addition to its crystal clear waters and white sandy beaches. If adventurous sports aren't for you, Krabi also has plenty of easy and fun water activities to take you through the next two days of relaxing vacation.
►
Tip:
The hotel we have chosen for you is very conveniently located right on the beach, with stunning views and surrounded by many restaurants. You will stay here for three nights.
Meals Included: Breakfast
Accommodation: Beyond Resort Krabi




Considering that everyone has different needs, we have set aside two full days of free time for you to enjoy Krabi to the full at your own pace and preference.
Meals Included: Breakfast
Accommodation: Beyond Resort Krabi




* Here are some fun places and recommendations for your reference. For guided tours or other assistance, please feel free to contact us.

1. Ao Nang Beach: Beautiful beach near the town with many amenities; great place for swimming and watching sunset.
2. Long tail boat day trip to the 4 iconic islands of Krabi: Koh Kai (Chicken Island), Koh Tup, Koh Mor, and Koh Poda; enjoy snorkeling and admire the limestone cliffs.
3. Day trip to Phi Phi Islands: Offering the best snorkeling spots; explore some attractions along the way, such as the Bamboo Island, Viking Cave, Maya Bay, and Monkey Beach.
4. Railay Beach: Half a day to experience rock climbing on the karst cliffs above Railay and Phra Nang; learn belay techniques and basic safety skills.
5. Emerald Pool: Hike in the jungle, swim in the Emerald Pool, and soak in the Hot Spring Waterfall.
Make your own arrangements by referring to the activities listed above; otherwise, you can sunbathe on the beach, or enjoy a Thai massage. Just do whatever you like!
Meals Included: Breakfast
Accommodation: Beyond Resort Krabi




Day 15
Fly from Krabi to Bangkok
Your trip to Thailand is coming to an end. Today, our driver will serve you with a private transfer to the Krabi Airport for a flight to Bangkok. Upon arrival, you can make a connecting flight home or to your next travel destination.
Meals Included: Breakfast
►
Please note that Bangkok has two airports – Suvarnabhumi Airport and Don Mueang International Airport. If your flight out of Bangkok will not take off from the arrival airport of your previous flight, allow at least an hour to make the transfer. Wish you a pleasant trip!
►
If you want to extend your trip in Krabi or Bangkok, or you would like to travel to other countries, please feel free to contact us.
B-- Breakfast
L-- Lunch
D-- Dinner
This trip can be customized to meet your individual needs!
Tour Prices
Christmas & 2024 Special:
12% off
- Book before Dec 31, 2023
Travelers
2-3 travelers
4-5 travelers
Jan-Apr, Oct-Dec

USD4169

USD3669

USD3409

USD2999

May-Sep

USD4009

USD3529

USD3269

USD2879
Prices are per person on twin sharing basis.
The prices in red reflect 12% discount.
Any part of the itinerary e.g. tour length, activities & hotels can be tailored to your individual interests.
Price Includes
Domestic airfares (economy class seat): Chiang Mai - Ko Samui, Ko Samui - Krabi, Krabi - Bangkok
Accommodation with daily breakfast at selected hotels
Service of English speaking guides as mentioned in the itinerary
Service of private/S.I.C drivers and air-conditioned vehicles
Entrance fees for all mentioned sights visited.
Meals as mentioned in the itinerary.
Price Excludes
International flights into and out of Bangkok
Meals other than those mentioned in the itinerary
Personal expenses (such as laundry, telephone, drinks, etc.)
Tips for guides and drivers
Personal travel insurance
Thailand Visa fee
Itineraries you may also like: