Bali River Scenic Area
Bali River Scenic Area in Fuyang, Anhui, is known for its beautiful natural scenery. The peaceful lake dotted with small islands, well-arranged fishponds resembling a chessboard, embankments planted with elegant willows, and thousands of birds singing happily in the woods or soaring freely in the sky rival the wonders of West Lake in Hangzhou. In addition, visitors can appreciate miniatures of famous attractions from both China and abroad, indulge themselves in the amusement park, and closely observe the animals in the zoo. You can visit the four parts of the scenic area in following order: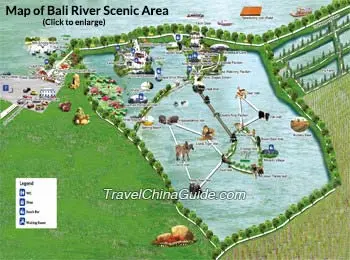 Map of Bali River Scenic Area
(Click to enlarge)
Bird-Singing Woods
Walking into the entrance of Bali River Scenic Area and passing by Sun Bridge, visitors will come into Bird-Singing Woods. More than one hundred kinds of birds live in a woodland covering about 8 acres (3 hectares). You may see green peafowl resting in the shade, egrets foraging on the shoal, white swans playing on the water or ostriches strolling beneath the sun. There are many other rare birds waiting for you.
Worldwide Landscapes and Sceneries- Miniatures of World-famous Attractions
After visiting the birds, walk eastward along the causeway decorated with willows on both sides to reach Worldwide Landscapes and Sceneries. Wandering along the embankment, visitors can see a miniature of the Temple of Zeus in Greece, the Paris Sacred Heart Cathedral and the Arch of Triumph of France, a Dutch Windmill, the Grand Canyon and Golden Gate Bridge of America, and the Sphinx of Egypt. Decorated with musical fountains and theme sculptures, this scenic area is a good place to enjoy world-famous sites in a single location. There is a small amusement park in the east equipped with rides such as Water World and Crazy Rats as well as a ferris wheel. But please note that visitors may need to pay additionally to use the amusement facilities, usually CNY 30 per person.
Splendid China- Miniatures of China's Attractions
Standing to the east of Worldwide Landscapes and Sceneries inside Bali River Scenic Area, the miniature buildings in this area are in typical Chinese style. The gate is an archway, which is used in China to commemorate an event or to memorialize a famous person. You can admire the
Stone Forest
, the White Sparrow Temple, The Memorial, the Five-Crown Bridge, the
Great Wall
, the Nine-dragon Screen and more. Here, visitors can get a basic impression of the differences between the Chinese architectural styles in the north and south. Additionally, Nine-Heaven Waterfall in the park is about 295 feet (90 meters) wide and 66 feet (20 meters) tall. With the 32.5 feet (9.9 meters)-tall Guanyin Statue standing on the artificial hill, the waterfall looks magnificent and holy.
Rippling Lake Scenic Area- A Zoo Built over Water
With a water area of about 500 acres (3,035 mu), this attraction consists of a lovely lake and twelve islands, with a single species of animal living on each of the island. Visitors may watch the seals playing in the water, black swans floating and seeming to be captivated by their own beauty along with other rare animals relaxing by their dens.
Transportation:
The Bali River Scenic Area is located in Yingshang in Anhui Province. It is about 40 miles (64 kilometers) southeast of Fuyang and 110 miles (177 kilometers) northwest of Hefei.

How to get to Bali River Scenic Area from Hefei:
1. Take bus Hefei to Yingshang at Hefei Bus Station and get off at Yingshang. The first bus is at 06:40 while the last is at 18:40, and the buses departs every 30~40 minutes. It takes about CNY 70 and 3.5 hours. Then take the bus line 4 to the scenic site.
2. Take bus Hefei to Yingshang at Hefei Central Bus Station and get off at Yingshang. The two buses are at 10:00 and 11:20. It takes about CNY 65 and 3 hours. Then take bus line 4 to reach the scenic area.



How to get there from Fuyang:
Take the bus Fuyang to Yingshang at the Fuyang South Bus Station and get off at Yingshang. It costs about CNY 15 and takes one hour. The buses depart about every 15 minutes during the day. Then take bus line 4 to the scenic area.
Admission Fee
CNY 90, including the Bali River Scenic Area and Mingqing Garden to its northwest.
Children of 3.9~ 4.6 feet (1.2~1.4 meters) enjoy half price tickets.
Children below 4.6 feet (1.4 meters) enjoy free tickets.
Opening Hours
08:00-18:00

Nearby Attraction:
After visiting Bali River Scenic Area, visitors may go to Mingqing Garden to the northwest, in which are standing buildings in the
Ming Dynasty
(1368~1644) and the
Qing Dynasty
(1644~1901) architectural style.
- Last modified on Oct. 16, 2018 -