China Embassy in Costa Rica

Visa Application Form of PRC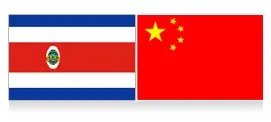 Ambassador: Mr. Tang Heng
Address: De la casa de Don Oscar Arias 100 metros sur y 50 metros oeste, Rohrmoser, San josé
Tel: +00506-22916838 
Fax:+00506-22204029
P.O.Box: 1518-1200
Email: protocolo.embchinacr@gmail.com
Office Hours: 08:30-12:30, 14:30-17:00, Monday-Friday
Consular Office of Chinese Embassy in Costa Rica
Address: Frente a la casa de Don Oscar Arias, Pavas
Tel: +00506-22914650 
Fax: +00506-22914654
Email: consulate_cri@mfa.gov.cn
Office Hours for Application: 09:00-12:00, Monday, Wednesday, and Thursday
Office Hours for Telephone Enquiry:
Monday, Wednesday, and Thursday: 14:00-17:00; Tuesday & Friday: 09:00-12:30, 14:00-17:00
Economic and Commercial Counselor's Office
Address: De la casa de Oscar Arias, 200 metros norte y 50 metros este, Rohmorser, San Jose
Mailing Address: P.O.Box 1201-1007, San Jose
Tel: +506-22917231, 22917225
Fax: +506-22917227
Important Notice
From June 1, 2009, Chinese Embassy in Costa Rica also accepts application for visa, Chinese passport, authentication & notarization from applicants of Guatemala, Honduras, El Salvador and Nicaragua besides Costa Rica.
Fees (Rate: Colon)
Regular Fee per Person
Since Septmber 1, 2010, the embassy in Costa Rica has not accepted cash as means of payment. Applicants should take Deposit Slip to go to BANCO DE COSTA RICA to make payment, then take deposit receipt and pick-up receipt for collection.
| Entry & Validity | Citizens of Costa Rica | American Citizens | Citizens of Other Countries |
| --- | --- | --- | --- |
| Single Entry for 3 Months | 13,000 | 84,000 | 20,000 |
| Double Entry for 6 Months | 20,000 | 84,000 | 30,000 |
| Multiple Entries for 6 Months | 26,000 | 84,000 | 40,000 |
| Multiple Entries for 1 Year or 2 Year | 40,000 | 84,000 | 60,000 |
Rush Service Fee and Express Service Fee
| | | |
| --- | --- | --- |
| Rush Service | 1 working day processing | 20,000 |
| Express Service | 2-3 working days processing | 12,000 |

Related Chinese Embassies in North America:
Cuba
,
Dominica
,
Grenada
---
Selected Questions and Answers:

Asked by Mr. Leon(Guatemala)
I would like to travel to Beijing for one week from 22 to 28 November, 2009. I can't come to Costa Rica from Guatemala (my passport is Guatemala) until the week before my flight to Beijing. Is it possible to get a tourist visa in one day if I come in early, if not how many days will it take? What hours are the embassy open? Thank you,

Answered by Mr. Victor
Yes, you can get a tourist visa in one day if you submit application before 11:00 a.m. and pay extra 16,000 Costa Rican Colon for one working day service. It usually takes 4 working days for processing. The office hours for visa application is 09:00-12:00 on Monday, Wendesday, Friday.
---

Asked by Mr. Jacob(United States)
Help!! My wife and I live in Costa Rica, for the last four years. But, we have not obtained residency here, as I am waiting for my social security to start so I can meet the income requirements for residency. We wish to visit China for about a two week stay. The Chinese Embassy there will not accept our Visa-L applications without a letter from immigration, which we are not able to obtain at this time. We have owned our home here, for the last four years. The lady at the Chinese Embassy asked if we owned a home but, said "offical" letter from immigration was necessary.
Is there any other document besides the "offical" immigration letter that would enable us to obtain our Chines Tourist Visas? Any suggestions would be appreciated.



Answered by Mr. JOHNNASH(United States)
Mr. Jacob, the embassy there only issue visa to other nationals who reside or work there, the Work permit or residence permit is required to show for other nationals, I know that you own the home here, however, the official letter from immigration is necessary for your application. As I know, no other documents from the immigration of Costa Rica will be required.
- Last modified on Jul. 04, 2021 -
Questions & Answers on China Embassy in Costa Rica
Asked by Yau from USA | Jun. 26, 2021 07:38

Reply
Renew China returning card
My card using to return to China has expired and I want to renew it
My return card has expired and I do not want to go back to Hong Kong to complete the renewal procedures, but due to the epidemic, I cannot find a hotel for 14-day quarantine. If I go to Costa Rica, can I apply for an update?
Answers (1)
Answered by Danniel | Jul. 04, 2021 19:15

0

0

Reply
Why don't you just update it at the Chinese embassy or consulate in the US?
Asked by Elizabeth from GUATEMALA | Dec. 06, 2020 17:45

Reply
I need to get a family visa to go back
I need to know which documents to get to go back to China. I have been a resident for 10 years and my daughter is 15 she has a student visa. she needs me to be with her
Answers (1)
Answered by Amy | Dec. 10, 2020 18:36

0

0

Reply
Dear, you need to get an S visa now, but I'm afraid you can't apply for it if you don't have a PU or
TE invitation letter.
Asked by Noe Herrera from UNITED STATES | Apr. 11, 2020 08:04

Reply
from Noe Herrera
I am an owner of a company USA ,Florida State .Can you put me the direct contact with the commercial affairs.I appreciate
Thanks .
Kivo int'l Inc
Noe Herrera.
Answers (1)
Answered by Janet from USA | Apr. 12, 2020 19:57

0

0

Reply
You can call this number 713-520-1462, extension line 309 or 311
Asked by Robin K from USA | Mar. 17, 2020 12:53

Reply
Can a work visa be obtained by an America working in China for many years in Costa Rica?
I am Amwrican and live and work in China. My work permit is valid until May 30 2020. My work Visa expired March 8 2020 when I was in New Yrlork and could not return because of the virus- my office was closed and there were no flights. I submitted my Z visa application in NYC last Friday. Yesterday my passport was returned as the Chin. Consulate closed and no applications were being processed. I have my employer' employment confirmation letter. I was told I could submit it in Hong King so zi am wondering if I can submit my application in Costa Rica for a Z visa?
Answers (1)
Answered by Nathan from USA | Mar. 19, 2020 00:01

0

0

Reply
You can have a try, but it's not assured that you can certainly get it in Costa Rica.