China Embassy in Cuba

Visa Application Form of PRC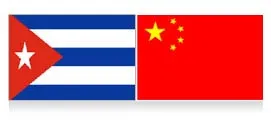 Ambassador: Mr. Zhang Tuo
Address: Calle C, e/13 y 15, Vedado, La Habana, Cuba
Tel: +53-7-8333005
Fax: +53-7-8333092
Email: chinaemb_cu@mfa.gov.cn
Consular Office Working Hours
09:00 - 11:30 on Monday, Wednesday and Friday
Offices of Chinese Embassy in Cuba
Sections
Information
Political Office
Tel: +53-7-8353177
Cultural Office
Tel: +53-7-8333020
Economic & Commercial Counselor's Office
Address: Calle 42 NO.313, 5ta Avenida Miramar, Playa La Havana
Tel: +53-7-2042585, 2069048, 2041021, 2042608
Fax: +53-7-2041021
Email: cu@mofcom.gov.cn
China Visa Application
Ordinary passports holders need to fill the application form online, print it out and sign your name on it. Then go to submit your documents on the scheduled date.
China Visa Fee (CUC)
| Types | Cuban Passports Holders | Other Countries' Passports Holders | USA Citizens |
| --- | --- | --- | --- |
| Single Entry | 10 | 30 | 104 |
| Double Entry | 15 | 45 | 104 |
| Multiple Entries within 6 Months | 20 | / | 104 |
| Multiple Entries within 1 Year | 30 | / | 104 |

Important Days in Cuba
Independence Day on May 20 (1902), National Day on January 1 (1959), Uprising Day (also called the Anniversary of Attacking Moncada Barracks) on July 26 (1953)

Chairman of the State Council: Raul Castro was elected to be chairman in February, 2008.

People: Cuba has a population of more than 11 million with 66% white people, 12% black people, 22% half-castle and 1% Indians. Now the trend of aging has become severe. Spanish is the official language. Most of residents are adherents of Catholic.



Capital: Havana is the political, economic, cultural and tourism center of Cuba. It is also the largest city in the West Indies and one of the most beautiful cities in the world. The Havana Carnival is well-known in the world. There is a population of 2.2 million in 2004. Its annual average temperature is 24 degrees centigrade.



Tourism: The view of Cuba is charming; sunshine, limpid seawater, white sand and beach make it entitled with 'the bright pearl of the Caribbean'. Hundreds of scenic spots are like shining jewels along the shoreline. This island country has become a top-ranking destination for sightseeing and recuperates. Moreover, the Havana old city is the treasury of architectures, assembling many buildings with different styles of various times, which are listed a Human Cultural Heritage by the United Nations Educational, Scientific and Cultural Organization. Now, tourism has become a pillar industry of national economy.



Please contact Embassy of Cuba in China if Cubans are in problems there.



Related Chinese Embassies in North America: Dominica, Grenada, Jamaica

- Last modified on Feb. 24, 2019 -
Questions & Answers on China Embassy in Cuba
Asked by Hilma from CUBA | Feb. 23, 2019 00:29

Reply
Hallo am a Namibian student studying in Cuba
What are the documents required to make a visa to China in Cuba and how long does it take to get my entry permit, and what is the fee I should prepare
Answers (1)
Answered by Daniels from ANGUILLA | Feb. 24, 2019 19:24

0

0

Reply
If you go to China for sightseeing purpose, you need to prepare all the required documents including passport and its copy, a completed application form attached with passport-style photo, travel itinerary, round trip air tickets and hotel reservation as well as others. It usually takes four working days for the processing. You may need to pay CUC30 per person for that.
Asked by anni from CUBA | Jan. 24, 2019 21:31

Reply
what documents are required to present to the chinese embassy for a cuban to apply to a work visa?
what kind of jobs classify for cubans getting a work z to China and what are the requirements to get the visa
Answers (1)
Answered by Beverly from FINLAND | Jan. 24, 2019 22:15

0

0

Reply
You should prepare those documents including your passport and copy of its data page, a completed application form, a recently-taken passport-style photo, and a work permit from your employer and others.
Asked by Gene from CUBA | May. 11, 2017 17:34

Reply
Hello there, My Girl friend who is Cuban citizen who reside in Havana.
She is planning to go China and bring goods (clothe, shoes etc..) To Cuba for sell. How do she go about applying for visa.
Thank you do much.
Answers (1)
Answered by Nicole from FRANCE | May. 12, 2017 04:06

1

0

Reply
Gene, she can apply for a tourist L type for China. First, she needs to prepare passport and copy of its data page, a completed application form, a passport-style photo, hotel reservation and round trip air tickets. Next, go to the embassy of China to submit the application.
Asked by Jorge from CUBA | Sep. 21, 2014 20:04

Reply
How long does it take to apply for a Chinese working visa?
Hello, I'm Cuban. I have on my hands all the required documents to apply for a Chinese Z type. What I need to know is how long does it take form the moment I present the papers till I get it? Thanks on advance for the help!
Answers (1)
Answered by George from SAINT LUCIA | Sep. 21, 2014 22:42

1

0

Reply
Jorge, it takes four or five working days.
Asked by Yang Li from CAYMAN ISLANDS | Mar. 09, 2014 21:43

Reply
can I renew my chinese passport in Cuba, I live in Cayman Islands.
Answers (1)
Answered by Ruby from CANADA | Mar. 10, 2014 04:41

1

2

Reply
Personally, I think you should apply from the Chinese embassy in UK because Cayman Islands is UK's territory. I am not sure if you can apply for it successfully in Cuba. According to Chinese embassy in Cuba, those who renew their Chinese passports should provide their foreigner's ID cards in Cuba. I don't think you can provide it.