Chinese Architecture Styles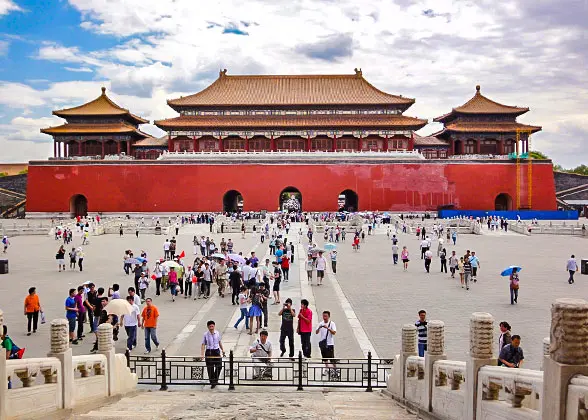 Forbidden City, Imperial Architecture
This part will provide you with detailed information about different kinds of Chinese
architecture, including the related culture and background knowledge. Chinese ancient architecture has its own unique style in the world architecture. It uses different structural materials which include civil construction, brick work, timber construction and bamboo construction. There are various architecture styles such as palace, tower, temple, garden and mausoleum which can be generally grouped into imperial architecture, religious architecture, garden architecture and general architecture.

Imperial Architecture
:
Here you will get to know Chinese imperial architecture, including imperial palaces, gardens and mausoleums. In order to incarnate the supremacy of imperial power, imperial architecture often adopt the layout of an axial symmetry, with the buildings on the central axis tall and splendid while the rest rather small and simple.

Traditional Chinese Residences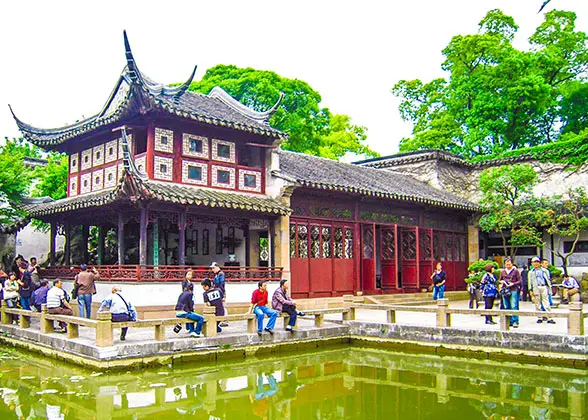 Lingering Garden, Suzhou
In this part, you will get to know the general information of the architecture that common people live in. The 56 ethnic groups have weaved a colorful civilian residence picture. Beijing locals has their own distictive houses in traditional
Courtyards
(Siheyuan). In northern part of Shaanxi Province, people prefer to live in
Farmers' Caves
(Yaodong). In Yunnan Province, local people build
Seal-like Compound
(Yikeyin) to dwell in, and in the west of Fujian Province, Hakkas create the
Earthen Buildings
(Tulou)which is considered to be built with a wondrous architectural style.

Garden Architecture
Chinese gardens are famous for their variety and delicate craftwork. This part will not only present you different kinds of beautiful gardens, but you will also be impressed at the unique constructional idea and methods of Chinese laboring people.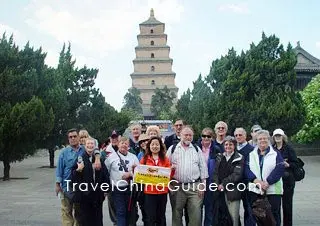 Big Wild Goose Pagoda, Buddhist Architecture

Religious Architecture
Religious architecture in China has an added Chinese flavor to it. Different religions have their unique architectural styles.

Buddhist Architecture

Taoist Architecture

Chinese Temples

Buddhist Temples

Taoist Temples

Islamic Mosques

Confucius Temples
- Last updated on Sep. 19, 2018 -
Questions & Answers on Chinese Architecture Styles
Asked by Teresa from MEXICO | Sep. 18, 2018 20:01

Reply
Is there a meaning when the doors should be facing north or south and windows
Answers (1)
Answered by Vivian from MALAYSIA | Sep. 19, 2018 19:32

0

0

Reply
Yes, in Chinese culture, the doors should not be opened to the north since it will bring bad luck and will not be conducive to wealth and family prosperity.
Asked by Kayla from CANADA | May. 01, 2016 19:37

Reply
Southern vs Northern China Architecture
How do the two styles differ. I know the two have differing weather, the north being cooler, and the south tending to be more tropical, but how is this reflected in architectural choices. Specifically pertaining to traditional/ancient architecture, not modern-day.
Answers (1)
Answered by Sunny | May. 01, 2016 21:10

1

2

Reply
For appearance, buildings in the south have the Dougong, system of brackets inserted between the top of a column and a crossbeam turned up more, and there are pitched roofs, while in the north, the Dougong is not that much and the roofs are quite flat comparatively. Buildings in the south are colorful or painted grey and white, while in the north, the dwellings for the civilians are built of bricks and earth, looking plain, and architectures of royal families are painted to red or yellow to represent the distinguished identity. In addition, houses usually have thicker walls in the north due to the cold weather and they have fireplace or heated earth bed.
This is just for your reference anyway.
Asked by Timothy Paige | Jan. 08, 2015 12:44

Reply
in a list, what are the well known features of Buddhist architecture?
Timothy from the USA
Answers (1)
Answered by Peter | Jan. 10, 2015 02:38

4

3

Reply
Usually, Buddhist buildings have main hall and side halls with symmetrical construction. In different halls stand different Buddha statues. And you will find that the main entrance lies on the axis.
Asked by Bill Brittain from USA | Jan. 11, 2014 10:07

Reply
What is the name of the courtyard in ancient Chinese houses called "the well of heaven"?
Answers (1)
Answered by Luna from CHINA | Jan. 14, 2014 01:27

6

10

Reply
Do you wanna know its Chinese name? If so, it is 天井.