Education in China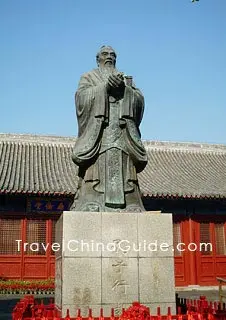 Statue of Confucius
A good education has always been highly valued in China, as the people believe that education ensures not only the future and development of the individual but also the family and the country as a whole.
Passed down from ancient times, the maxim from the Three-Character Scripture that says 'if no proper education is given to children, their nature will go bad' has proved to be true. The great master Confucius taught us that 'it is a pleasure to learn something and to try it out at intervals'. Similarly, numerous students have been convinced that 'reading books excels all other careers'. The records tell us that Mencius' mother became an example to millions of mothers who were keen for their children to be talented. - she moved her home three times in order to choose a fine neighborhood in which Mencius could be effectively influenced.
As far back as the Shang Dynasty (16th century BC - 11th century BC), inscriptions on bones or tortoise shells were the simple records of teaching and learning. In the Western Zhou Dynasty (11th century BC - 771 BC), nobles built schools to teach their children, as their offsprings would be the officials of the future, while those who were gifted but of poor families could but dream of approaching state affairs. The development of education system led to a form of evaluation that became the means by which dynastic China appointed those with talents as officials. In general, this process can be divided into three periods - 'chaju' and 'zhengpi' in the Han Dynasty, the 'jiupin zhongzheng' system from Han to the Northern and Southern Dynasties, and the Imperial Examination which survived from the Sui Dynasty (589 - 618) right through to the last feudal dynasty Qing Dynasty (1644 - 1911).
Ancient Education in China:

Education in Zhou & Han Dynasties

Imperial Examination in Sui & Tang Dynasties

Innovation of Education in Ming & Qing Dynasties
After that, China's education system fell into something of a state of confusion due to the changes in national government. However, with the foundation of modern China the new order introduced a fresh approach to education and brought is into a new phase. Through long-term endeavor, the provision of educational has taken on a prosperous process.
Beijing Guozijian,
Imperial College in Anicent Times

Figurines of 72 Disciples of Confucius,
Confucius Temple, Beijing
Ancient Education Academy in China

Songyang Academy

Modern Universities in China

Peking University

Tsinghua University
- Last updated on Apr. 20, 2021 -
Questions & Answers on Education in China
Asked by Emilie from CANADA | Nov. 10, 2017 17:27

Reply
can you tell me more about how education is like in china
i dont know if there are sometimes problems in china because of education
i also wan to know about whats the most important thing about chinas teaching
Answers (5)
Answered by Elijah from UNITED KINGDOM | Nov. 13, 2017 01:02

2

1

Reply
First of all, the importance of education in China mainly contains two aspects:
1. Students training for talents are important for country.
2. Students in China are important for future.

Currently, the main problems in China higher education are Development of student numbers, Tuition fees. And it also faces several challenges, such as unemployment, quality, core and fringe.

The improvement of education in rural areas should be addressed.And giving the poverty-stricken areas various aspects of supportive measures.

Hope helpful!
Answered by Andreea from ROMANIA | Jun. 21, 2018 14:57

0

0

Reply
What are some key differences between the Western culture / education and the Chinese one ? thank you
Answered by Ebony from USA | Jun. 21, 2018 20:09

0

0

Reply
Oh, it's a very large question. There are so many differences between culture of the East and West that I cannot list all of their differences for you. For example, it is a tradition to use chopsticks for Chinese. But western people prefer to use forks and knives based on different food they like. Western people like eating beef steak, bread, and salad, while Chinese people like noodles, pancakes and rice. Chinese students always complain about their too much homework and they have less and less time to exercise and relax. They have to recite many things to get a high mark. The study in West seems to be more interesting. Teachers pay attentions to training students' skills in thinking in real life not to emphasis on the memories.
Answered by Thenea from CHINA | Jul. 30, 2018 23:48

0

0

Reply
Yes.I'm a junior high school student from China.For me,Chinese education is really hard .Actually,at the end of the term, I have to do so homework that I always do them until midnight.To be honest, I don't hate Chinese education.In the school, I can also have fun with my teachers and classmates
Answered by pds from CHINA | Dec. 23, 2019 22:31

0

0

Reply
The most difference I think is that western education focus on the burgeoning of students' characters and thinking ability , and Chinese education focus on the handle of knowledge and practicing ability. there are much more differences between them. I suggest you to read more information about them.