Splendid Kazakhstan Tour from Almaty
TKZ03: 9 Days Private Tour of Almaty - Charyn Canyon National Park - Kolsai Lake - Almaty - Taraz - Turkestan - Shymkent - Almaty
Tour Type:
Private Tour, any parts of the itinerary can be customized
Guide:
English-speaking driver guide, experienced and knowledgeable
Vehicle:
Air-conditioned car, spacious and comfortable
Accommodation:
3 to 4-star handpicked hotels & guest houses
Meals:
Authentic local cuisines and western-style food for your choice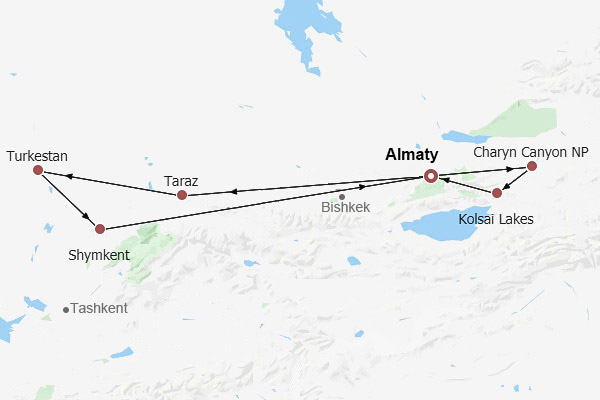 Day 1
Arrival in Almaty, Airport pick-up
Thanks for joining our 9-day Kazakhstan tour package and welcome to Almaty. Our driver guide will pick you up at the airport and transfer you to the hotel and check in. The rest of the day is free for you. You may rest in the hotel to recover from the jet lag or have a stroll around the hotel on your own.
Accommodation: Renion Park



Day 2
Full day tour with Big Almaty Lake
The Kazakhstan tour package will officially start today. The first stop is Big Almaty Lake. The emerald green lake is surrounded by snowcapped mountains, forests and meadows. Then, head to Medeo skate rink to climb the snow dam and visit Shymbulak Ski Resort. After lunch, go to the two-storey Green market with over 100 years' history. After visiting Zenkov Cathedral and the Central Mosque of Almaty, we'll go to appreciate the sunset at Kok-Tobe Hill.
Meals: Breakfast, Lunch
Accommodation: Renion Park



Day 3
Visit Charyn Canyon National Park, Drive to Saty village
Today we'll visit Charyn Canyon National Park. The canyons with 12 million years' history are one of the most popular attraction in Kazakhstan. First we will visit the most interesting part, Valley of Castles, and have packed lunch. Afterwards, go to visit Moon Canyon, also called Uzunbulak Canyon or White Canyon. Following are Bestamak Canyon and Charyn Canyon. After, head to Saty village and check in the hotel.

Meals: Breakfast, Lunch-box, Dinner
Accommodation: Saty Village Guest House
Day 4
Kaindy Lake and Kolsai Lake tour, Drive to Almaty
For today's Kazakhstan tourist package, we are going to visit Kaindy Lake. Kaindy Lake is a dammed lake formed by the earthquake. There is a submerged birch forest in the lake. After visiting the Third Kolsai Lake, we will return to Saty village for lunch. Then drive for 300 km (186 mi) back to Almaty which will take 3.5 hours. After arrival, have dinner at a barbecue restaurant and check into the hotel.
Meals: Breakfast, Lunch, Dinner
Accommodation: Renion Park



Day 5
Drive to Taraz, Taraz city tour
In the morning, we will pack the breakfast and drive to Taraz 495 km (306 mi) away, taking 6 hours and 50 minutes. We'll visit Kara-Khan Bab Mausoleum and Aisha Bibi Mausoleum. Aisha Bibi Mausoleum is the only monument in Central Asia completely covered with terracotta tile carvings, symbolizing eternal love. Before the end of the day, the guide will take you to visit Ancient Taraz city.

Meals: Breakfast
Accommodation: Pride Hotel
Day 6
Drive to Turkestan, Turkestan city tour
This day we'll drive to Turkestan. The 325 km (202 mi) long drive will take 4.5 hours. On the way we'll visit the mysterious Akmechet Cave whose origin is still not clear. Upon arrival, visit Mausoleum of Khoja Ahmed Yasavi built under the order of Timur and then go to visit Hilvet underground mosque, where the famous Sufi poet Khoja Ahmed Yasawi lived in seclusion at his twilight years. Finally we'll visit Juma mosque museum, the oriental Bath Museum, Etnography Museum Mausoleum of Rabbi Sultan Bejim.

Meals: Breakfast
Accommodation: Hotel Edem
Day 7
Drive to Shymkent, Stop at Otrar
For today's itinerary, drive to Shymkent 168 km (104 mi) away, taking 2.5 hours. On the way the driver guide will take you to visit the ancient town, Otrar and the Arystan Bab Mausoleum in the town. The mausoleum was built in 12th century and is the tomb of Arystan Bab, the mentor of Khoja Ahmed Yasawi. After arriving in Shymkent city, the driver guide will take you to explore the city.
Meals: Breakfast
Accommodation: Ramada by Wyndham Shymkent




Day 8
Drive back to Almaty
Today we'll drive back to Almaty after visiting the local market, where is great to learn local people's life. The 673 km (418 mi) long journey will take 9 hours.
Meals: Breakfast
Accommodation: Renion Park



Day 9
Depart from Almaty, Airport see-off
This is the last day of your Kazakhstan 9 days itinerary. According to your flight schedule, the driver guide will transfer you to the airport. Wish you a happy journey home.

Meals: Breakfast
This trip can be customized to meet your individual needs!