Hong Kong & Metropolis Cities
SG37:
8 Days Small Group Tour of Hong Kong - Beijing - Shanghai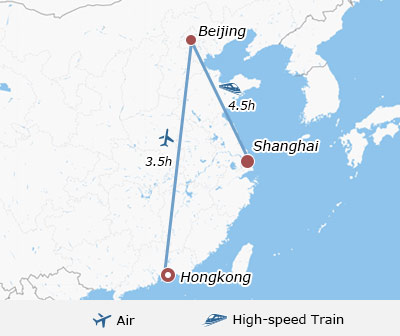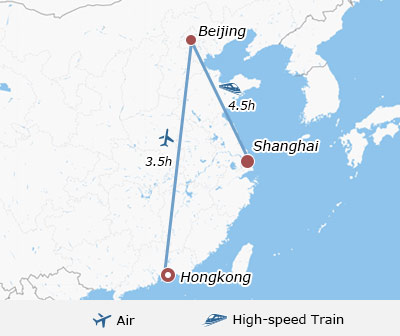 Tour Type:
Small Group of 2-18 travelers, guaranteed departures
Guide & Driver:
English-speaking guide, experienced driver with an air-conditioned coach
Accommodation:
7 nights, nice 5-star & 4-star hotels
Meals:
7 western buffet breakfasts, 3 lunches of a la carte style
Tour Highlights:
Must-see sights - Mutianyu Great Wall, Forbidden City, Temple of Heaven, the Bund
Feel the vibrant atmosphere & explore bustling markets in Hong Kong
View the soaring city skylines and feel the pulse of modern Shanghai
Enjoy a la carte meals & taste authentic Chinese cuisines at superb restaurants

Day 1
Arrival in Hong Kong
Arrive at any time, Airport-hotel transport by yourself.
When you arrive in Hong Kong, please get to the hotel by yourself. After check-in, you can spend the rest of the day having a good rest or getting familiar with the city.
We only reserve the two-night hotel with daily breakfast for you in Hong Kong, and leave the sightseeing tour for your own arrangement. Hong Kong enjoys convenient public transport, so you can easily get to most attractions.
Accommodation:
Regal Kowloon Hotel




Full day is free for your independent exploration with our suggestions. (B)
Victoria Harbor, Hong Kong
After breakfast, you are advised to take the bus or taxi up to the
Victoria Peak
. Standing at the peak, you will have a bird's-eye-view of the whole city. The nearby Peak Tower is also worth exploring for housing interesting sights like the Madame Tussauds Hong Kong and Sky Terrace 428. The suggestion for the afternoon is to set out to
Repulse Bay
or
Aberdeen
to enjoy the intoxicating coastal scenery. Afterwards, you may roam around
Stanley Market
and shop for souvenirs or handicrafts that interest you.
Meals: Western buffet breakfast
Day 3
Hong Kong - Beijing
Fly to Beijing, Pick up & airport-hotel transfer. (B)
Today, you will go to Hong Kong Airport by airport shuttle bus or Citybus A21 by yourself for the flight to Beijing. The air ticket will be booked for you in advance. Upon your arrival at Beijing Capital Airport, our local guide will meet you outside the customs, and the driver will drive you to the hotel. The rest of the day is free for you to relax.
Meals: Western buffet breakfast
Accommodation:
The Great Wall Hotel Beijing





- the former Sheraton
A tour briefing, Tiananmen Square, Forbidden City, A la carte welcome lunch with Peking Duck, Temple of Heaven, Chinese Kung Fu Show. (B+L)
Forbidden City, Beijing
A visit to
Tiananmen Square
starts today's Hong Kong Shanghai Beijing tour. Our guide will show you around the major buildings on the large square, like Tiananmen Tower, Monument to People's Heroes, and National Museum of China. Walking through the Tiananmen Tower, we will come to the
Forbidden City
, which is the imperial palace of the Ming and Qing dynasties (1368-1911). Seeing exquisite palaces, halls and pavilions, it won't be hard to imagine the luxurious lifestyle of the ancient royal family.
After the visiting, an
a la carte lunch
will be served at a decent restaurant, which features delicate Chinese cuisines and Peking Roast Duck. The lunch is valued at CNY150 per person, and included in our price.
In the afternoon, our guide will accompany you to the
Temple of Heaven
, where emperors prayed for good harvests in ancient times. At night, a lively Chinese
Kung Fu Show
is in store for you at the Red Theater.
Meals: Western buffet breakfast, A la carte lunch
Mutianyu Great Wall with a round-trip cable car, A toast with red wine on the wall. (B)
After a big breakfast at the hotel, the guide and driver will take you to
Mutianyu Great Wall
, one of the most famous and best-preserved sections of the Great Wall. It snakes up and down the mountain ridges and stretches to the distance. Several fierce battles took place here. Cracks and holes on the battlements are like scars reminding you of its glorious past as the unbreakable defensive screen of the nation. The round way cable car will be arranged.
We do not arrange lunch today due to the low quality of the nearby restaurants. Hence, you may have some fast food by yourself. The guide is happy to offer some suggestions.
Afterwards, your guide will accompany you back to the city. Enjoy some free time at a local market before heading back to the hotel.
Meals: Western buffet breakfast
Summer Palace, Olympic Bird's Nest, A la carte lunch, Hutong Rickshaw Tour, Experience Chinese Paper Cutting, A 4.5-hour high speed train to Shanghai, Pick-up service. (B+L)
Today's group tour starts with a visit to the
Summer Palace
, the imperial garden of the Qing Dynasty (1644 - 1911). Then we will drive by the
Olympic National Stadium
(Bird's Nest). Its unique exterior is eye-catching and worth a photo-taking.
You will have an
a la carte lunch
in a famous restaurant. The meal is valued at CNY150 per person and included in our price. The delicious food and great atmosphere of the restaurant will certainly make the tour unforgettable.
After lunch, our guide will lead you to the traditional
Hutongs
and courtyards, where you can take a glimpse of the local life and have a chance to learn the Chinese Paper Cutting. Later in the day, we will escort you to the railway station for a 4.5-hour high-speed train to Shanghai. Upon arrival, our local guide will pick you up at the railway station and escort you to the hotel.
Meals: Western buffet breakfast, A la carte lunch
Accommodation: Sheraton Shanghai Hongkou Hotel





Jade Buddha Temple, Yu Garden and its traditional bazaar, A la carte farewell lunch, Former French Concession, the Bund and Huangpu River cruise. (B+L)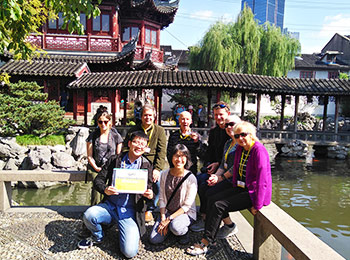 Yu Garden
After breakfast, we will start the Hong Kong Shanghai Beijing tour in Shanghai from the
Jade Buddha Temple
, which is a Buddhist temple well-known for the two jade Buddha statues. After appreciating the art works, we will proceed to the
Yu Garden
to feel its tranquil atmosphere in the busy metropolis. Have some free time at the nearby traditional bazaar.
An
a la carte farewell lunch
(valued at CNY120.00 per person and included in our price) will be served at a local fancy restaurant to taste the authentic Shanghai cuisine.
Following the morning activities, our guide will take you to visit the
Former French Concession
and the
Bund area
, where you will take a one-hour
cruise tour
along the Huangpu River. After the trip is completed, our guide will escort you back to the hotel and say goodbye to you at the hotel lobby.
Meals: Western buffet breakfast, A la carte farewell lunch
Day 8
Departure from Shanghai
Please check out before 12:00. We recommend the most efficient and money-saving way - taking a taxi by yourself from hotel to the airport, A pleasant trip home! (B)
Your tour package from Hong Kong to Beijing and Shanghai will end today. Please head for the airport for your departing flight on your own. The hotel-airport transfer is not included because of the different flight schedules of the group travelers. If you want to book onward flights or extend your tours, please feel free to contact your travel consultant. Thank you for travelling with us!

Meals: Western buffet breakfast
B-- Breakfast
L-- Lunch
D-- Dinner
Prices are per person in US Dollars; departures are guaranteed even with two persons!
| Arrival Date | Departure Date | Double Occupancy | Single Room Supplement | |
| --- | --- | --- | --- | --- |
| Jan 03(Fri) | Jan 10(Fri) | $1419 | $409 | |
| Feb 11(Tue) | Feb 18(Tue) | $1419 | $409 | |
| Mar 03(Tue) | Mar 10(Tue) | $1439 | $429 | |
| Mar 10(Tue) | Mar 17(Tue) | $1439 | $429 | |
| Mar 24(Tue) | Mar 31(Tue) | $1439 | $429 | |
| Mar 31(Tue) | Apr 07(Tue) | $1439 | $439 | |
| Apr 07(Tue) | Apr 14(Tue) | $1439 | $439 | |
| Apr 14(Tue) | Apr 21(Tue) | $1439 | $439 | |
| Apr 21(Tue) | Apr 28(Tue) | $1439 | $439 | |
| May 05(Tue) | May 12(Tue) | $1439 | $439 | |
| May 12(Tue) | May 19(Tue) | $1439 | $439 | |
| May 19(Tue) | May 26(Tue) | $1439 | $439 | |
| May 26(Tue) | Jun 02(Tue) | $1439 | $439 | |
| Jun 02(Tue) | Jun 09(Tue) | $1439 | $439 | |
| Jun 09(Tue) | Jun 16(Tue) | $1439 | $439 | |
| Jun 16(Tue) | Jun 23(Tue) | $1439 | $439 | |
| Jun 23(Tue) | Jun 30(Tue) | $1439 | $439 | |
| Jun 30(Tue) | Jul 07(Tue) | $1439 | $439 | |
| Jul 07(Tue) | Jul 14(Tue) | $1439 | $439 | |
| Jul 14(Tue) | Jul 21(Tue) | $1439 | $439 | |
| Jul 21(Tue) | Jul 28(Tue) | $1439 | $439 | |
| Jul 28(Tue) | Aug 04(Tue) | $1439 | $439 | |
| Aug 04(Tue) | Aug 11(Tue) | $1439 | $439 | |
| Aug 11(Tue) | Aug 18(Tue) | $1439 | $439 | |
| Aug 18(Tue) | Aug 25(Tue) | $1439 | $439 | |
| Aug 25(Tue) | Sep 01(Tue) | $1439 | $439 | |
| Sep 01(Tue) | Sep 08(Tue) | $1459 | $449 | |
| Sep 08(Tue) | Sep 15(Tue) | $1459 | $449 | |
| Sep 15(Tue) | Sep 22(Tue) | $1459 | $449 | |
| Sep 22(Tue) | Sep 29(Tue) | $1459 | $449 | |
| Oct 06(Tue) | Oct 13(Tue) | $1459 | $449 | |
| Oct 13(Tue) | Oct 20(Tue) | $1539 | $529 | |
| Oct 20(Tue) | Oct 27(Tue) | $1539 | $529 | |
| Oct 27(Tue) | Nov 03(Tue) | $1539 | $529 | |
| Nov 03(Tue) | Nov 10(Tue) | $1539 | $529 | |
| Nov 10(Tue) | Nov 17(Tue) | $1539 | $529 | |
| Nov 17(Tue) | Nov 24(Tue) | $1429 | $419 | |
| Dec 07(Mon) | Dec 14(Mon) | $1429 | $419 | |
| Dec 21(Mon) | Dec 28(Mon) | $1429 | $419 | |
Price Includes
Domestic airfare & train fare
Hotel accommodation with breakfasts
A la carte lunches as itinerary specifies
Professional English-speaking guides
Drivers & air-conditioned vehicles
Entrance fees to tourist sites
Tips or gratuities for hotel porters
Price Excludes
International airfares
Entry Visa fees
Personal expenses
Tips or gratuities for guides and drivers
Why Travel With Us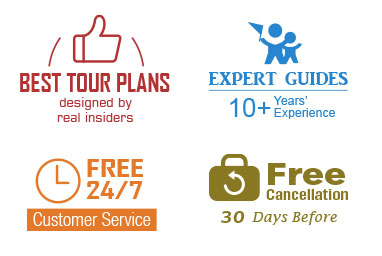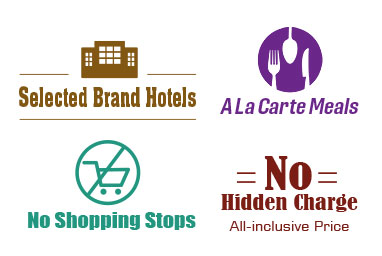 Itineraries you may also like: