Puning Temple Photos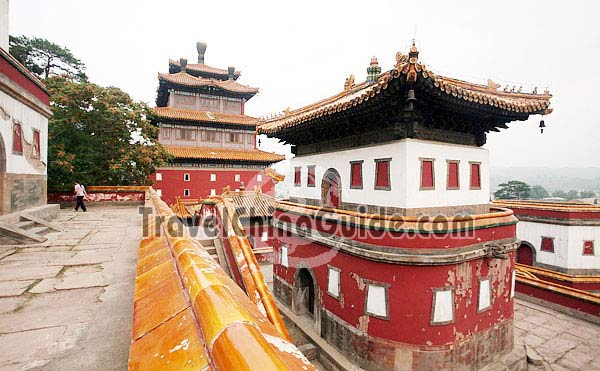 In the late 16th Century, the Zonggar people who lived in the northwest of China had been in Civil War for about eight years. In spring of 1755, Emperor Qianlong dispatched troops to Ili and suppressed the rebellion. As a commemoration, Emperor Qianlong ordered a lamasery to be built outside the Chengde Mountain Resort named "Puning Temple", which suggested that the people of northwest China would live a peaceful life forever. Attraction Intro:
Puning Temple
- Last modified on Oct. 09, 2017 -
Questions & Answers on Puning Temple Photos
Asked by Mr.Sangha | Mar. 22, 2011 00:23

Reply
What's the best way to travel from Bejing to Anping, Hebie.
Answers (1)
Answered by Mr.Qi | Mar. 22, 2011 03:46

13

0

Reply
By bus. Beijing Zhaogongkou Long-distance bus station has about 6 buses a day to Anping, Hebei. Timeing: 6:00, 7:20, 9:00, 10:20, 11:30, 15:00 for reference. The accurate time is adjusted to the schedule issued by the bus station that day.
Asked by Ms.Tracy from MALAYSIA | Jan. 28, 2010 01:39

Reply
Can I complete my visit in 1 1/2 day in Chengde? Is there a direct train/bus from Chengde to Tianjin? Which station should I go to, how much is the fare and how long is the journey?
Answers (1)
Answered by Ms.Cindy | Jan. 30, 2010 22:55

13

0

Reply
yes, you can finish visiting Chengde in one and a half days. Only one train, but the train stop at Yangkiuqing Station of Tianjin, which is not in the city center. It takes some 7 hours and a quauter, and leaves at mid night. Suggest you take bus and spend 6 hours on coach to Tianjin, or get to Beijing first and transfer high speed train to Tianjin then.
Asked by Mr.Gooi from SINGAPORE | Aug. 04, 2009 00:53

Reply
I would like to visit chengde and tianjin from beijing. I an planning to go to chengde first and then go to Tianjin from Chengde. May I know whether got train/bus from Chengde to Tianjin and where I can get the train timetable.
Answers (1)
Answered by Mr.Colin | Aug. 06, 2009 02:08

2

0

Reply
Chengde to Tianjin
By train: only one train to Tianjin Yangliuqing Railway Station, 22:50-6:10, 7hours20minutes.
By bus: from Chengde Bus Station at 06:00、08:10、08:50、21:30 and get to TIanjin in about 5 hours