Pictures of Coins before and during Qin Dynasty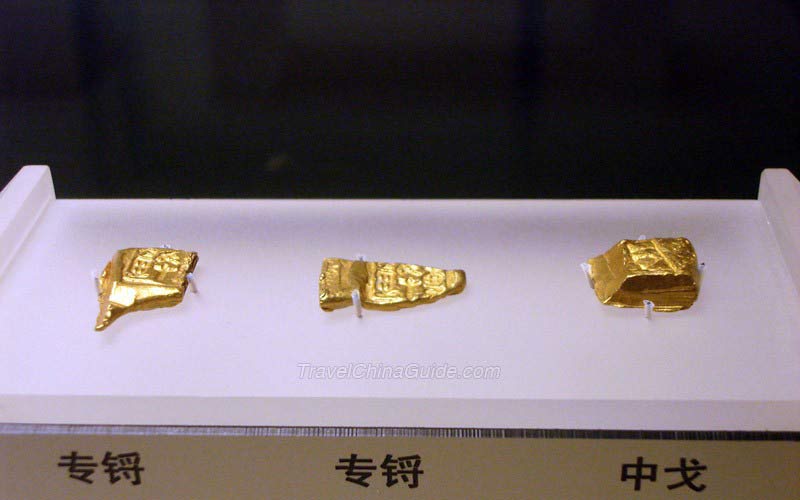 Besides the exquisite Terracotta Warriors and Horses, visitors can also appreciate many coins in the Terracotta Army Museum. They belonged to different ducal states in the Warring States and Qin Dynasty.
- Last modified on Oct. 01, 2017 -
Questions & Answers on Pictures of Coins before and during Qin Dynasty
Asked by Mr.Laiming | Apr. 23, 2011 01:47

Reply
We will be staying at the Grand Noble Hotel. What bus line should we take to go to :
1. The Tang Dynasty Show
2. The Big Wild Goose Pagoda

When we take tour bus5(306)to see the Terra Cotta Warrior, can we get off the bus to see the the Huaqing Hot Spring first and then get back on the same bus# a couple hours later? If yes, what is the bus fare from the Huaqing Hot Spring to the Terra Cotta Warrior?

Answers (1)
Answered by Ms.Jane | Apr. 23, 2011 02:10

0

0

Reply
Your hotel is located in the East Street of Xi'an, the closest bus station is Duan Lv Men(端履门)and then walk a little distance to the Bell Tower, you could find more bus lines.

1. It is suggested that you watch the show at the theater of the Tang Dynasty. From Duan Lv Men, you could take bus K605(CNY1/adult) and get off at the 4th stop of Cao Chang Po(草场坡). The theater is located to be opposited to the bus stop. Actually, suggested you take a taxi to get there directly, the fare of the taxi is about CNY10.
2. To the Big Wild Goose Pagoda, you could take the bus 601 and 606 from Duan Lv Men. If you take a taxi, the fare should be within CNY15.

Of course, you could get off at the Huaqing Hot Spring. After that, you could take another passingby bus 5(306)to its terminal at the Terra-cotta. There are so many bus 5 (306)in service everday that you could find one every 10~15 minutes. The bus fare is CNY3/adult.

Asked by Mr.Jim | Nov. 30, 2010 22:26

Reply
What, if any subsistence strategies did they use (Ex: farming, hunting, etc.)? In the Qin Dynasty?
Answers (1)
Answered by Mr.Leo | Dec. 01, 2010 21:42

0

0

Reply
According to the clothes they wear, it is said that the main subsistence strategies is farming and hunting in Qin Dynasty(https://www.travelchinaguide.com/intro/history/qin/)