Xianyang Museum Photos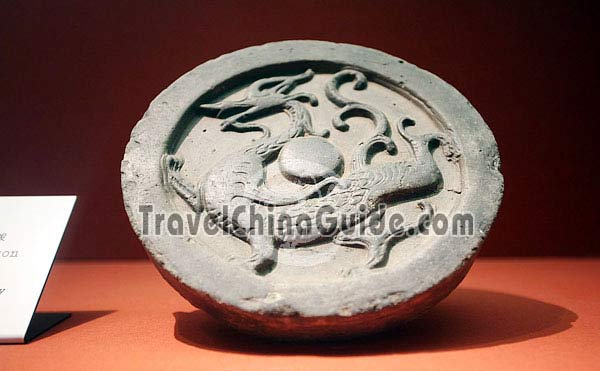 Xianyang has a long history. It was the capital of the Qin Dynasty, the royal domain and graveyard of emperors of the Han and Tang Dynasties, so one can find many kinds of cultural relics of the Qin, Han and Tang Dynasties there. Here exhibited are over 100 exquisite relics selected from more than 10,000 pieces of Xianyang Museum. The Terra-cotta Warriors and Horses of the Western Han Dynasty can also be seen here. Attraction Intro:
Xianyang Museum
- Last modified on Dec. 02, 2017 -
Questions & Answers on Xianyang Museum Photos
Asked by David Chu from AUSTRALIA | Jun. 21, 2016 17:16

Reply
Does anybody know what happened to Jade Burial Suit at Xianyang Museum which is currently missing?
Also does anybody have a photo or any additional information about this particular Jade Suit. Thank You.
Answers (2)
Answered by Tate from UNITED KINGDOM | Jun. 21, 2016 22:09

0

0

Reply
As I know,the jade burial suit is not exhibited there. You can have a look at it in Capital Museum in Beijing. That suit was made during the Han Dynasty (202BC - 220 AD). It is really treasure.
Answered by David chu from AUSTRALIA | Jun. 22, 2016 05:30

0

0

Reply
Thank you Tate. The reason I asked is that I visited there in March. The case where the Jade Suit with silver thread says Temporarily Removed. I took a photo of the small sign and the info board above. It is Han Dynasty. Possibly the suit belonged to Zhou Bo or Zhou Yafu from Tomb 4 or 5, yangjiawan. Thanks.
Asked by Ms.Bo from PHILIPPINES | Oct. 15, 2009 01:53

Reply
Will be in Xi'an for 1 day only. Is there a counter/office in the Xi'an train station where we can leave our luggages? Where is it located? How much is the rate?
Answers (2)
Answered by Mr.ANDY2008 from CHINA | Oct. 15, 2009 21:15

13

0

Reply
Yes, there is a service in Xi'an Train station, which can help you to keep your luggage. It will cost 10~ 20RMB for a suitcase.
Answered by Mr.Leo | Oct. 23, 2009 22:51

13

0

Reply
Well, when you exit from the railway, please turn to left where you could find a place for luggage left~
Asked by Mr.sanjeev khanna from INDIA | Aug. 01, 2009 03:59

Reply
where is dongyi road in xian shaanxi,is it a commercial place for marketing or office area or factory area sanjeev khanna from india

Answers (1)
Answered by Mr.Qi | Aug. 04, 2009 21:07

0

0

Reply
Dongyi Road is not a very commerical place, but it is very closed to the city center. Walk a block south, it is the East Street, one of the local most prosperous shopping streets. Not good for office area, I think.
Asked by Mr.Yong from MALAYSIA | Apr. 02, 2009 01:39

Reply
I am planning to visit Xi'an via Beijing by train. Should be in Xi'an for 2 days 1 night. My main reason is to visit the terra cotta warriors but do not know whether the visit will be short or long. Are there any other tourist spots recommendations? Where do I stay if i am there (mid budget). I'll be taking the train back to Beijing.
Answers (1)
Answered by Ms.Linda from XI'AN,CHINA | Apr. 03, 2009 00:21

0

0

Reply
Hi,Mr.Yong:
That depends on what's your arriving time of the train. The terra cotta is a big museum, located 40km to the east of Xi'an. you need to spend 1hour on the way, and 3hours in the museum , another hour to come back. also there are some other famous attractions near the terra cotta, such as the Huaqing hot spring palace, the mausoleum of emperor Qin,etc. In the city Xi'an, there are also some famous attractions,like the city wall, the pogoda, the museum,the mosque,the banpo remains,etc.