Kashgar to Tashkurgan Pictures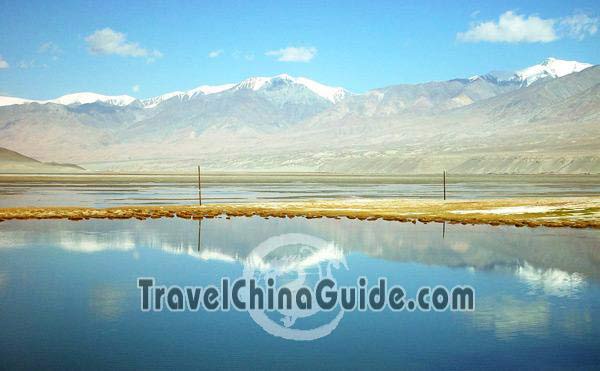 The sky is mirrored in the still water of the lake, with the most intense shade of blue.
From Kashgar to Tashkurgan, visitors will be amazed at the charming scenery of the Karakuli Lake and the Subashi Grassland. 'Karakuli' means 'Black Sea'. The lake is 30 meters (over 98 feet) and covers an area of 10 square kilometers (2,471 acres), at an altitude of 3,600 meters (11,811 feet). The lakeside Subashi Grassland has luxuriant grass where sheep and cattle enjoy their meals.
- Last modified on Oct. 02, 2017 -
Questions & Answers on Kashgar to Tashkurgan Pictures
Asked by Ms.Sherry from MALAYSIA | May. 11, 2010 20:46

Reply
Urumqi Weather
My mum will be travelling to Urumqi end of next month. How's the weather there? Is it safe to travel now?
Answers (4)
Answered by Mr.Lea | May. 12, 2010 03:35

1

0

Reply
Hello,Ms.Sherry
It will be a good time to visit Urumqi in terms of climate. As for safety, be alarm when you are there, but no need to worry much.
Answered by Mr.OSMAN from CHINA | May. 14, 2010 12:23

0

0

Reply
yes it is safty, Urumqi people are very kind ,nothing will happen with your mother . even for the young girls so . no one touches
Answered by Ms.low from MALAYSIA | May. 16, 2011 00:15

0

0

Reply
What is the wheather of Urumqi in the end of May?
Answered by Mr.Sandy from CHINA | May. 16, 2011 20:00

0

0

Reply
About 12-24 degree in the end of May. Still cool.
Asked by Mr.ALVIS from USA | Nov. 24, 2009 14:52

Reply
Hello everybody...you know who you are..(lol).. Need an intro lesson on China's local history and
customs.....I have just made contact with a young lady from this region and I want to impress her
by learning things about her province...She lives in a small town called SONGZI..I was able to find
some basic imfo on internet(Google) but I would like to hear from people that have actualy traveled
to this province and try to get educated on the customs...what to do..what NOT to do..My new found
ladyfriend will probably expect me to visit her at some point in the near future and I would be just
as interested to visit China maybe mid-year of 2010?...please let me have any relevant imformation
about Travels to China from the USA....I'll probably be flying out of Dallas,Texas.
Answers (1)
Answered by Ms.Arsh from AZIM | Apr. 06, 2011 16:54

0

0

Reply
have you visited china yet? If yes, how was your trip?
Asked by Mr.David from IRELAND | Aug. 31, 2009 22:37

Reply
Hi All,

I will be arrriving in Urumqi on 10 Sept. Is it possible to make phone calls to other parts of China from there? I know the internet is down, but what about internal phone lines, also how safe is now. I am going anyway but I would just like to know. Thanks.
David
Answers (2)
Answered by Mr.Sandy | Sep. 02, 2009 22:23

0

0

Reply
It is quiet and safe at that moment, or you can consider to take part in a package tour. Visitors are fewer than before, so the stuffs are cheaper. Not a bad idea. For more, you can choose to travel north line of Xinjiang.
Answered by Mr.muhammad from CHINA | Oct. 10, 2009 01:34

0

0

Reply
you can make phone calls !!and it is very safety at that moment.