Snow Jade Cave Pictures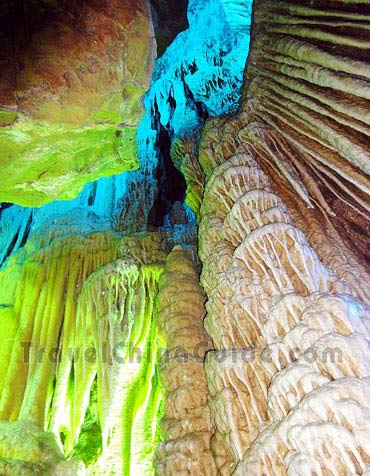 Snow Jade Cave is Fengdu's most important and popular attraction. It is China's most recently opened karst cave having earned that distinction in 2003. Most of its stalactites are snowy white like pure jade. The most spectacular of these karst formations are the eye-catching Pagoda Calcites also called Tower Coral; the glittering King Stone Flag; the pure and noble Stone Shield also known as the Snow Jade Penguin and the incomparable Stone Gooseneck. Attraction Intro:
Snow Jade Cave
- Last modified on May. 24, 2017 -
Questions & Answers on Snow Jade Cave Pictures
Asked by Ms.roselle | Mar. 03, 2011 02:53

Reply
hi, if i go to yangtze river from xian, how long is it gonna take vua bus or train?
Answers (1)
Answered by Mr.Jerry | Mar. 03, 2011 19:27

21

3

Reply
You should go to Yichang or Chongqing first to see Yangtze River from Xi'an, by train. See the train info at https://www.travelchinaguide.com/china-trains/
Asked by Mr.John | Nov. 26, 2010 20:42

Reply
We (2 of us) will be arriving in Chongqing Airport at 10AM and will be leaving on the Victoria Cruise (embarking between 5-8pm). I am interested in a day trip taking in Chongqing Zoo, Ciqikou Old Town & Goose Neck Park. Want to leave from the airport and be returned to the cruise dock. Any suggestions appreciated, & thanks in advance.
Answers (2)
Answered by Mr.Derek P. D | Nov. 26, 2010 22:59

15

1

Reply
If you would like to travel by the public transportation by your own, it will be urgently and difficult to finish all of these attraction in a short time. Actually, when I was there in 2008, I booked the cruise from a travel agent, which arranged the day before boarding on the shop very well for me. The guide and driver picked me up at the airport, and then to Chongqing Zoo and Ciqikou. You may have a try to ask for help from an agent!
Answered by Mr.Shoo from CANADA | Nov. 27, 2010 00:36

0

1

Reply
Take the sky train to the Chongqing zoo (yang jia ping stop), which is the fastest way to get there. Then get to Ciqikou old town by taxi which will cost you like 10 dollars (no more than that!) About Goose Neck Park...hmm intersting, I was born there, but I dont know it~!I just know goose neck restaruant.
Good luck

Asked by Ms.Shaz from AUSTRALIA | Jul. 26, 2009 21:47

Reply
Can I please confirm if there is a ferry service running between Shanghai and Mokpo? A friend in Mokpo checked for me recently and was told it has been discontinued. I plan to visit Shanghai in Dec 2009 and hope to catch a ferry to Mokpo.

Any information will be most helpful

much thanks!
Shaz


Answers (2)
Answered by Ms.Cora | Jul. 27, 2009 01:21

0

2

Reply
Yes, I also checked it but found it stopped. But we have no idea whether it will open or not in Dec 2009 when you come to Shanghai, so you may check it at Shanghai International Passenger Terminal for a definitive answer.
Answered by Mrs.Shaz from AUSTRALIA | Jul. 27, 2009 17:31

0

0

Reply
Ms Cora,
Much thanks for your assistance. I guess i will have to change my travel plans then!

cheers
Shaz