Pictures of Museum of Traditional Chinese Medicine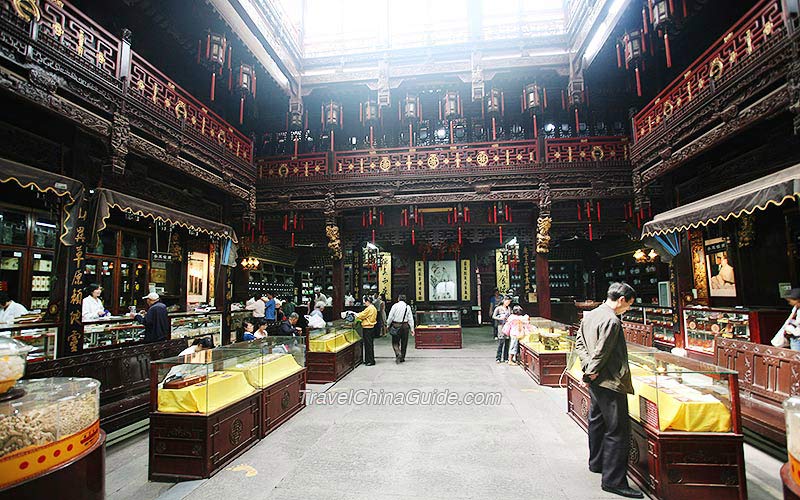 Business Hall of Museum of Traditional Chinese Medicine
This museum was originally a traditional Chinese medicine pharmacy that was founded in 1874 by Hu Xueyan. It has enjoyed the reputation of "Medicine King in South China" for its high quality medicines. Its ancient building has a unique design, an ingenious arrangement and antique furnishings. The museum consists of five parts: Exhibition Hall, Hall of Handicraft Workshop and Interest Room, Out-patient Clinic of Chinese Medicine and Healthcare, Room of Chinese Herbal Soup and Business Hall. Attraction Intro:
Museum of Traditional Chinese Medicine
- Last modified on Nov. 17, 2017 -
Questions & Answers on Pictures of Museum of Traditional Chinese Medicine
Asked by Mr.Marj | Dec. 20, 2010 22:22

Reply
Hi. I would like to know about the health perception of the Chinese People. Thank you.
Answers (1)
Answered by Ms.Wu | Dec. 21, 2010 20:36

30

0

Reply
You know, in China, people go to hospital always, because of the development of science technology. But when people had a disease that modern medical science can not cure, like cancer or tumor,etc. they will try to reach out to find the old chinese doctor. And also, they go to Chinese herbal clinic for they thought their body, though without disease, not in a good condition. Though Chinese people don't turn traditional chinese medicine when they are sick, the idea of Chinese medicine are in the blood and deep heart of Chinese people. It is in the food, in the drink, even in process of shower, in the sleep.
Asked by Mrs.Tan from SINGAPORE | Dec. 02, 2009 10:55

Reply
My son and two other friends is with a friend in Hangzhou now. They will be departing there on the 9th of Dec. I have suggested that they take the train and visit Shanghai or Suzhou. Please suggest a safe and good deal hotel in two cities and where should the hotel be near. By the way, they are a few of 17 years old youth, so need to plan carefully. Thank you.
Answers (1)
Answered by Mr.Thomas | Dec. 03, 2009 20:18

26

0

Reply
In Shanghai, I think they could book a hotel close to the Shanghai South Railway Station or the People's Square, both of which are transportation hub.
In Suzhou, a hotel around Guanquan Street will be helpful for traveling.
Asked by Mrs.aling from INDONESIA | Jul. 04, 2009 20:18

Reply
Hi, i want travel in hangzhou september 2009, 5adult and 5 children. please suggest the best way to arround downtown and sightseeing places? is it easy to rent minivan in the city and please advise the price for 1 day. also please inform how to reach suzhou from the city by bus and train, and the price please. thanks alot.
Answers (1)
Answered by Mr.Sandy | Jul. 06, 2009 01:41

4

0

Reply
It is about 300-350 yuan(100km/8hours)within the city proper. You should pay for every single extra km and hour. It is not very easy for foreign visitors to find a van there. You may not know where and how to get. Try to ask for help to the hotel you stay.
To Suzhou
By train: 3 hour or so, ticket fare: 44/67 rmb, at Railway Station, not the south one
By bus: 2-2.5 hours, ticket fare: 60 rmb, at North/East Bus station