Picutres of China National Silk Museum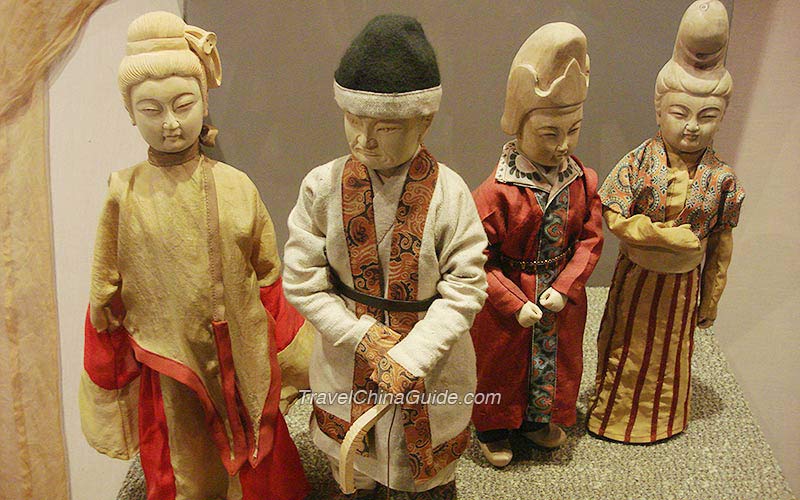 Costume of the Sui Dynasty and Tang Dynasties (581-907): the Sui and Tang Dynasties are the most brilliant chapters in the history of ancient Chinese costume. The Tang Dynasty absorbed exotic fashions from the traders who piled the Silk Road. Of great influence was 'Hufu', a style of dress characterized by narrow sleeves and long trousers, which before long replaced traditional Chinese robes. Chinese costume, especially women's wear, attained an unprecedented elegance at the time
China's National Silk Museum is the first specializing in silk, aiming to show the history and development of Chinese silk during the past 5,000 years. It is located on the south shore of West Lake, consisting of eight exhibition halls and housing exhibits from the Neolithic Age to the Qing Dynasty. Attraction Intro:
China National Silk Museum
- Last modified on Dec. 12, 2017 -
Questions & Answers on Picutres of China National Silk Museum
Asked by Mr.nabil | Feb. 15, 2011 20:37

Reply
Hi....I am Planning to visit and spend 3 days in Hangzhou next month.... I would like to know the best area to stay close to the lake, attractions and shopping area. Thanks
Answers (1)
Answered by Mr.James | Feb. 16, 2011 00:45

20

0

Reply
Nanshan Road, Yanan Road and Jiefang Road areas are all okay.
Asked by Ms.Chong from MALAYSIA | Nov. 25, 2009 20:15

Reply
Hi,
My friend and I will arrive Hangzhou on 3 Dec 2009. We plan to travel arround there and Shanghai for 20 days for a budget trip. Can I have some suggestions? Thanks.

Siew Kim
Answers (1)
Answered by Mr.Leostar | Nov. 25, 2009 22:58

17

1

Reply
Well, please take your warm clothes in case of the cold weather during Dec. I think you could refer to others' comments on these two cities.
Asked by Mr.ananth from INDIA | Jun. 29, 2009 04:42

Reply
My son is visiting Hangzhou from South India next week . He has been booked a five star hotel for accomadation. but the problem with his pure veg food is there good veg restourants
Answers (2)
Answered by Mr.James | Jun. 30, 2009 03:05

6

2

Reply
Merits & Virtues (Gong-de-lin)
Addr: Chengzhan Rd/111, Gaoyinjie, Shangcheng District
Wingyiyuan
Addr: 21, Qingchun Rd, Shangcheng District
There are some others, he can choose the nearest to him.
Answered by Mr.Peter from CHINA | Jul. 04, 2009 07:17

3

1

Reply
Mr Ananth,
I just now came across your query here.Maybe your son is already in Hangzhou.
He can go to the Indian Restaurant "Haveli". It is at No.77, Nanshan Lu. Telephone No: 0571-87079677
You can also contact me anytime on
gmail.com|china2world
Peter
Asked by Ms.lavender from SINGAPORE | Jan. 18, 2009 14:38

Reply
Hi! I want to go hangzhou around March about 2 to 3 days, anything i shouldn't miss there,e.g. place and food...Is the thing there expensive?
Answers (3)
Answered by Mrs.bryant from CANADA | Jan. 22, 2009 08:11

0

0

Reply
get yourself a good pair of walking shoes and take the bus then walk around the lake. visit the bamboo forest by the botanical gardens. The far side of the lake features beautiful tea plantations, hills etc. We don't speak mandarin but managed to get around by bus.
Answered by Ms.hellen | Feb. 12, 2009 02:25

0

0

Reply
i'm a local people,this is a very beautiful city if you want to know more you can contact me my email:
163.com|hltyf
Answered by Mr.YaKoo from CHINA | Feb. 22, 2009 23:13

1

0

Reply
not like singapore,you can find both expensive as well as cheap and nice food and place there. it provide nice and cheap room,aroud it,you can taste delicious traditional food and enjoy fresh tea.