West Lake Pictures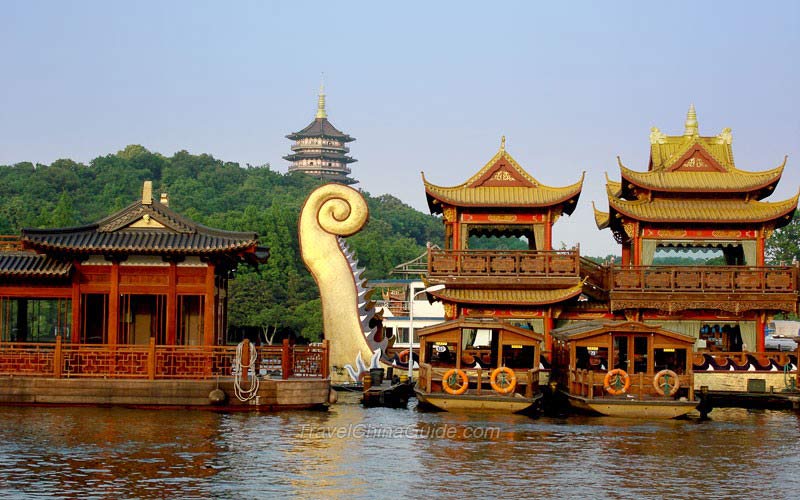 The scenery of the West Lake is beautiful beyond description. The Leifeng Pagoda stands out between the lake and the hills.
West Lake, the most noted symbol of historic Hangzhou, is surrounded by mountains in three directions and houses many places of interest in and around the lake area. Renowned not only for its picturesque landscape, it also embraces many stories, poetic praise and cherished Chinese traditional treasures including architecture, stone carvings and engraved tablets. Attraction Intro:
West Lake
- Last modified on Apr. 08, 2018 -
Questions & Answers on West Lake Pictures
Asked by Markus from SWITHERLAND | Apr. 07, 2018 08:04

Reply
we are planing a 9 night stay in the shanghai area .
i think we want to visit suzhou as a day trip from shanghai and also go to Wuzhen and Zhouzhuang Water Town ( i think both as a day trip from shanghai )
we also saw nice picutes from wuzhen , is it easy to get there ? is it worth staying overnight in any of these city ?
do you have any other tips ?

Thanks already !!
Answers (1)
Answered by Maya from SINGAPORE | Apr. 08, 2018 22:26

1

0

Reply
Yes, the transportation is convenient. You can take direct coach from Shanghai General Bus Station and arrive at Zhouzhuang directly. Both Wuzhen and Zhouzhuang are worth staying overnight.
Have a nice journey!
Asked by margaret from INDONESIA | Feb. 26, 2018 01:05

Reply
Hangzhou - Suzhou , where to visit
Please advise where the most attratice location for Hangzhou and Suzhou? I will be visited 3 Day 2 nite, waiting for your reply and thanks in advance
Answers (2)
Answered by Amelia from CANADA | Feb. 27, 2018 21:06

0

0

Reply
Hello, you are suggested to make your travel plan in the following way:
Day 1: Hangzhou: Lingying Temple - Meijiawu Tea Plantation - West Lake - Six Harmonies Pagoda
Day 2: Suzhou: Humble Administrator's Garden - Pingjiang Road - Garden of the Master of the Nets
Day 3: Zhouzhuang Water Town

Hope helpful!
Answered by margaret from INDONESIA | Feb. 28, 2018 00:08

0

0

Reply
ok noted, thanks
Asked by jitesh from CHINA | Oct. 11, 2011 11:35

Reply
hi i planed to go hangzhou with my friends group, and we hier a car, we are 8 people, and we will go
Only plan to go for a single day, and we hier a car, we are 8 people, and we will go on saturday, so whats your advise and what should our plan....?
Answers (1)
Answered by Mr.HANGZHOUTAXI from CHINA | Oct. 11, 2011 11:49

18

0

Reply
will you driveing by yourself? if just for one day:1,Ling Yin Temple; 2, Tea Hill; 3,Boat Crouse; 4,He Fang Street; and Hu Xue Yan Formar Reseidense
Asked by Mr.Tran, Chum from USA | Feb. 27, 2011 01:01

Reply
Hello everyone, I am here at Ningbo for working. I would to take tour to Hangzhou during weekend. I am asking people in the hotel is there a tour bus between the two cities. Their Enlish is not well enough to understand what I want. So anyone here can help me out? I am staying at Lebanner Hotel in Beilun.
Thanks in advance.
Answers (1)
Answered by Mr.James | Feb. 27, 2011 01:56

14

0

Reply
There is no tout bus I think. I think you can chooes to take regular bus from Beilin coach center to reach. Or you can also choose to go by train.
Asked by Ms.Kong | Nov. 16, 2010 22:51

Reply
Hi there
What is the best mode of transport from Hangzhou to Suzhou? Is it better to go Shanghai-Hangzhou-Suzhou-Shanghai or the other way?

Many thanks!

Answers (1)
Answered by Mr.shan | Nov. 17, 2010 02:22

0

0

Reply
The East Bus Station has frequent coaches to Suzhou from 06:50 to 19:00 at an interval of 20 minutes. The journey is about 2 hours and costs 70yuan. So, taking a coach is highly recommended.
Your itinerary is ok, very economical~