Harbin Bicycle Tours
BC-HB01 : 15 Days Harbin - Zhaodong - Daqing - Arongqi - Dashiniqi - Bugt - Yakeshi - Hulun Buir - Ergun - Genhe - Mangui Town - Mohe - Beiji Village
We will start our bicycle tour of Heilongjiang province from Harbin. (Tip: We suggest you do not take the bicycle tour when it snows in Heilongjiang province since the roads will be very slippery and so not safe for your cycling. Also, since it is very cold in winter there, please bring warm clothes with you if you come during that season. The lowest temperature in Harbin can reach to more than 30 degrees below zero.)
Upon arrival in Harbin, pay a visit to the Songhua River and then stay at the Jinjiang Inn Harbin Suofeiya Square (Add: 60 Diduan Street, Daoli Diostrict, Harbin) for one night's stay to get prepared for the coming day's cycling.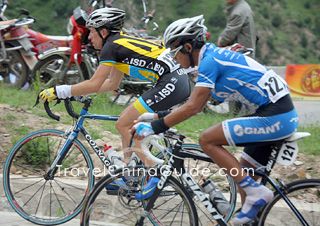 On the second day, we will cycle to Zhaodong which is about 53km away from Harbin. Cycle over the Songhua River Bridge, continue cycling for about 10km and turn left on to national road No. 301 which leads directly to Zhaodong. After arriving at Zhaodong find a local hotel and relax yourselves there.
On the third day, continue riding along No. 301 national road from Zhaodong to Daqing. Daqing is a city which is famous for its rich reserves of petroleum and gas. On the way we have to pass by Anda city where you can stop to have a view of the ox sculpture in "Ox Street". Totally, you will ride about 95km today. You can stay at the H.C Aviation Hotel (Add: 4 Bukui Avenue, Longsha District, Qiqihar; Tel: +86 452-2388888)
Still cycling along national road No. 301 on the fourth day we head for Lindian County before arriving at Qigihar. On the fifth day cycle northwest via the Nen River Bridge, then continue riding along No. 301 national road to Arongqi. En route, enjoy the beautiful grassland scenery there. Today you ride about 130km.
On the sixth day head northwest to Huoerqi county. Continue to ride to Boketu county via Dashiniqi on the seventh day. In total, you will ride about 211km during these two days. The roads may be difficult for you to ride because there are many hills to go up and down. Since it may rain at any time there, please remember to take a raincoat with you.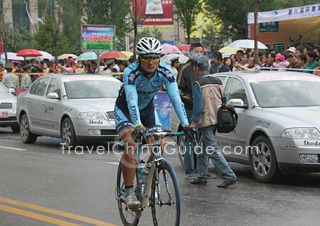 On the eighth day, continue riding to Yakeshi, which is located in the western part of Daxing'anling, by way of Yiliekede and the Miandu River. The distance between Boketu and Yakeshi is 128km. Cycle downhill to Hulun Buir on the ninth day and enjoy the wonderful Hulun Buir Grassland scenery on the way. You can stop where you want to relax yourselves on the wide grassland.
Cycle north to reach Ergun along a main road on the tenth day. Then to Genhe the following day. On the twelfth day, you will arrive in Jinhe town which belongs to Genhe city by cycling along a bumpy road with many hills. Proceed with your cycling to Mangui town the next day. Stay overnight at a local hotel there.
On the fourteenth day, you will reach Mohe. Mohe is a place close to the extreme north of China, located in the north end of Daxing'anling. On the last day of the bicycle tour, cycle along the mountain road to Yanzhigou and have a rest. Then continue your cycling to Beiji Village. You may view the northern lights and Russian towns there.