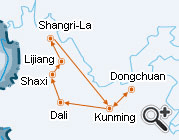 Visual Impact Expedition
PT06: 11 Days China Tours from Yangon Myanmar to Kunming
Dongchuan
Kunming
Dali - Shaxi - Lijiang - Shangri-La
Kunming
Yunnan, a province famous for its culture diversity lies on China's southern border with Myanmar on its west. Benefited from the geographical advantages, taking China tours from Myanmar is easy to achieve. For travelers who would like to continue visiting China or southern part of China after trip in Burma, you can avail of the convenient direct flights from Yangon to Kunming or from Mandalay to Kunming. For the first option, the Air China flight CA416 1215/1545 flies every day, and the China Eastern flight MU2032 1520/1840 is also scheduled most days of the week except every Wednesday and Thursday. The flying time of these two flights is nearly 2 hours. From Mandalay to Kunming, you can take the daily flight MU2030 1405/1650, the flying time of which is only 1 hour and 15 minutes.
Your private photography Yunnan tour from Myanmar starts upon your arrival. Our guide will meet up with you at Kunming Changshui International Airport and transfer you to the reserved hotel for rest. Check your photography essentials and prepare for your stunning expedition.
Meals: None, advice freely available
Accommodation:
Jinjiang Hotel




Day 2
Kunming - Dongchuan
Stone Forest, Kunming
This morning we will head out for Dongchuan by car. After about four hours, we will arrive at a beautiful rural place. Dongchuan is famous among photographic circles for its magnificent red land. Because of the large proportion of iron oxide deposited in the soil for centuries, the land has become reddish brown. The typical ochre land, together with green vegetable plots, yellow rape flowers, golden wheat, and the clear blue skies offer a strong visual impact to travelers. You will make stops en route. The trip is scheduled to include Jinxiuyuan (Splendid Garden), Qicaipo (Seven Color Slope) and Luoxiagou (Rosy Clouds Ditch). Shoot the stunning landscape with your camera, while walking through the terraced fields, and linger to see the bewitching sunset. We will return to the local hotel by evening.
Meals: Western buffet breakfast, Lunch
Accommodation: Shanju Hotel
Day 3
Dongchuan - Kunming
Local minority people in the village
Rise up early to view sunrise over Damakan village, which is the best location for capturing the dawning of a new day photo shoot. After breakfast, continue photographing the evocative red land. Dongchuan is described as the palette of God, which presents different sceneries and colors in the four seasons, but the best seasons for red land photography are from May to June and from September to December. In May, the burgeoning summer beauty is the main attraction. Rape flower is in full blossom, wheat ripens, as clouds thicken, and imbue the changing lights creativity upon the changeable hues of life. When autumn comes, some red fields are covered by shiny green winter barley and wheat, while some fields with rape, potatoes, and buckwheat. Golden ripe crops, red farming land, and the green winter crops make strong and charming color contrast. We will drive to the hotel in Kunming by evening.
Meals: Breakfast, Lunch
Accommodation: Jinjiang Hotel




After breakfast, we will set out for the
Stone Forest
, about 100 kilometers (62 miles) from Kunming downtown. It is as large as 400 square kilometers (96,000 acres). Traveling through the forest of oddly-shaped stalagnates, caves, and pinnacles, is like wandering in a Labyrinth Wonderland. TCG dedicated guide will ensure your safe transfer back to Kunming, and take you to Jinma Biji square; where stand two exquisite memorial archways, with a history of almost 400 years. Also if you would like to get to know the local people, our TCG guide will introduce you to them, and assist your photographic documentation of their leisurely way of life. Upon completion of the visit, we will escort you back to your hotel.
Meals: Breakfast, Lunch
Accommodation: Jinjiang Hotel




Three Pagoda, Dali
Take a 2 hours' bullet train to Dali in the morning. Our local guide will greet you at the railway station and transfer you to your hotel. After a short rest, our guide will take you for a photo shoot at the
Three Pagoda
at Chongsheng Temple. These represent the symbolic history of Dali old city, a visit not to be missed by any travelers. Backed by the magnificent Cangshan Mountain, and facing the Erhai Lake, the three pagodas comprise a stunning picture.
We will turn to the nearby park to gain a good vantage point, and snap it; a pond reflecting the image of the three pagodas. We continue to
Erhai Lake Park
, to capture extraordinary photos. After that, we go back to visit the
Dali Old Town
, where you can focus on the featured old buildings and courtyards, with grey tiles, and stone pavements. Luckily, you should encounter some local people wearing their ethnic costumes. Our guide has arranged an overnight at a courtyard hotel in the old town.
Meals: Western buffet breakfast, Lunch
Accommodation:
Gurong Hotel




Lijiang Old Town
After breakfast, you will be driven about two hours to Shibaoshan Grottoes in Jianchuan County, where Shizhongshan Grotto is the most famous. Take your camera in hand, zoom and lens, to see those precious statues and carvings dating back to more than 1000 years. Later, we continue to Shaxi Old Town, once an important stop on the ancient trade route, the Silk Road of the South. Fell free to walk around this quiet and well-preserved ancient town, and photograph the intact remains of the ancient dramatic stage, temple, gate, old locust trees, etc.
Meals: Western buffet breakfast, Lunch
Accommodation: Landscape Hotel Shaxi




This morning, your private China tour from Burma continues overland to visit
Lijiang Old Town
, another ancient settlement of ethnic minorities, where creeks meander beside narrow alleyways, and age-old family stores front the river. Old ethnic style houses line the waterfront, and main commercial area to both sides of the waterfront.
Our pinnacle for the day is to climb up
Lion Mountain
to its summit - the Wangu Tower, an ancient wooden tower with a height of 33 metres (108 feet), where you can get a 360-degree panoramic picture of Lijiang town and its rural scenery.
Meals: Breakfast, Lunch
Accommodation: Ivy Garden Hotel Resorts




Potatso National Park, Shangri-la
After breakfast, we head to
Jade Dragon Snow Mountain
, where you will take a cable car up to
Spruce Plateau
, at an elevation of 3200 meters (10,498 feet) to overlook the grand snow mountain. Beautiful Spruce Plateau is on the lower right side of the snow-capped main peak, which is encapsulated for camera, like a mother carrying her baby in her arm. Frame this fascinating picture. After your camera shoot concludes, we will transfer to Baisha Village, the cradle of Naxi ethnical culture. Scattered with many ancient architectural complexes, this is a quiet and peaceful community, compared to Lijiang. The
Baisha Mural
is most interesting, and definitely worth visiting. Later, you can walk on the cobbled streets, and capture the unspoiled country scenery with your lens; before we take a visit to a local Naxi family courtyard. The day ends, as our dedicated guide returns you to your hotel, and advises you where to eat.
Meals: Western buffet breakfast, Lunch
Accommodation: Ivy Garden Hotel Resorts




Day 9
Lijiang - Shangri-La
After breakfast, our guide will take you 180 kilometers (111 miles) to Shangri-La, a beautiful place inhabited with mainly Tibetan people. On the way, we can stop to photograph the First Bend of the Yangtze River, and the
Tiger Leaping Gorge
. Boasting of an almost 200 meters (656 feet) high water drop, within the dangerous Tiger Leaping Gorge, this is one of the deepest gorges in the world, which attracts many adventurers everyday.
We will also visit a small and quiet town with beautiful rural scenery, which called Little Shangri-La. In summer, a profusion of flowers under blue sky and white cloud, the typical Tibetan villages scattered in the meadows, all of which form a charming picture that makes any traveler speechless.
Meals: Western buffet breakfast, Lunch
Accommodation: The 5th Meteorite Glory Hotel




Songzanlin Temple
We begin the day with a photo shoot at
Songzanlin Temple
, located in a large ancient palace complex, at the foot of Foping Mountain. This is the largest Tibetan Buddhist monastery in Yunnan. Once you have captured the impossible with you camera, our guide will whisk you to
Bitahai Lake
at an elevation of about 3540 meters (3870 yards). The water is azure and clear to the bottom; old trees on the lakefront reflect on the water, a school of rare fishes flick hither and thither. Bitahai Lake is a Chinese, and hidden treasure, just like a gem inlaid within the deepest of mountain ranges, waiting to be discovered, and captured by your lens. Join hand with us—so we can capture this rare beauty together.
Meals: Western buffet breakfast, Lunch
Accommodation: The 5th Meteorite Glory Hotel




Day 11
Shangri-La - Kunming - Yangon
After breakfast, fly to Kunming by a morning flight to catch your international flight home. You can book the China Eastern flight MU2031 1400/1430 to fly back to Yangon in 2 hours. If you need to fly back to Mandalay, you can book the flight MU2029 1320/1315. We wish you a pleasant journey home.

Meals: Western buffet breakfast