Private Itineraries
Unique Services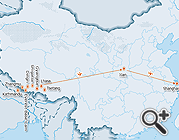 Tibet Adventure from Kathmandu
509:
14 Days Kathmandu - Zhangmu - Dingri - Everest Base Camp - Dingri - Shigatse - Gyangtse - Tsetang - Lhasa

Xian

Shanghai
Attenion:
Due to the catastrophic earthquake in Nepal on April 25, 2015, the road from Kathmandu (Nepal's capital city) to Zhangmu (China's border) has been devastated. So travelling from Kathmandu to Tibet overland is suspended. The reopening time is still unknown. However, travelers can fly from Kathmandu to Lhasa to fulfill the dream tour to the Everest Base Camp.
Day 1
Kathmandu - Zhangmu
Rongbuk Monastery
Today you will travel from Kathmandu to the border Kodari - the Friendship Bridge by yourself. After you clear the customs and complete the procedures, you will find our guide waiting for you at the other side of the bridge. We will drive you to Zhangmu on a bumpy road and help you check in at the best local hostel upon arrival.
Meals: No meals, advice freely available
Tips: For clients who enter Tibet from Kathmandu, we wish to draw your attention on how to apply for your China Visa and Tibet Travel Permit. You may refer to the following for details.

Firstly, we need the copy of your valid passport to apply for your Tibet Travel Permit as well as China Visa Invitation Letter from the Tibet Tourist Administration beforehand. Secondly, after we get the documents mentioned above, we will deliver the Invitation Letter and the copy of Tibet Travel Permit to our partner agency in Kathmandu. The original Tibet Travel Permit will be kept by your guide in Tibet. Thirdly, once you arrive in Kathmandu, our partner agency there will assist you in applying for your China Visa at the local Chinese Embassy. Please be aware that the Visa Section at Chinese Embassy in Kathmandu opens only 3 days a week - Monday, Wednesday & Friday from 09:00 AM to 12:00 AM. Therefore, it is advisable to arrive at Kathmandu at least two days earlier in order to have enough time for the application. Lastly, please take your passport, visa and the copy of your Travel Permit with you when arriving at the border Kodari. Your local guide in Tibet will forward your original Tibet Permit to the immigration control, and it will then be handed to you after your passport, visa and copy of Travel Permit are verified by the customs. Please remember to take the original Permit with you during your whole stay in Tibet.
Your two weeks Kathmandu tour to Tibet starts today. After having breakfast at the hotel, let's take a long drive to Dingri today. After about 2 hours, you will cross Lalung La Pass which has an altitude of 5050m (16,568 ft). Here you will see Mt. Shishapangma (8013m, equals to 26,289 ft) - the 14th highest peak in the world and take some great photos for those snow mountains from a distance. Then we continue travelling for about 5 hours to Dingri, and Mt. Qomolangma can be visible en route. On arriving, check in at the Everest Hotel and have a good rest for the remainder of the day.

Meals: Buffet breakfast, Lunch
Day 3
Dingri - Everest Base Camp - Dingri
Prayer wheels of Sakya Monastery in Shigatse
Everest Base Camp
, 19km (about 9.3 miles) away from Mt. Qomolangma, is a camp for passionate mountaineers to rest and refresh. Various tents are scattered around and there are also some basic facilities here for travelers. Start early in the morning and drive to the Camp. The 4 hours driving from Dingri is rather tiring as most parts are gravel road, but you will definitely be obsessed by the awesome Mt. Qomolangma in such a close distance. Besides the Camp, you will also have a stopover at
Rongbuk Monastery
before we have another 4 hours' driving back to the Everest Hotel.
Meals: Buffet breakfast, Lunch
Today we'll continue to drive for 250km (about 155 miles) to Shigatse. En route you will visit Lhatse County and the Sakya Monastery.
Sakya Monastery
, one of the important Tibetan Buddhism monasteries, was founded in 1073 by Kon Konchok Gyelpo. It is the main Sakyapas temple, which has up to 150 branch monasteries in Qinghai, Gansu, Yunnan, Nepal and Bhutan etc. In the temple there is a good collection of scriptures, the rare treasure palm leaf manuscript and also various kinds of porcelain wares. Upon arrival, check in at the hotel and have a good rest.
Meals: Buffet breakfast, Lunch
Day 5
Shigatse - Gyangtse
Gyangtze Old Street
Shigatse is the second biggest city in Tibet. In the morning you will visit the
Tashilhunpo Monastery
and the New Palace of Panchen. Tashilhunpo Monastery is the residence of Panchen Lama. The highlights here are the stupas of the 10th Panchen and the gigantic copper - Maitreya Buddha. To the south of it is the New Palace of Panchen, which was the Summer Palace of the 10th Panchen built in the year 1954. After lunch, you will travel for 2.5 hours to reach Gyangtse and check in at the hotel.
Meals: Western buffet breakfast, Lunch
After breakfast, you will visit the Palkhor Monastery, which is the only one integrates the three Tibetan Buddhism sects including Kagyu, Sakya and Gelug together. The temple's other feature may draw your attention is the Bodhi Pagoda. Hundreds of Buddhist room were built overlapped successively, tower within tower in Nepal style, which is very special. Later, take a walk through old streets in Gyangtse. Then drive for about 6 hours to get to Tsetang. On the way you will stop and visit the
Yamdrok Yumtso Lake
, one of the four sacred lakes in Tibet and an important destination for pilgrimage. You will also pass by the Karola Glacier. Upon arrival, check in the hotel with your guide's help.
Meals: Western buffet breakfast, Lunch
Yamdrok Yumtso Lake
In the morning, have a quick visit to
Yumbu Lakang
, the first palace in Tibet with a history of more than 2100 years. Next visit the
Trandruk Monastery
. After that we transfer you to visit the
Samye Monastery
. Then continue transfering you to Lhasa.
Meals: Western buffet breakfast, Lunch
Lhasa, the holy land of Tibetan Buddhism, attracts people from all over the world for its plateau scenery, profound history and religious culture. Your private Lhasa city tour starts with a visit to the
Tibet Museum
, from where you may get an overall understanding of Tibetan culture. Lunch is served at a local restaurant. In the afternoon, visit the
Sera Monastery
and the
Norbulingka Park
. If lucky, you will meet the monks debating Buddhist scriptures at courtyard, which is an instructive and interesting activity.
Meals: Western buffet breakfast, Lunch
Potala Palace
Your first stop today is the
Potala Palace
, the most magnificent architectural complex, which has palaces, castles and temples integrated into one building. To protect this world cultural heritage, the number of visitors and their visiting time has been strictly controlled. Our guide will give you the explanation of the site before you enter and visit it. After lunch, go ahead to visit the
Jokhang Temple
, and then spend your time at the thriving bazaar of the
Barkhor Street
where various small crafts and souvenirs are on sale. At last, you will pay a short visit to a Nunnery before returning to the hotel.
Meals: Western buffet breakfast, Lunch
On your last day in Lhasa, you will visit a Tibetan family and see the locals' everyday life. You can have some conversation with them and your guide is happy to be your translator. Then we transfer you to the airport for a flight to Xian. Your guide in Xian will greet you at the airport exit and escort you by private transfer to the hotel. You may have a good rest at the hotel or explore the surrounding area a bit for the remainder of the day.

Meals: Western buffet breakfast, Lunch
Terracotta warriors
You may start later today at around 09:30. The first stop today is the ancient
City Wall
. You can either take a leisure walk on the wall to enjoy the city view around, or you may rent a bicycle (on your own cost) and ride for a while if weather is fine. After that, you will visit a
local family
in downtown. The host of the family will cook a delicious meal for you (valued at CNY120.00 per person and included in our price) as lunch, and you can also learn some skills of cooking if you are interested. After lunch, we will transfer you to the airport for your flight to Shanghai. Upon arrival, we meet you at the airport and then take you to check in at the hotel.
Meals: Western buffet breakfast, Home-cooked a la carte lunch
Bund area of Shanghai
Today you will have a full day city tour includes
Shanghai Museum
, the
Yuyuan Garden
,
the Bund
and a short but pleasant
cruise tour
on the Huangpu River. For lunch, we specially arranged an
a la carte meal
(valued at CNY150.00 per person and included in our price) for you to taste the authentic Chinese cuisine. The modern Shanghai with high buildings, large malls and delicious food will round off your long Tibet trip.
Meals: Western buffet breakfast, A la carte lunch
Day 14
Departure from Shanghai
How time flies! We hope you enjoyed your 14 days Tibet tours from Kathmandu and your stay in China. Your guide and driver will escort you to the airport according to your homeward flight schedule and see you off at the airport. Safe Journey!
Meals: Western buffet breakfast
For your information: The sequence of this itinerary can be reversed if you want to travel from Lhasa to Kathmandu. You can either take the overland trip or take the direct flight from Lhasa to Kathmandu. The flight is around 1.5 hours and the schedules are 3U8719 1055/1010 or CA407 1210/1110 (there is time difference). For details, please refer to
Tibet to Nepal Discovery
.
The above routes do not meet your requirements? Please click
Tailor My Trip