Chinese Food in Hong Kong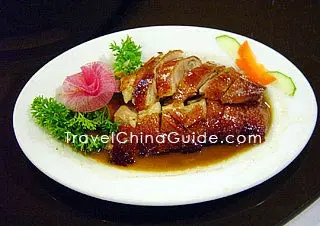 Roast Crispy Goose
Hong Kong boasts many restaurants. Among them, Cantonese restaurants are found in the greatest numbers. This is because it is not far from Guangdong, and also because many people in Hong Kong are descendants of Guangdong people.
Chaozhou dish
combines the features of Guangdong and Fujian cuisines. Remarkable dishes include Chaozhou Cold Crab and Stewed Shark's fins in soy sauce. Top-end seafood definitely is a great temptation. Savory cuisines of
Beijing, Shanghai
,
Hakka
,
Sichuan, Yunnan
,
Hunan and Hangzhou
are also indispensable part of this culinary capital.

Cantonese Food
The ingredients of Cantonese cuisine are various. The dishes are cooked exquisitely and taste mild but fresh. Among the Cantonese delicacies, seafood dishes are most worth trying. In many seafood restaurants, customers can choose fresh aquatic products by themselves. Those sea foods will be sold by weight of liang (one liang is about 37.8 grams).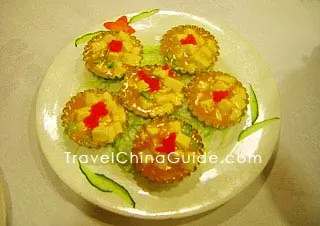 Recommended Cantonese Restaurants:


Hong Kong Island
Ban Yan Garden
Specialties : Fish Wah &Lettuce in Soup, Steamed Beef Ball, Shrimp Dumplings
Average cost per person: HK$41-HK$100
Hours: 07:30 – 24:00
Location: 1/F-2/F, Wesley Hotel, 22 Hennessy Road, Wan Chai
Jade Garden
Specialties: Steamed Dumplings in Soup, Steamed Barbecue Pork Buns, Baked Chicken in Salt
Average cost per person: HK$41 – HK$100
Hours: 07:30 – 24:00
Location: 1/F, 1 Hysan Avenue, Causeway Bay
City Hall Maxim's Palace
Specialties: Shaomai (steamed shrimp dumplings), Shark Fin Dumplings, Mini Roasted Bo Lo Baau (pineapple shaped sweet bread), Stir-fried Glutinous Rice with Chinese Sausage
Average cost per person: HK$101 – HK$150
Hours: Mon.- Sat.: 11:00 – 15:00, 17:00 – 23:30;
Sun.: 09:00 – 23:30
Location: 3/F, Less Block, City Hall, 5-7 Edinburgh Place, Central
Choi Wan Hin Seafood Restaurant
Specialties: Braised Cabbage in Fish Soup, Bean Curd with Diced Seafood, Custard Buns
Average cost per person: HK$180
Hours: 10:00 – 23:30
Location: 2/F, Devon House, Taikoo Place, 979 King's Road, Quarry Bay
Tao Yuan
Specialties: Abalone in Wine
Average cost per person: HK$41 – HK$100
Hours: Mon. – Sat.: 11:00 – 24:00;
Sun. and public holidays: 10:00 – 12:00
Location: 3/F, Great Eagle Centre, 23 Harbour Road, Wan Chai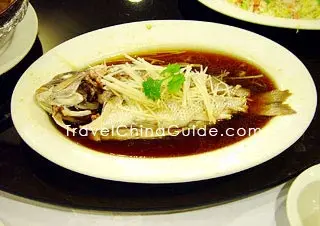 Steamed Weever
Star of Canton
Specialties: Scallop (filled with pear and pumpkin), Stewed Crispy Chicken, Steamed Tiger-spot Fish, Scallop stuffed filled with Shrimp Balls
Average cost per person: HK$41 – HK$100
Hours: 11:00 – 24:00
Location: 18/F, Lee Theater Plaza, 99 Percival Street, Causeway Bay
Li Hua
Specialties: Steamed Chicken with Chili Sauce, Fried Pork Slices with Sweet&Sour Sauce
Average cost per person: HK$101 – HK$150
Hours: 12:00 – 00:30 the next day
Location: 19/F, Lee Theater Plaza, 99 Percival Street, Causeway Bay
Farm House
Specialties: Abalone, Pig's Lung Soup, Chicken Wings Stuffed with Glutinous Rice
Average cost per person: HK$101 – HK$150
Hours: 11:00 – 15:00, 18:00 – 24:00
Location: 1/F, Ming An Plaza, Phase 1, 8 Sunning Road, Causeway Bay
Super Star Seafood Restaurant
Specialties: Duck Feet Wrapped with Taro, Prawn Toast, Rabbit-shaped Dumplings, Minced Fish Soup
Average cost per person: HK$41 – HK$100
Hours: 10:30 – 23:00
Location: Basement, Wilson House, 19-27 Wyndham Street, Central
Tai Woo
Specialties: Sautéed Spicy Prawns Served with Crispy Bean Curd Skins, Three Tastes of Crab with Vegetables and Melon
Average cost per person: HK$41 – HK$100
Hours: 11:00 – 03:00 in the morning
Location: G/F, 27 Percival Street, Causeway Bay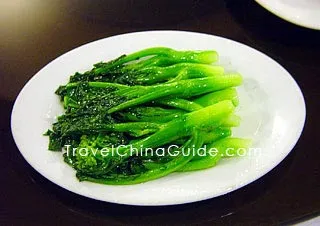 Scalded Greens

Kowloon
Fook Lam Moon Restaurant
Specialties: Chicken Buns, Shrimp Dumplings, Fried Spring Rolls
Average cost per person: HK$101 – HK$150
Hours: 11:30 – 15:00, 18:00 – 23:00
Location: Shop 8, G/F-1/F, Luna Court, 53-59 Kimberley Road, Tsim Sha Tsui
Super Star Seafood Restaurant
Specialties: Sir-fried Assorted Mushrooms
Average cost per person: HK$41 – HK$100
Hours: Mon. – Fri.: 10:30 – 24:00; Sat., Sun. and public holidays: 09:30 – 24:00
Location: 1/F, Wah Yuen Building, 83-97 Nathan Road, Tsim Sha Tsui
Celestial Court Chinese Restaurant
Specialties: Baked Stuffed Fresh Crab Meat with Shark's Fin in a Golden Shell
Average cost per person: HK$150 – HK$300
Hours: Mon. – Sat.: 11:30 – 14:30, 18:00 – 23:00; Sun. and public holidays: 10:30 – 14:45, 18:00 – 23:00
Location: Level 2, Sheraton Hong Kong Hotel$Towers, 20 Nathan Road, Tsim Sha Tsui
Hoi Yat Heen
Specialties: Roast Suckling Pig, Steamed Eel in Honey Sauce, Marinated Pig's Knuckle
Average cost per person: HK$101 – HK$150
Hours: 11:30 – 23:00
Location: Basement, Harbour Plaza, 20 Tak Fung Street, Hung Hom
Lok Yuen
Specialties: Fried Pork Chop, Fried Chicken Wings
Average cost per person: HK$41 – HK$100
Hours: Mon. – Sat.: 06:15 – 17:30
Location: Shop 1, Kowloon City Complex, Kowloon City

New Territories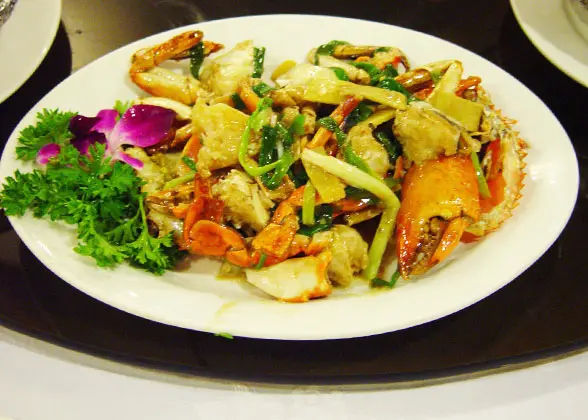 Crab, Hong Kong Food
Harbour Seafood Restaurant
Specialties: Fried Fresh-water Crab, Marinated Sausage& Pig's Ear
Average cost per person: HK$41 – HK$100
Hours: Mon. – Fri.: 07:00 – 16:30, 18:00 – 23:00; Sat., Sun. and public holidays: 07:00 – 16:30, 18:00 – 24:00
Location: Shop 13, G/F, Avon Park Shopping Mall, 15 Yat Ming Road, Fanling
Golden City Seafood Restaurant
Specialties: Roast Duck
Average cost per person: HK$41 – HK$100
Hours: 06:30 – 02:00 the next day
Location: Shop 3015, Level 3, Sunshine City Plaza, 18 On Luk Street, Ma On Shan
High Island (Yau Ley) Seafood Restaurant
Specialties: Spicy Fried Squid, Stir-fried Trumpet Shell
Average cost per person: HK$101 – HK$150
Hours: 11:00 – 21:00
Location: Sha Kiu Village, High Island (Leung Shuen Wan), Sai Kung
Star Seafood Restaurant
Specialties: Long Spring Rolls, Barbecued Sausage, Shaomai
Average cost per person: HK$101- HK$150
Hours: 06:00 – 04:00 the next day
Location: Shop 12, G/F & 1/F, Brighton Place, 23 Shiu Wo Street, Tsuen Wan
Luxury Restaurant
Specialties: Hot Pot, Butter Chicken, Hot Pot Rice with Chinese Sausage
Average cost per person: HK$101 – HK$150
Location: Shop A1, UG/F, Elite Garden Commercial Complex, 11 Tsing Chui Path, Tuen Mun
Tai Hing New Century
Hours: 07:00 – 23:00
Location: Shop 117-119, 1/F, Chelsea Heights, 1 Shek Pai Tau Path, Tuen Mun
Maxim's Palace
Specialties: Braised Pigeon in Soy Sauce, Prawn Balls
Average cost per person: HK$41 – HK$100
Hours: 07:30 – 24:00
Location: Level 8, New Town Plaza, Phase I, 2-8 Sha Tin Centre Street, Sha Tin

Outlying Islands
Lamma Seaview Man Fung Seafood Restaurant
Specialties: Stir-fried Squid with Broccoli, Steamed Scallops with Garlic, Steamed Crab with Plum Sauce
Average cost per person: HK$41 – HK$100
Hours: 11:00 – 23:00
Location: G/F, 5 Main Street, Yung Shue Wan, Lamma Island
Rainbow Seafood Restaurant
Specialties: Sautéed Prawn Balls & Bean Curd with Sliced Vegetables in Bird's Nest, Spicy Fried Prawns
Average cost per person: HK$101 – HK$150
Hours: 10:00 – 23:00
Location: G/F, 1A-1B First Street, Sok Kwu Wan, Lamma Island
Ah Yee Leng Tong Restaurant Ltd.
Hours: 08:00 – 23:00
Specialties: HK-style soup, Stir-fired Rice Noodles with Beef
Average cost per person: HK$41 – HK$100
Location: 7E142, Departure Hall, East Hall, Skymart, Passenger Terminal Building 1, HK International Airport, Chek Lap Kok

Maxim's Chinese Restaurant
Hours: 06:30 – 23:30
Average cost per person: HK$101 – HK$150
Location: Level 8, Departure Hall, Mezzanine, Skymart, Passenger Terminal Building 1, HK International Airport, Chek Lap Kok
Rouge – Regal Airport Hotel
Specialties: Shrimp Dumplings, Barbecued Sausage, Shark's Fin Steamed Dumplings in Soup
Average cost per person: HK$101 – HK$150
Hours: Mon. – Fri.: 11:00 – 23:00; Sat. – Sun. and public holidays: 09:00 – 23:00
Location: 1/F, Regal Airport Hotel, HK International Airport, 9 Cheong Tat Road, Chek Lap Kok