Chinese Food & Cantonese Restaurants in Hong Kong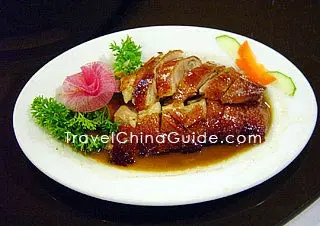 Roast Crispy Goose
Hong Kong is really the paradise of gourmets. Besides
Asian food
and
western food
, it boasts a large number of restaurants of different flavors from mainland China.

Beijing & Shanghai Food
The roast duck is the representative of Beijing food. Quanjude Roast Duck is the most renowned brand, which has a branch in Hong Kong, located at the South Seas Centre Tower, 75 Mody Road, Tsim Sha Tsui, Kowloon. Except that, the Peking Garden Restaurant and Hon King Restaurant are recommended to taste Beijing food. It is not hard to find a Shanghai restaurant. The recommended ones are Crystal Jade, Shanghai Min and Hong Kong Old Shanghai Restaurant.

Sichuan & Yunnan Food
Hot and spicy Sichuan Cuisine belongs to one of the
Eight Cuisines of China
. It is popular with both Chinese and foreigners. In Hong Kong, some good Sichuan Restaurants can be found, such as Yellow Door Kitchen, Yunyan Restaurant and Sijie Restaurant. Yunnan food with a variety of ethnic flavors is also worth a try. Yunnan Rainbow, Chuan Ju Restaurant and some other restaurants serve authentic Yunnan dishes.

Hunan & Hangzhou Food
Hunan cuisine is spicy, salty and sour and they do well in stimulating appetite. Spicy Chicken, Xiangxi Sour Meat and Steamed Multiple Preserved Hams are the popular Hunan dishes. In the Three Flavors Restaurant, Savory Kitchen and Chinese Kitchen, you can have great Hunan dishes. On the contrary, Hangzhou food tastes mild, which is suitable for people preferring light flavor food. The recommended dishes are Dongpo Pork, Stir-fried Shrimp Meat with Longjing Tea and Nanhu Crab Meat. Kiangsu Chekiang and Shanghai Residents (HK) Association Restaurant is a strong recommendation to taste the authentic Hangzhou dish in Hong Kong.

Cantonese Food
Generally,
Guangdong Cuisine
(Cantonese Food) includes Guangzhou, Chaozhou and Hakka food.
Chaozhou food
tastes mild, fresh and sweet and it attaches importance to the flavor, appearance, color and aroma.
Hakka food
is characterized by the vegetarian and coarse ingredients. Hakka people make many preserved dishes, which are the favorites of all ages.
The ingredients of Guangzhou dishes are various. The dishes are cooked exquisitely and taste mild and fresh. Among all the delicacies, seafood dishes should not be missed. In many restaurants, customers can choose fresh aquatic products by themselves. There are many restaurants offering authentic Cantonese food in Hong Kong and some have the dishes of typical Hong Kong style. Don't miss the chance to have a try.

Recommended Cantonese Restaurants:

Jade Garden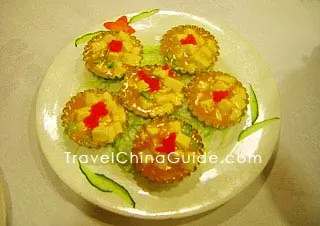 Specialties: Steamed Dumplings in Soup, Steamed Barbecue Pork Buns, Baked Chicken in Salt
Average cost per person: HK$100 – HK$300
Star House branch: 4F, Star House, 3 Salisbury Road, Tsim Sha Tsui, Kowloon
Operating hours: 11:00 – 23:30 from Monday to Saturday; 10:00 – 23:30 on Sundays
Grand Century Place branch: Shop no. 803, Grand Century Place, 193 Prince Edward Road West, Mong Kok, Kowloon
Operating hours: 07:30 – 23:00
Causeway Bay branch: 3F, Causeway Bay Plaza Phase 2, 463-468 Lockhart Road, Causeway Bay
Operating hours: 07:00 – 00:00
Sha Tin branch: Shop no. 801A, 8F, New Town Plaza Phase 1, Sha Tin
Telford Plaza branch: Shop no. F20, 1F, Telford Plaza, 33 Wai Yip Street, Kowloon Bay
Wong Tai Sin branch: Shop no. S012-013, Ground Floor, Chuk Yuen Plaza, near Wong Tai Sin Road
Citywalk branch: Shop no. 107, 1F, Citywalk, 1 Yeung Uk Road, Tsuen Wan
---

City Hall Maxim's Palace
Specialties: Shaomai (steamed shrimp dumplings), Shark Fin Dumplings, Mini Roasted Bo Lo Baau (pineapple shaped sweet bread), Stir-fried Glutinous Rice with Chinese Sausage
Average cost per person: HK$80 – HK$250
Central City Hall branch: 3F, Central City Hall, 5 Edinburgh Place, Connaught Road, Central
Operating hours: 11:00 – 23:00
Shun Tak Centre branch: Shop no. B13-B18, Shun Tak Centre, 168-200 Connaught Road Central, Sheung Wan
Operating hours: 07:30 – 16:00, 18:00 – 23:30
New Town Plaza branch: New Town Plaza Phase 1, 2-8 Sha Tin Central Street, Sha Tin
Luk Yeung Galleria branch: Shop no. G27, Luk Yeung Galleria, 22-66 Wai Tsuen Road, Tsuen Wan
Tuen Mun Town Hall branch: near the Tuen Mun Town Hall, 3 Tuen Hi Road, Tuen Mun
Cityplaza branch: Shop no. 255, 2F, Cityplaza, 18 Taikoo Shing Road
Telford Plaza branch: Shop no. G54-54A, Telford Plaza Phase 1, 33 Wai Yip Street, Kowloon Bay
Metroplaza branch: Shop no. 556-570, 5F, Metroplaza, Kwai Fong
Tai Wo branch: Shop no. 302, 3F, Tai Wo Shopping Centre, 12 Tai Wo Road, Tai Po
---

Choi Wan Hin Seafood Restaurant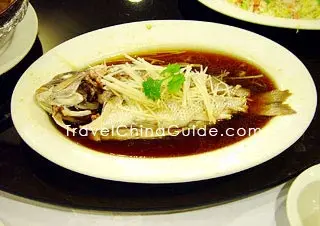 Steamed Weever
Specialties: Braised Cabbage in Fish Soup, Bean Curd with Diced Seafood, Custard Buns
Average cost per person: HK$100 - HK$150
Location: 2F, Devon House, Taikoo Place, 979 King's Road, Quarry Bay
---

Star of Canton
Specialties: Stewed Crispy Chicken, Steamed Tiger-spot Fish, Scallop stuffed filled with Shrimp Balls
Average cost per person: HK$100 – HK$300
Tsim Sha Tsui branch: I Square, 63 Nathan Road, Tsim Sha Tsui, Kowloon
The One branch: 17F, The One, 100 Nathan Road, Tsim Sha Tsui, Kowloon
Olympian City branch: Shop no. UG01, Olympian City Phase 2, 18 Hoi Ting Road, Tai Kok Tsui
---

Farm House
Specialties: Pig's Lung Soup, Chicken Wings Stuffed with Glutinous Rice
Average cost per person: HK$150 – HK$400
Operating hours: 11:00 – 22:00
Location: 1F, China Taiping Insurance Building Phase 1, 8 Sunning Road, Causeway Bay
---

Super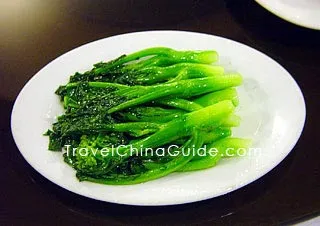 Scalded Greens
Star Seafood Restaurant
Specialties: Prawn Toast, Rabbit-shaped Dumplings, Minced Fish Soup
Average cost per person: HK$100 – HK$500
Harbour City branch: Shop no. 4101, 4F, Harbour City, 21 Canton Road, Tsim Sha Tsui, Kowloon
Operating hours: 10:00 – 21:00
Tsim Sha Tsui branch: 3F, Wah Yuen Building, 83-97 Nathan Road, Tsim Sha Tsui, Kowloon
Operating hours: 07:30 – 23:00
Grand Centre branch: 3F, Grand Centre, 8 Humphreys Road, Tsim Sha Tsui, Kowloon
Grand Century Place branch: Shop no. 801, Grand Century Place, 193 Prince Edward Road West, Mong Kok, Kowloon
Central branch: Wilson House, 19-27 Wyndham Street, Central
Wan Chai branch: 1F, Shui On Centre, 8 Harbour Road, Wan Chai
Tseung Kwan O branch: Shop no. 123, 1F, Tseung Kwan O Plaza, 9 Tong Tak Street, Tseung Kwan O
Taikoo Place branch: 2F, Oxford House, Taikoo Place, 979 King's Road, Quarry Bay
---

Tai Woo
Specialties: Lobster, Roast Pigeon, Porridge with Sea Crabs
Average cost per person: HK$300 – HK$500
Tsim Sha Tsui branch: 14-16 Hillwood Road, Tsim Sha Tsui, Kowloon
Sai Wan Ho branch: 192-198 Shau Kei Wan Road, Sai Wan Ho
---

Fook Lam Moon
Specialties: Chicken Buns, Shrimp Dumplings, Fried Spring Rolls
Average cost per person: HK$500 or more
Kowloon branch: Shop no. 8, 1F, Luna Court, 53-59 Kimberley Road, Tsim Sha Tsui, Kowloon
Wan Chai branch: Newman House, 35-45 Johnston Road, Wan Chai
---

Celestial Court Chinese Restaurant
Specialties: Baked Stuffed Fresh Crab Meat with Shark's Fin in a Golden Shell
Average cost per person: HK$300 – HK$600
Operating hours: 11:30 – 15:00, 18:00 – 23:30 from Monday to Saturday; 10:30 – 15:00, 18:00 – 23:30 on Sundays
Location: 2F, Sheraton Hotel, 20 Nathan Road, Tsim Sha Tsui, Kowloon
---

Hoi Yat Heen
Specialties: Fish Rolls with Radix Pseudostellariae and Plum, Porridge with Pork Ribs
Average cost per person: HK$300 – HK$500
Location: 3F, Harbour Plaza North Point, 665 King's Road, North Point
---

Star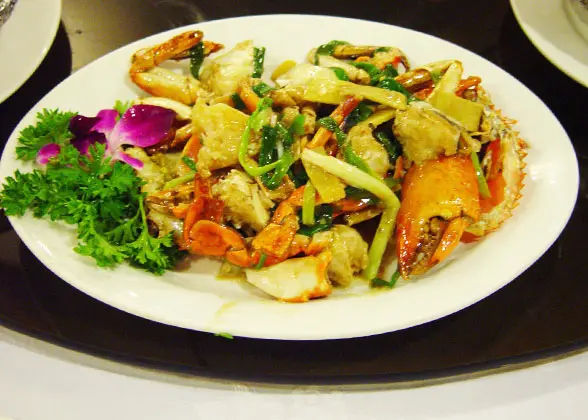 Crab, Hong Kong Food
Seafood Restaurant
Specialties: Long Spring Rolls, Barbecued Sausage, Roast Pigeon
Average cost per person: HK$100- HK$300
North Point branch: 2F, 294-296 King's Road, North Point
Operating hours: 06:30 – 00:30
Tai Po branch: Wing Fai Plaza, 29-35 Ting Kok Road, Tai Po
Operating hours: 06:30 – 23:30
Sun Chui Shopping Centre branch: Shop no. 48, 4F, Sun Chui Shopping Centre, 233 Chai Wan Road, Chai Wan
Operating hours: 07:00 – 23:30
Sai Wan branch: 2F, 271-285 Des Voeux Road West, Sai Wan
Sha Tin branch: 55-57 Tai Chung Kiu Road, Sha Tin
Tuen Mun branch: Parklane Square, 2 Tuen Hi Road, Tuen Mun
Sham Shui Po branch: 168-178A Sham Shui Po Avenue
Tsuen Wan branch: 2F, 307-311 Sha Tsui Road, Tsuen Wan
---

Luxury Restaurant
Specialties: Hot Pot, Butter Chicken, Hot Pot Rice with Chinese Sausage
Average cost per person: HK$100 – HK$150
Location: Shop no. A-1UG, Elite Garden Commercial Complex, 11 Tsing Chui Path, Tuen Mun
---

Lamma Seaview Man Fung Seafood Restaurant
Specialties: Stir-fried Squid with Broccoli, Steamed Scallops with Garlic, Steamed Crab with Plum Sauce
Average cost per person: HK$500
Location: G/F, 5 Yung Shue Wan Main Street, Lamma Island
---

Rainbow Seafood Restaurant
Specialties: Sautéed Prawn Balls & Bean Curd with Sliced Vegetables in Bird's Nest, Spicy Fried Prawns
Average cost per person: around HK$500
Location: 23 First Street, Sok Kwu Wan, Lamma Island
Operating hours: 10:00 – 23:00
---

Maxim's Jade Garden
Specialties: Maxim's Jade Garden Roasted Goose, Deep-fried Crispy Pork Fillets with Black Vinegar, Steamed Chicken with Sliced Ham and Vegetables and Double-boiled Chicken and Wolfberry Soup in Purple Clay Pot
Average cost per person: HK$70 – HK$150
Location: Departure Check-in Hall Mezzanine, Level 8, T1, HKIA (Non-restricted Area)
Operating hours: 07:00 - 23:00