Welcome to the prominent culinary capital of Asia: Hong Kong. Here you can sample not only famous Chinese delicacies, such as Cantonese, Sichuan and Hunan dishes, but also food from France, Italy, Germany, Portugal, Mexico, America etc. So gourmets, be prepared!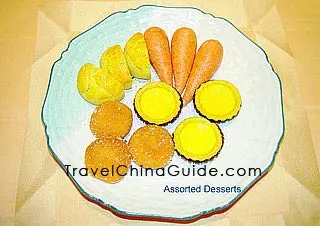 Dessert
Cantonese Dishes
Locals expertise in Cantonese cuisine, which is one of the eight major cuisines of China. Its ingredients: refined and rare. Its taste: tender and fresh. For example, Roast Suckling Pig, is a famed Cantonese dish of tender meat with golden and crispy exterior and a dense aroma. So mouthwatering!
Seafood
HK city, waterlogged by the South China Sea, is rich in marine food. Therefore, local cooking features seafood prominently. Do venture out to the outlying islands, such as Lamma Island and Sai Kung, and stopover at the Jumbo Kingdom. Jumbo is an icon and theme park at sea on Shum Wan Pier Drive, Wong Chuk Hang, and Aberdeen. When you place an order, do try Stir-fired Crab with garlic, green onion, red pepper, etc. It's famous enough to be offered in all Cantonese restaurants menus.
Tingzai Porridge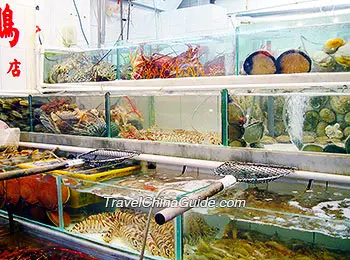 Seafood Store
People in Hong Kong add some very fresh ingredients to the rice porridge they cook. For instance, Tingzai Porridge is a kind of rice porridge with pork, peanut, squid, fish slice and so on. 'Tingzai' means 'small boat'. It's said that Tingzai Porridge was sold by the fishermen in Sheung Shui of the city in the past. It is so popular that some big restaurants also offer it.
Soup
People make HK-style soup, which is clear, tender, tasty, and nutritious. Really, a bowl of soup daily is good for your health. Many housewives know how to make a bowl of superb soup for their husbands and children. The soup ingredients are mostly fish or chicken. It takes about three to four hours to cook soup by slow fire.
Yam Cha
People in Hong Kong regularly Yam Cha (tea and dim sum). There, the tea places can prove that point very well. They offer tea, coffee, dim sum and quick meals, and many office workers often have breakfast or lunch there. Local people take the habit, after the British, of drinking afternoon tea from 15:00 to 16:00.
Dessert
Hong Kong people have a sweet tooth. There are many types of desserts, such as Black Sticky Rice with Mango and Coconut Milk, Mango Pancake and Mango Pudding. The dessert shop Hui Lau Shan, which is a local chain shop, provides good desserts. They are inviting you to their table.
Snacks
Traditional Hong Kong snacks include Wonton Noodles, Fish Ball Noodles and Tingzai Porridge already mentioned. Wonton Noodles are just like its name - a combination of wonton and noodles. Fish Ball Noodles are made with rice noodle, fish, beef and the like.
Poon Choi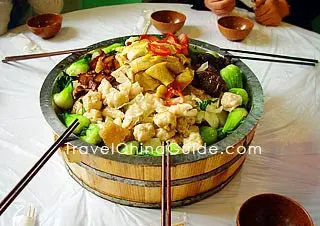 Poon Choi
Fresh from tasting traditional local snacks, you may continue on to sample some Poon Choi. It is a series of traditional dishes, especially popular in New Territories. Poon Choi can be cooked with different ingredients. For instance, you can find a Poon Choi dish using squid, pork, duck or fish as the main ingredient. Usually, the cooked ingredients of Poon Choi are put in a wooden, steel basin or a clay pot.
In a word, Hong Kong's delicacies and restaurants know no bounds. Moreover, local Tourism Board holds Best of the Best Culinary Awards (BOB) annually. Many skilled cooks join this competition and finally the winners will be selected amongst them. In the city, Causeway Bay, Kowloon City, SoHo, Lamma Island and Lan Kwai Fong are all well-known gourmet areas. If you have a good appetite, you can get around these areas. It's believed that the mere fact of the city's catering would make you love it.
Tips:
1. In order to better serve the interests of customers, HK Tourism Board recommends some qualified restaurants which are rated by the public and guaranteed to meet the following standards: Provide tasty food with clearly marked prices; Display clear food menus; Ensure good customer service with well trained and knowledgeable front-line staff. This kind of restaurants displays a sign with the wording: 'A Quality Restaurant recognized by the HK Tourism Board'.2. Most restaurants in the city accept reservations. Chinese tea houses and famous western style restaurants have no vacant seats during lunch time (1 p.m. to 2 p.m.), at night and on weekends, so it is a good idea to make reservations.
3. According to local Law, the restaurants with over 200 seats should provide smoke-free sections. Gradually, more and more small ones also offer smoke-free sections and some ban smoking completely. If you are a non smoker, you can ask for the seats in smoke-free section.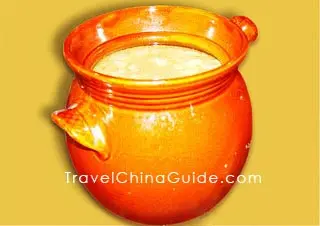 Soup
4. Most restaurants accept credit cards. We suggest customers keep the receipts for records. Some credit cards companies or banks may surcharge for overseas purchases, so please check before use.
5. Most of the restaurants in the city will automatically charge 10% service fee in the bill.
6. Casual wear is commonplace in most restaurants. For some top-ends, you should check their dress code when you make a reservation.
7. In restaurants, food comes in one of three (big, ordinary and small) quantities, differentiated by the size of plates. For spicy dishes, you can tell the waiters how spicy you want - very spicy, spicy or lightly spicy.
8. If there is a dispute, you only need to keep the receipt and ask for help through phoning 29292222.