Angkor Temples, Villages & Island Retreat
TKH102: 10 Days Private Tour of Phnom Penh - Kep - Kampot - Phnom Penh - Battambang - Siem Reap
Tour Type:
Private tailor-made tour, experienced guide and driver
Accommodation:
Selected 5-star luxury & 3 to 4-star comfortable hotels
Highlights:
Discover the mysteries of thousand-year-old Angkor temples!
Visit the Khmer Rouge sites of S-21 Prison and Killing Fields.
Explore Cambodian countryside and rural life.
Enjoy wonderful sea views of Kep, Cambodia's top beach destination.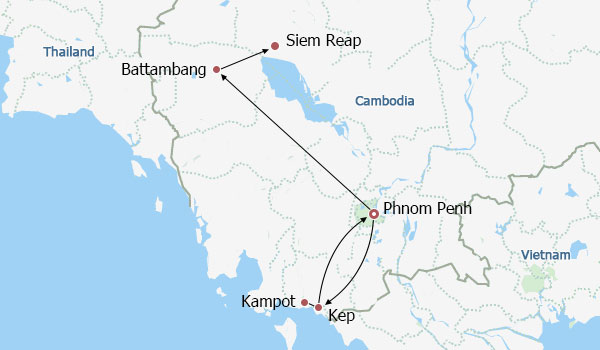 Day 1
Arrival in Phnom Penh
Upon landing at Phnom Penh International Airport today, you will meet your tour guide and driver outside Customs. After a warm greeting, you will be transferred to the hotel that we have selected for you in the downtown area. Check into the hotel and have a good rest. The arrangement for the remainder of the day is totally up to you.
This morning, your guide and driver will pick you up from the hotel and then your private Phnom Penh tour will start with a visit to the Royal Palace, a majestic palace complex which serves as the residence of the King of Cambodia and his family. Except for the royal residence area, the rest of the palace is open to tourists. Some of the buildings are magnificent, and some are small and exquisite, full of Khmer style and European characteristics. The highlights of the palace are Throne Hall and Silver Pagoda. The murals in the corridor of the pagoda are vivid, as if each mural can penetrate time, thus attracting everyone to stop. Next, you will visit the National Museum. Built between 1917 and 1924, the museum houses a large collection of Khmer art and sculptures from pre and post Khmer age. Afterwards, visit the Wat Phnom Temple, which is one of the Buddhist holy places in Phnom Penh, and from where you can learn about the history of Cambodia's capital relocation and the development of Buddhism. There is also a large number of Khmer-style reliefs and murals in the temple.
In the afternoon, you will be driven around 160 kilometers (99 miles) for about 3.5 hours to Kep, a top seaside destination in Cambodia. On arrival, your guide will help you check into a beach resort. Enjoy sunset view on the amazing beach.
Meals: Buffet breakfast, Lunch
Royal Palace, Phnom Penh
Have breakfast in the hotel and then we will drive for about 30 minutes to Kampot, a nice and quiet town with beautiful natural scenery and many old-fashioned French architecture. There you will visit the Phnom Chhngok Cave Temple, which was built in the 7th century and dedicated to the Hindu God - Shiva. After the cave adventure, we will head to a pepper plantation, where you will see beautiful organic farm, taste different peppers and learn about its history. Pepper growing in Kampot has a long history and enjoys the worldwide reputation.
After lunch, we will drive back to Kep. No planned activities for this afternoon, just enjoy your time with wonderful sea views.
Meals: Buffer breakfast, Lunch
A beach in Kep
Today we will drive for around 3.5 hours back to Phnom Penh. On arrival, your guide will escort you to visit the Tuol Sleng Genocide Museum, which is the memorial site of the S-21 interrogation and detention center of the Khmer Rouge regime that ruled Cambodia from 1975 to 1979. There display all kinds of cruel torture tools, photos and historical materials, which are horrifying and silently tell people the tragic history. The next stop is the Killing Fields of Choeung EK. It was the killing site for victims from the Tuol Sleng prison, and now is a massive grave and a memorial. Visiting these two sites, although with sadness and pains, it is well worth, especially if you are interested in Cambodian history.

Meals: Buffer breakfast, Lunch
Day 5
Phnom Penh - Battambang
Today we will depart from Phnom Penh to Battambang. The overland distance is around 300 kilometers (186 miles) and takes about 4 hours.

Along the way, you will visit the beautiful Mount Oudong (200 meters/ 650 feet above sea level), the former royal capital of Cambodia, where you will not only visit the unique temples and royal burial stupas, but also enjoy the stunning countryside views. After that, we will continue to drive to Kampong Chhnang, meaning the 'Port of Pottery', where the guide will take you to a village to see the making process of pottery and traditional rice wine. Finally, we will arrive at Battambang, the second largest city in Cambodia, and then check into the hotel.

Meals: Buffer breakfast, Lunch
Today's first stop is Wat Banan Temple, which is about 20 kilometers (12 miles) away from Battambang. This temple was built between the 10th and 13th centuries by King Udayaditayavarman II and sits on a hill overlooking the Sangkae River. Visitors have to climb 358 steps to reach the temple. The distinctive five towers of the temple are similar to the larger and more famous Angkor Wat. Next, we will experience the famous bamboo train, a unique and thrilling way to see the beautiful countryside scenery of Battambang, with mountains, forests, orchards along the way. It takes about one hour in a round trip. At last, we will drive to Phnom Sampov, a striking limestone mountain and an important religious site, where you will visit the Bat Cave, the Killing Cave and the Hilltop Temple. It will be an extraordinary experience to watch thousands of bats flying out of cave and hunting for food in late evening.
Meals: Buffer breakfast, Lunch
Bamboo train
A temple in Battambang
Day 7
Battambang - Siem Reap
After breakfast, take all your belongings and check out from the hotel. Then we will drive around 163 kilometers (101 miles) for about 3 hours to Siem Reap. Upon arrival, you will check into the hotel that we have reserved for you and get some rest.

This afternoon, we will arrange for you a boat trip on the Tonle Sap Lake to see the real life of the floating villages. The houseboats, shops, churches and schools in the villages are all built in the form of stilted houses, which could float on the lake with the change of water level in different seasons. People here mainly live on fishing and tourism. Children only go to school for half day and another half day go out to work, that's why you will see many child crews. Back to Siem Reap, we will schedule a visit to a Khmer Village en route. Then you will be transferred to downtown area to explore the Old Market for interesting handicrafts. The famous Pub Street is just nearby, where you can spend your leisure time to experience the lively nightlife of Siem Reap.

Meals: Buffer breakfast, Lunch
Day 8
Angkor Wat Temples Tour
Angkor Wat is not only the largest religious monument but also the best-preserved temple among the Angkor Temple complex. As the only temple there facing west, it is a perfect place to watch sunrise and take great photos. Today, we will set out for Angkor Wat in the early morning. Your guide will find you the best place to see the fascinating sunrise view, and then show you around this temple, which is especially famous for its magnificent architecture and exquisite reliefs. After that, you will be transferred back to the hotel for breakfast.
Having a short break in the hotel, you will continue the tour to Angkor Thom, the last capital of the Khmer Empire, which was built in the 9th century by King Jayavarman VII. Angkor Thom is about 10 square kilometers in size and houses many famous temple sites. Bayon Temple, best known for its mysterious face towers with spiritual Khmer smile, is the masterpiece of Angkor Thom. Then walk for a few yards, you will come to Baphuon, a pyramid temple-mountain, which is known as the world's largest and most complex three-dimensional building. Although badly damaged, the ruins of this temple remain today are still impressive and shocking. The Elephant Terrace is a few hundred meters to Baphuon. There you will see a 350-meter-long and 2.5-meter-high ornamental wall mostly carved with elephants and garudas.
Afterwards, your guide will lead you to visit Pre Rup. Built in the late 10th century, it is a symmetrical pyramid-shaped temple, constructed of red bricks. If it is the right time, you can also climb up to the top and enjoy spectacular sunset over there. At the end of the day, we will arrange for you an interesting Apsara Dance Show with buffet dinner in a local restaurant.
Meals: Buffer breakfast, Lunch, Dinner
Angkor Wat
Day 9
Angkor Wat Temples Tour
After breakfast, your guide and driver will take you to visit Banteay Srei, with elaborate decorations and artistic reliefs from the exterior to interior. It is also known as the 'Diamond of Angkor Wat'. Next, you will visit Preah Khan, which was built in the 12th century by the King Jayavarman VII and used to honor his father. After that, you will come to Neal Pean. Gracefully standing in water, this palace with five pools was once the herbal bath hospital. Then follow your guide to the Ta Som Temple to see the grand scene of the giant tree wrapping its east gate. It is one of the shooting spots for the movie Tomb Raider.
In the afternoon, you will go on the trip to visit Banteay Kdei, an exquisite temple. Its east gate just faces the royal bath. It was said that this was the place for the royal family to rest after bathing. Then you will visit the Ta Prohm Temple. You will definitely marvel at the wonderful scene of the temple as several python-like tree branches and roots tightly wind the remnants of the temple. It is also well-known as the Tomb Raider shooting spot. Finally, we will transfer you back to the hotel.
Meals: Buffer breakfast, Lunch
Banteay Srei
Ta Prohm Temple
Day 10
Departure from Siem Reap
This is the last day of your Cambodia holiday package. If flight schedule allows, we will arrange for you a visit to the Angkor National Museum, where a large number of important cultural relics from the complex of Angkor Wat are collected. After the visit, we will transfer you to the airport for your onward flight. We wish you nice journey home!

Meals: Buffer breakfast
B-- Breakfast
L-- Lunch
D-- Dinner
This trip can be customized to meet your individual needs!
| Destinations | Luxury Hotels | Standard Hotels |
| --- | --- | --- |
| Phnom Penh | Hyatt Regency Phnom Penh | Sunway Hotel |
| Kep | Veranda Kep Resort | Veranda Kep Resort |
| Battambang | Maisons Wat Kor | Bambu Hotel |
| Siem Reap | Anantara Angkor Resort | Tara Angkor Hotel |
Tour Prices
Christmas & 2024 Special:
12% off
- Book before Dec 31, 2023
Jan-Apr, Oct-Dec
May-Sep
Tour Prices with Luxury Hotels
Month
2-3 travelers
4-5 travelers
Jan-Apr, Oct-Dec

USD2649

USD2329

USD2179

USD1919

May-Sep

USD2549

USD2239

USD2079

USD1829
Tour Prices with Standard Hotels
Month
2-3 travelers
4-5 travelers
Jan-Apr, Oct-Dec

USD2209

USD1939

USD1739

USD1529

May-Sep

USD2169

USD1909

USD1689

USD1489
Prices are per person on twin sharing basis.
The prices in red reflect 12% discount.
Any part of the itinerary e.g. tour length, activities & hotels can be tailored to your individual interests.
Price Includes
Accommodation with daily breakfast at selected hotels (or similar)
Service of English speaking guide as mentioned in the itinerary
Service of private driver and air-conditioned vehicle as mentioned
Entrance fees to all mentioned sights visited
Meals as mentioned in the itinerary
Price Excludes
International flights of arrival and departure
Peak season surcharges (Christmas, New Year, Chinese New Year, Khmer New Year)
Personal expenses (such as laundry, telephone, drinks, etc.)
Gratuities to guide and driver
Personal travel insurance
Cambodia Visa fees
Comparison with Other Sellers
Tailor-make Your Itinerary for Free
All our tours are private family tours, which means you will not join tours with other people and no strangers will join yours. Our guests enjoy the freedom to choose a different travel style and 99% of our guests enjoy tailor-making their travel itineraries. We will make a quick reply within 24 hours.
Surprisingly Low Price
If you spare a few minutes to compare our prices with those of our competitors, you will find our prices are at least 50% lower. Why? No secret! Our company works with low profit margins, as low as 6% rather than 50% like other operators. In most cases, our competitors' prices for group tours are higher than those for our private tours. So, you can imagine what they might charge for a private trip. We strongly recommend that you make a comparison with our competitors online or in your local community. Pay attention to our well-selected chain hotels and fully packed daily activities.
No Annoying Shopping Stops
Shopping tours will not only take your time from sightseeing, but also waste your money on overpriced items. Our no shopping promise will enable you to thoroughly enjoy the trip without facing aggressive selling. All our guides are well-paid so they will concentrate on delivering the holiday experience you expect.
Some companies claim they have "No Obligatory Shopping", please be cautious as they just give their shopping tours a happy gloss. Some do not mention any shopping in itineraries, which doesn't mean they are shopping-free tours. You are advised to ask the operators directly before booking.
People to People Connected
Getting out into the rural areas of Siem Reap, you will see the scenes of net casting fishing, rice planting, harvesting, even people climbing a palm tree to get palm juice and children riding buffaloes in the ponds, all which are real Khmer farmers' daily life. Stop anywhere you want to take photos or interact with locals.
The Khmer village you will visit is very special. Many ladies in this village are basket weavers and their families are mainly living on this. Seeing their weaving proficiency is a great experience and they are always happy to show you how the baskets are made with palm leaves. You will also get to know the real living conditions of locals through a visit to a villager's home.
Take a boat trip on Tonle Sap Lake to see how people live in floating houses, how they cook, how they make a living from fishing, and how their children receive an education? You guide will take you to find answers.
Optional Tours Are Tourist Traps
Optional tours mean you will spend much more than you originally booked. Some agencies advertise low-cost tours, but you then find you have to pay high prices for optional tours of the must-see sites. Our tours are all-inclusive with transparent itineraries.
No Change Fee
Should any changes made prior to the start of the tour or even during the trip, there will be no extra charge for our services. You only need to be responsible for the cost of variations incurred with airlines and hotels.
Itineraries you may also like: