The Ultimate Cambodia in Two Weeks
TKH104: 14 Days Private Tour of Phnom Penh - Battambang - Siem Reap - Kampong Thom - Kratie - Kampong Cham - Phnom Penh - Kep - Kampot - Phnom Penh
Tour Type:
Private tailor-made tour, experienced guide and driver
Accommodation:
Selected 5-star luxury & 3 to 4-star comfortable hotels
Highlights:
Have a deep exploration through Cambodia's major cities and towns.
Admire thousand-year-old Angkor temples, the Cambodian National Treasure!
Visit the Khmer Rouge sites to learn about Cambodia's dark history.
Explore Cambodian countryside and rural life.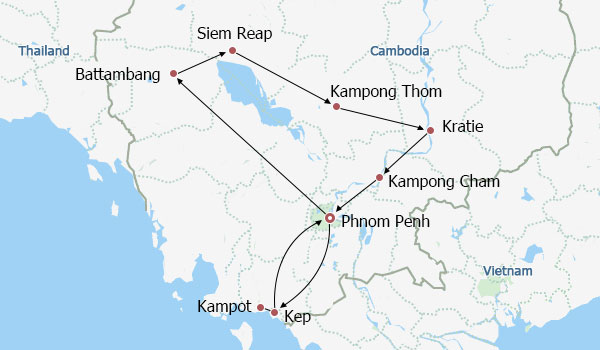 Day 1
Arrival in Phnom Penh
Welcome to take this Cambodia in-depth tour! Today, your local passionate guide and driver will greet you at Phnom Penh International Airport (PHN). A comfortable car ride will then take you to the downtown hotel. After checking in, you can have a good rest in the hotel to refresh yourself or stroll around to get first impressions of this city.

Day 2
Phnom Penh City Highlights
Today, you will spend a full day visiting the major sites of Phnom Penh. After breakfast, your guide and driver will pick you up from the hotel and escort you to the Royal Palace first, which is still the living place for the King of Cambodia. Built between 1866 and 1870, this palace has traditional Khmer architectural style and religious colors. The minarets of palace buildings represent prosperity; yellow and white colors represent Buddhism and Brahmanism respectively. The Throne Hall is where the kings of all dynasties were crowned, while the Silver Temple is the holy place for the kings to worship Buddha, named for the nearly 5,000 silver bricks on the floor of the hall, which is quite gorgeous. The murals in the corridors are Indian mythological stories carefully drawn by 40 artists.
From the square, you will walk a few minutes to the National Museum, where you can see many religious artworks on display and you will learn about the history of Cambodia from these collections. Around noon, you will be taken to a good restaurant with authentic local food for lunch.
Your afternoon visits to the Tuol Sleng Genocide Museum (S-21 Prison) and Choeung EK Killing Fields are truly sobering experiences, while it is important for every visitor to see these places. The Khmer Rouge genocide during 1975 to 1979 has left a blood memory to people who lived through the period. How Cambodia is healing from this? And how do they teach their young generations about this? Your professional guide will provide full explanations.
Meals: Buffet breakfast, Lunch
Royal Palace
Day 3
Phnom Penh - Battambang
After enjoying a nice breakfast, you will check out of the hotel. We will continue this private trip to Battambang, the second largest city in Cambodia. The travel distance is about 290 kilometers (180 miles) and needs around 5 to 6 hours on the way. Upon arrival, check into the hotel and have some rest.

Battambang is known as the 'rice bowl' of the country. As such, it is a good place to appreciate the rural scenery of the rice fields as well as to taste the most authentic Cambodian dishes. Your guide will recommend some popular restaurants for your dinner.

Meals: Buffet breakfast, Lunch
Day 4
Battambang Full Day Trip
Today, we will spend a full day exploring Battambang. First, we will visit the Wat Banan Temple, which is the best-preserved Khmer temple in Battambang. The temple is located on Banan Hill, so you need to climb up about 350 stone steps to get there. The five separate temple buildings at the top are impressive, and from the temple, you can see breathtaking views of the Sangker River, palm tree forests and rice fields.

Next, you will go to experience the famous bamboo train. When the global trains pursue innovation and progress, the unique bamboo train is preserved here. Are you interested in boarding such a train to discover the stunning countryside scenery of Battambang? Your guide will share you the information on how it was made and how it works.

Afterwards, you will be guided to Phnom Sampov, a striking limestone mountain as well as an important religious site. In addition to viewing the wonderful natural scenery here, you will also visit the Killing Caves, the venues of the fierce massacre during the Khmer Rouge period. It is a tragedy of the Cambodian history. You will then come to the famous Bat Cave. At about 5:30 pm every day, there will be a wonder of thousands of bats lined up flying out of the cave hunting for foods. Get ready to photograph this spectacular sight!

Meals: Buffet breakfast, Lunch
Day 5
Battambang - Siem Reap
Today, we will continue the journey to Siem Reap. The travel distance from Battambang to Siem Reap is about 163 kilometers (101 miles), which takes around 3 hours on the way. On arrival, you will check into the hotel to get some rest.
After lunch, we will transfer you to the Tonle Sap Lake, where there are several villages called "Vietnamese floating villages" because of the large number of Vietnamese refugees living here. You will take a boat trip to visit these villages and see the houses, churches, schools and other buildings on the water. Why Vietnam people here? Your guide will take you to unveil the history. At dusk, you can also enjoy the sunset view on the lake. Then return to the hotel by a private drive.
The pub street in the old town is a wonderful place to relax and explore night life of Siem Reap. We can drop you off there if you are interested.
Meals: Buffet breakfast, Lunch
Floating village on Tonle Sap Lake
Day 6
Angkor Wat Highlight Temples
Home to the famous Angkor Wat temples, Siem Reap is the best place to take an in-depth exploration of Khmer arts and architecture, which is also the most highlight part of your Cambodia trip. You need to get up a bit earlier this morning since you will be taken to enjoy the beautiful sunrise view over Angkor Wat, the largest and best-preserved site of the ruins of the Khmer Empire (802 - 1431). Accompanied by your guide, you will travel around this iconic temple to admire its splendid architecture and delicate carvings of Apsara and murals. Later, you will be driven back to the hotel to enjoy a buffet breakfast.
After breakfast in the hotel, we will continue the trip to Angkor Thom, which was constructed in the late 12th century by King Jayavarman VII and was the last capital during the glorious days of Angkor civilization. Covering an area of about 9 square kilometers (3.5 square miles), there scattered with many famous relics including Bayon Temple, Elephant Terrace, Terrace of Leper King. Among them, Bayon Temple, located in the center of Angkor Thom with 54 Phra Phroms, is well known for its Khmer Smile. There are 216 smiling faces in total, which are carved after the profile of King Jayavarman VII.
Leaving Angkor Thom, we will go to visit some other temple sites in Angkor Archaeological Park: Preah Khan, Takeo and Ta Prohm. In Ta Prohm, the trees and the ancient architecture are tightly intertwined. Unlike Angkor Wat, which was named after carvings, this temple was named after trees, which represents lush vitality. The movie Tomb Raider was shot here.
Meals: Buffet breakfast, Lunch
Angkor Wat
Day 7
Siem Reap - Koh Ker - Beng Mealea - Siem Reap
Today, you will discover the most beautiful pyramid temple in the 10th century temple complex of Koh Ker, which was once the capital of the Khmer Empire from 928 to 944 AD. About 120 kilometers (75 miles) north of Siem Reap, it takes around 2.5 to get there by car.
There are about 100 temples in the Koh Ker region, and many are hidden in jungle. Highlights are Prasat Bram with a collection of brick towers almost entirely engulfed by strangler fig trees, Prasat Krahom with impressive stone carvings, and the Mayan-looking Prasat Thom, which is a 40-meter-high and 55-meter-wide sandstone pyramid whose seven floors offer stunning views of the surrounding rice fields and rainforest. With over 1,000 years of erosions, most temples here are dilapidated and covered with green mosses, revealing a rugged beauty.
On the way back to Siem Reap, we will stop in Beng Mealea, a former Hindu temple hidden in deep jungle. This temple collapsed badly and was shaded by trees, so it is hard for visitors to travel around, while, its primitive and run-down vibe makes it unique and attracts photography enthusiasts from all over the world. Finally, we will drive you back to the hotel.
Meals: Buffet breakfast, Lunch
Beng Mealea
Day 8
Siem Reap - Kampong Thom
We will leave for Kampong Thom today. The driving distance is around 147 kilometers (91 miles) and needs about 2 hours. Kampong Thom is a picturesque town on the bank of the Stung Saen River, a tributary of the Tonle Sap Lake. Along the way, we will have a stop at Sambor Prei Kuk, meaning "the temple in the lush forest" in Khmer language. It was an ancient capital of the Chenla Kingdom, founded in the 7th century. More than 100 sites of palaces and temples can still be seen here.

On arrival, your guide will help you check into the only boutique hotel in Kampong Thom, the Sambor Village, which offers its guests a relaxing and comfortable way to discover Cambodian village life. After having a break, you will be guided for a walking tour to the nearby villages to witness the tranquil countryside scenes.

Meals: Buffet breakfast, Lunch
Day 9
Kampong Thom - Kratie
Today we will set off to Kratie, which is about 183 kilometers (113 miles) away from Kampong Thom and takes around 3.5 hours on the way. Upon arrival, you will take a boat to cruise on the Mekong River and track the adorable and endangered snub-nosed dolphins, also known as freshwater Irrawaddy dolphins.

After that, you will be escorted to check into the Rajabori Villas Resort and stay in the traditional Khmer bungalows with beautiful antique furniture. This resort is located on the island of Koh Trong facing Kratie town across the Mekong and has its own private beach. It is an ideal place to put your feet up and relax!

Meals: Buffet breakfast, Lunch
Day 10
Kratie - Kampong Cham - Phnom Penh
We will leave Kratie this morning. First, we will drive about 130 kilometers (80 miles) for around 2.5 hours to Kampong Cham, a tranquil town with the Mekong River running through. Your guide will take you to travel through the countryside and visit the ruins at Wat Nokor, which is an Angkorian temple dating back to the 11th century. In addition to the architecture, murals which depict religious torture scenes are also the highlight of this temple.

After lunch, we will continue to drive to Phnom Penh, with the same duration of 2.5 hours. On arrival, you will check into the hotel that you previously stayed at the beginning of the trip. The rest time of the day is free. You may choose to rest in the hotel, or go to explore Tuol Tom Poung, also called the Russian Market, which is a good place to hunt for souvenirs, as well as to taste local street foods. Your tour guide will show you how to go there.

Meals: Buffet breakfast, Lunch
Today, we will set off to the coastal city of Kep, which is about 160 kilometers (99 miles) away and takes around 3.5 hours by car. En route, we will stop at Phnom Chisor Temple, an 11th century Angkor Era temple sitting on a hilltop. You need to climb 400 plus stairs up to the top, but will be rewarded with an expansive view up there, including temple ruins and amazing countryside views.
Continue to drive and finally we will arrive at Kep. Your guide will help you check into the beautiful resort that we have selected for you. At dusk, enjoy golden sunset over the sea.
Kep is a seafood lover's paradise, especially its fresh crabs. The best place to find them is at the Crab Market along the beach. Don't miss the chance to explore this authentic market, which is bustling from day to night, as well as to taste the delicious blue crab with Kampot pepper. Your guide will be glad to assist you.
Meals: Buffet Breakfast, Lunch
Phnom Chisor Temple, Takeo
Day 12
Kep - Rabbit Island - Kep
After breakfast in the hotel, you will be escorted to take a 30-minute ferry boat to Koh Tonsay, also known as the Rabbit Island. There are fewer tourists on this island, so you may spend a great time there enjoying sun-bathing on the soft beach, swimming and getting massages. When this leisure day trip is finished, you will take boat back to your resort.

Meals: Buffet Breakfast, Lunch
Day 13
Kep - Kampot - Kep
This morning, we will drive for around 30 minutes to the nearby town of Kampot. The colonial architecture, rich natural landscape and convenient transportation make this place a popular travel destination. Accompanied by the guide, you will first visit Phnom Chhngok, an impressively off the beaten track Hindu cave temple dedicated to the God Shiva. It was built in the 7th century and now is still in remarkably good shape. Next, you will visit a pepper plantation to see the beautiful organic farm, as well as to learn about how the world's best pepper is grown and how local people are working on the farm. You will also enjoy a special lunch here with different pepper tastes, from sweet to spicy hot.

Getting back to Kep, we will leave the remaining time of the day free for you to relax in your charming resort or travel around the beach area.

Meals: Buffet Breakfast, Lunch
Day 14
Kep - Phnom Penh Airport, Departure
Loaded with beautiful memories, your 14 days Cambodia tour package will come to an end today. Your guide and driver will transfer you for around 4 hours from Kep to Phnom Penh International Airport, where you will take your scheduled homebound flight. We wish you a pleasant journey!

Meals: Buffet Breakfast
B-- Breakfast
L-- Lunch
D-- Dinner
This trip can be customized to meet your individual needs!
| Destinations | Luxury Hotels | Standard Hotels |
| --- | --- | --- |
| Phnom Penh | Hyatt Regency Phnom Penh | Sunway Hotel |
| Battambang | Maisons Wat Kor | Bambu Hotel |
| Siem Reap | Anantara Angkor Resort | Tara Angkor Hotel |
| Kampong Thom | Kampong Thom Palace Hotel | Sambor Village |
| Kratie | Rajabori Villas | Rajabori Villas |
| Kep | Veranda Kep Resort | Veranda Kep Resort |
Tour Prices
Christmas & 2024 Special:
12% off
- Book before Dec 31, 2023
Jan-Apr, Oct-Dec
May-Sep
Tour Prices with Luxury Hotels
Month
2-3 travelers
4-5 travelers
Jan-Apr, Oct-Dec

USD3699

USD3259

USD3039

USD2679

May-Sep

USD3559

USD3129

USD2889

USD2539
Tour Prices with Standard Hotels
Month
2-3 travelers
4-5 travelers
Jan-Apr, Oct-Dec

USD3079

USD2709

USD2419

USD2129

May-Sep

USD3009

USD2649

USD2349

USD2069
Prices are per person on twin sharing basis.
The prices in red reflect 12% discount.
Any part of the itinerary e.g. tour length, activities & hotels can be tailored to your individual interests.
Price Includes
Accommodation with daily breakfast at selected hotels (or similar)
Service of English speaking guide as mentioned in the itinerary
Service of private driver and air-conditioned vehicle as mentioned
Entrance fees to all mentioned sights visited
Meals as mentioned in the itinerary
Price Excludes
International flights of arrival and departure
Peak season surcharges (Christmas, New Year, Chinese New Year, Khmer New Year)
Personal expenses (such as laundry, telephone, drinks, etc.)
Gratuities to guide and driver
Personal travel insurance
Cambodia Visa fees
Itineraries you may also like: