Breakfast in Hanoi: Where & What to Eat
Hanoi
, the capital of Vietnam is throbbing with its multi-cultural influence and while maintaining a cosmopolitan taste it holds on to the authenticity of its land. The food is of various type; some you will love while others will need some getting used to. Food is the easiest way by which one can blend into the culture of any place. It could be the custom of eating or what is being eaten. Since the day starts with breakfast here's where to have breakfast in Hanoi!
See more about
9 Popular Hanoi Street Foods
1. A Quick Bite into the Banh Mi (Bread)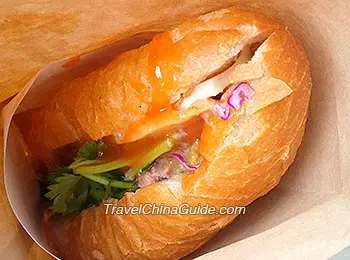 Banh Mi Sandwich
A heritage loaf that is baked with a French recipe has seeped into Vietnamese culture since the French Colonial rule. This fresh bread is quite a favorite with locals who love a stuffing of kebab or turkey inside garnished with veggies. You could ask for some extra sauce. A close cousin to a footlong sandwich in appearance, this food appeases the rumbling stomach in the early hours of 7:00 AM.
· Lan Ong bread - Address: 6 Cha Ca, Hang Bo, Hoan Kiem, Hanoi

· Phuc Bread - Address: 9 Yet Kieu, Hanoi

· Thai Thinh Bread - Address: 35 – 37 Thai Thinh, Dong Da, Hanoi

· Banh mi kep - Address: 34 Lo Su; Price around: 20,000 – 25,000 Dong

2. Chao Suon (Ribs Porridge)
Rice flour porridge stirred to make it creamy. Pork ribs are flavored with the sweet taste of the rice spicing it with a sprinkle of pepper. Served hot with chopped scallion and cilantro. You can try a bowl full, with dried pork and quay, a Vietnamese bread. This is a wholesome breakfast in Hanoi.
· Chao Suon (sold on the street) - Address: 32 Hang Bo Street; Starts serving from: Time: 6:30 AM - 9:00 AM; Price: 10,000 - 20,000 Dong
3. Heavy Breakfast in Hanoi - Xôi Xéo (Sticky Rice)
Much like Pho, Xoi is a common breakfast loved by locals. This is easy to find in the lanes of Hanoi. A steaming hot food, this comes in different varieties. They are sold all over Hanoi, but here are some places from where you would love to try.
· Xoi Yen - Address: 35B Nguyen Huu Huan, Hoan Kiem District, Hanoi
· Xoi Suon Cay - Address: 628 Truong Chinh, Dong Da, Hanoi

· Xoi Loc - Address: 68 Ta Quang Buu, Bach Mai, Hai Ba Trung, Hanoi

· Xoi Cat Lam - Address: 24B Duong Thanh, Hoan Kiem, Hanoi; Price around: 5,000-7,000-10,000 Dong

4. Delectable Banh Cuon
Like its Asian neighbors, Vietnam too heavily includes rice in its breakfast recipes. This meal will please your palate the moment it touches your mouth. Wrapped in a thin sheet of steamed rice flour and stuffed amply with a hot seasoning of ground pork and finely minced wood mushroom, try this with Cha Que. It goes just perfectly with Banh Cuon.
· Banh Cuon Ba Hanh - Address: 26B Tho Xuong, Phu Doan, Hoan Kiem, Hanoi
· Banh Cuon Gia Truyen - Address: 81 Le Van Huu, Hai Ba Trung, Hanoi

· Banh Cuon Thuy Kh - Address: Alley 29 Thuy Khe, Tay Ho, HanoiBanh Cuon - Vietnamese breakfast; Price 20,000 dong

5. Pho (Noodle Soup)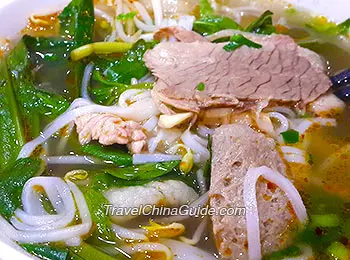 Pho - Noodle Soup
The most traditional food of Vietnam is a steaming hot healthy broth. Comprising meat bones stalk and rice noodles (Banh Pho). Juicy slices of beef or chicken look delicious inside the bowl with green onions, some traditional Vietnamese herbs and a dash of lemon adding their lip-smacking flavor to this perfect breakfast in Hanoi! The shop that sells the famous Pho is small and there is no one to serve you. Eat quickly and move on. You share your table with strangers so if you are a friendly soul, there may be something more for you.
· Pho - Address: 10 Ly Quoc Su Street; Selling time: 6:30 AM –10:30AM; Price: 50,000 – 70,000 Dong

· Pho Bat Dan - Address: 49 Bat Dan Street; They serve from 6:00 AM-10:00 AM; Price: 40,000-50,000 Dong

6. Bun Moc (Mushroom Rice with Vietnamese Pork and Vermicelli Soup)
Vietnamese pork balls are famous, made from raw pork sausages, 'gio song' and pork sausages, 'cha lua'. These are combined and eaten with the rice. The vermicelli soup has a delicate flavor and is a light broth that adds some smoothness to the food. The taste is one to savor.
· Bun moc (this shop is 30 years old and serves Bun Moc with the rich flavors oozing out of wood mushrooms. It is a small place with limited sitting arrangement. You can expect your service in 5-7 minutes)
Address: 57 Hang Luoc
They serve from 9:00 AM onwards
Price: 25,000 – 50,000 Dong

· In Ta Hien Street. Bun Moc is served with tender bamboo shoots retaining its original flavor. After this, you can try their soya bean milk or green tea. It goes with this dish.
They serve from 9:00 AM onwards
Price: 20,000 – 40,000 Dong

Hanoi is a busy city and while you eat, you can watch several people rushing off for their daily work. Serving quick bites to most passersby waiting to eat their breakfast in Hanoi. The city has no time to stop. Life in engaging and hard. Yet amid all this hustle-bustle, they enjoy the flavors of the city and the mouthwatering food that are being steamed, baked or fried at every street corner.
- Last updated on Jan. 27, 2021 -