Ge Garden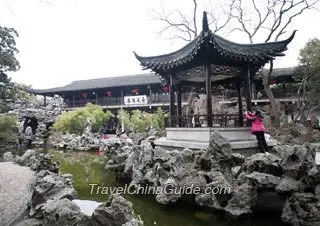 Summer Time in Ge Garden
Ge Garden must be the most famous private garden in Yangzhou City. It has Shouyi Garden, built during the Ming Dynasty (1368-1644), as its predecessor and was later rebuilt as a private garden in 1818 during the Qing Dynasty.
It was during the Han Dynasty (206BC-220AD) that garden construction on a large scale emerged in Yangzhou City. The garden construction in Yangzhou City later became prosperous early in the Qing Dynasty (1644-1911), especially after the southern itineration of the famous Qing Dynasty emperor Qianlong. It was also during this period that Yangzhou got famous for its beautiful gardens. Unfortunately, over the years most of the gardens were damaged in the confusion and disorder brought about by various wars. But Ge Garden survived along with several others in Yangzhou City.
Huang Zhiyun, a rich salt merchant and the owner of the garden, thought highly of the upright character of the bamboo. At the same time, bamboo leaves look like the Chinese character 'ge (个)', so the name of 'Ge Garden' was given. Originally, there were more than one hundred kinds of bamboo in it, but today only a sprinkling of bamboo can be seen. The garden now is best known for its rockeries, which take on different aspects as the seasons change.
Ge Garden uses bamboo and rocks as its principal elements and is characterized by stone-piling. Different rockeries are formed from different kinds of rocks to represent different scenes in the four seasons, hence the name 'four-season-rockery'. There are no other similar gardens anywhere in China. Compared to other plants, the garden gives priority to the bamboo. Using the grotesque shapes of the rocks, a distinctive scene consisting of bamboo and rocks is formed. It actually is a mixture of the grandness of the North and the delicacy of the South.
| | |
| --- | --- |
| Bamboo Forest | Rockery |
Yiyu Xuan is the center of the whole garden. The 'four-season-rockery' is made up of the spring rockery, the summer rockery, the autumn rockery, and the winter rockery. Twelve blocks of stone shaped like twelve kinds of animals such as a mouse, a cow, a tiger, and a pig are surrounded by bamboo trees and symbolize the rebirth of spring. Exquisitely carved Taihu stones, a kind of stone mostly found around
Taihu Lake
, sit near a lotus pool and represent the beautiful scenery of the South in summer. Huang stones (a kind of stone found near
Mt. Huangshan
) whose shapes are bold and unconstrained are used in the biggest rockery to represent the loftiness of the hills in autumn; and Xue Stone (white Snow Stone) which glistens in the sunshine gives people the feeling that the snow has not yet melted. When people visit the garden they feel as if they have experienced the essence of the four seasons of the year.
Admission Fee:
CNY 30 (Mar. - May and Sep. - Nov.)
CNY 45 (June - Aug. and Dec. - Feb.)
Bus Route:
Take Tourism Bus (from West Bus Station to Yingbinguan) and get off at Geyuan Station
- Last modified on Apr. 08, 2021 -